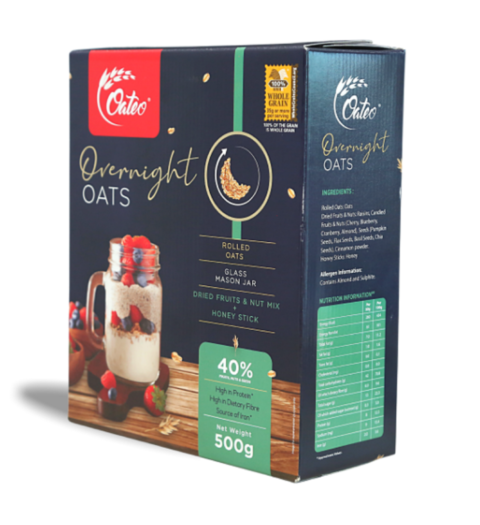 There are few breakfast staples that are as widely accepted as oatmeal. Oats as a grain however is now used in numerous ways. From baked goods to boutique skincare products, they are being sought for their benefits. They are versatile, great fuel for your body, healthy and nutritious, and may also help in disease prevention. If you're not a fan of oats yet, here are a few reasons that might make you reconsider.
1. Protection against chronic diseases
Studies have shown that oats have cholesterol-lowering abilities. They contain a special fibre called Beta Glucan that aids in ridding your body of plaque buildup reducing risks of strokes and heart attacks. This fibre also may aid in reducing blood pressure and controlling blood sugar levels in the long run. Additionally, oats are full of "phytochemicals", that are closely linked with cancer-fighting properties. Incorporating Oateo Steel Cut Oats with rice is a great way to introduce oats in your diet.
They are high in protein and good fats which help you feel fuller for longer. It can be as simple as adding some Oateo Flour to your morning Curry-Roti! Eating oats for breakfast can help you keep hunger pangs at bay and also avoid binging on unhealthy snacks.
3. Oats boosts your immune system
Apart from safeguarding your cardiovascular health, the fibre beta-glucan helps in boosting special blood cells that fight infections. They are also a rich source of selenium, zinc – two nutrients that are known to strengthen immunity and ward off infections. Making baked goods like cookies, granola or even Kiri toffee pudding with Oateo Instant Kit is a great way of getting oats in without compromising on the taste!
4. Keeps you active and energized
Did you know that they contain iron and magnesium? While iron helps deliver oxygen to red blood cells, magnesium aids in nerve-muscle functions. Oatmeal is often suggested as a go-to meal for athletes and people looking to maximize their stamina. Not fond of oatmeal? You could try making Oateo's no-cook, simple, Overnight Oats. All you need to do is add milk or yoghurt to Oateo Overnight Kit and enjoy an energy-rich breakfast when you wake up!
MRP: INR 699
Available on Oateo's website