Halloween is celebrated every year on October 31. The season of spook, as it marks, comes complete with costume parties, trick-or-treats, horror stories, and a delicious feast. So, if you're looking for some Halloween recipes, we have them right here.
6 Halloween Recipes
Vegan Turkey Roast
A hearty, healthy, and delicious seitan-based, vegan Thanksgiving turkey roast! Perfect for the holidays or anytime you want a delicious homemade family meal!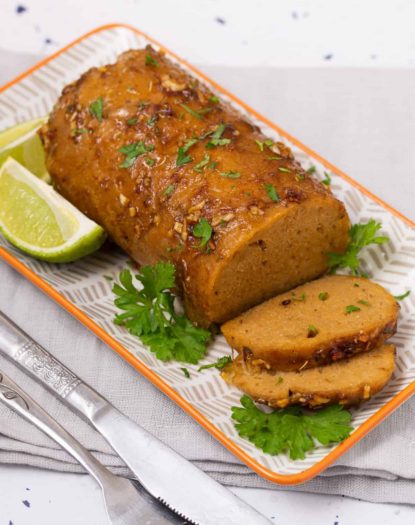 Ingredients

FOR THE TURKEY ROAST
1½ cups chickpeas, drained
1 cup vegetable broth or vegan chicken-style broth
2 tablespoons nutritional yeast
2 tablespoons extra virgin olive oil
2 teaspoons poultry seasoning, see notes for a homemade version
2 teaspoons soy sauce
½ teaspoons salt
¼ teaspoons garlic powder
¼ teaspoons onion powder
1 teaspoon miso paste
1⅓ cups vital wheat gluten

FOR THE BASTING LIQUID:

8 oz vegan butter, might add more for the oven basting!
1 teaspoon soy sauce
4 cloves garlic, minced
1 teaspoon vegan bouillon, optional
1 teaspoon oregano
¼ teaspoon black pepper

FOR CRISPY SKIN

3 sheets of rice paper

FOR SHAPING TURKEY

Instructions

MAKE WHEAT MEAT TURKEY
Add all the turkey roast ingredients except the vital wheat gluten to a food processor (drained chickpeas, broth, olive oil, nutritional yeast, soy sauce, onion powder, garlic powder, poultry seasoning, and miso paste) and process until smooth.
Transfer the mixture to a large mixing bowl, making sure to scrape all the good bits off the processor jug. Add the vital wheat gluten to the bowl and mix it up with a silicone spatula to start and your hands to finish.
Once it has come together in a coarse ball, sprinkle some vital wheat gluten on a clean countertop. Knead the dough (at least 10-12 times). (See notes for stuffing your turkey)
TO SHAPE LOG:
Roll the dough and shape it into a thick log. Note that this will look quite small, but it expands when you cook it.
TO SHAPE TURKEY:
Once you finish kneading the dough, break it up into five parts. Five small loaves (for the arms and legs) and one larger piece for the body. Use the skewers to shape the legs around it.
STEAM, BROWN, AND BASTE TURKEY
Steam the turkey: Pick up a large Dutch oven or pot and a steamer basket. Wrap your turkey meatloaf and any other pieces in foil paper tightly and place them on the steamer basket. Then pour at least 3 cups of hot water into the bottom of the pot, bring to a boil and lower the heat to steam for at least one hour.
While the turkey is steaming, make basting liquid (aka compound butter) by mixing the ingredients in a bowl (vegan butter, soy sauce, minced garlic, better than chicken vegan bouillon, oregano, and black pepper).

Make rice paper skin:
Soak rice paper in water for 30 seconds and allow it to dry completely. Once the turkey is steamed, brush the turkey log or each individual component with the basting liquid. Then, wrap the rice paper around the log or each individual component. It's okay if there are crinkles or air bubbles, you just want to get it covered as much as possible. Then, brush the top of the rice paper with more basting liquid.
Brown the turkey (in the oven):
You can do this either on the stovetop or in an oven. If using an oven, while the turkey is steaming, preheat the oven to 400ºF. Place the steamed turkey in a baking dish and pour basting liquid over the turkey. Bake for 20 minutes. Spoon the basting liquid over the turkey every 5 minutes to avoid it from drying out on the inside.
Brown the loaf (on the stove):
Heat a large skillet with some vegan butter. Add basting liquid and place the turkey in the pan and let it brown on all sides. Spoon the basting liquid mixture on the turkey once every 1-2 minutes to make sure you're getting all the sides until browned and under medium-low heat.
Serve and slice with a serrated knife.
Notes
Stuffing turkey loaf: If you want to stuff the loaf, first roll the dough into a circular shape. Place the stuffing in the middle and then roll the dough into a log shape after you've placed the stuffing in the center.
Stuffing turkey shape: I suggest stuffing just the central "large" part (versus the legs and arms) just like you would a real turkey. To do this, roll the dough into a circular shape. Place stuffing in the middle and roll into a large log.
Steaming: Seitan can be finicky, so I suggest checking after an hour to make sure it's cooked. It can take up to 30 minutes more depending on the size of the seitan. When ready, remove from the foil.
Browning: The size of the dish will vary based on the size of the turkey – a small loaf will need a small 9×9 dish while a full turkey will need a roasting rack. I suggest roasting your turkey in the oven if you're doing the full turkey since you can do it all at once versus using a stovetop.
Make ahead: You can make the turkey meat and let it steam for an hour. Then, cool and refrigerate in an airtight container. Then, when ready to serve, remove from the fridge, wrap in foil, and roast in the oven at 350F for 30 minutes to warm. Then follow the rest of the instructions for basting and browning.
Nutrition

Calories: 347kcal | Carbohydrates: 28g | Protein: 39g | Fat: 10g | Saturated Fat: 1g | Polyunsaturated Fat: 2g | Monounsaturated Fat: 6g | Trans Fat: 0.04g | Cholesterol: 0.1mg | Sodium: 971mg | Potassium: 339mg | Fiber: 6g | Sugar: 4g | Vitamin A: 179IU | Vitamin C: 2mg | Calcium: 114mg | Iron: 5mg
Source: https://urbanfarmie.com/vegan-turkey-roast/
Vegan Cauliflower Curry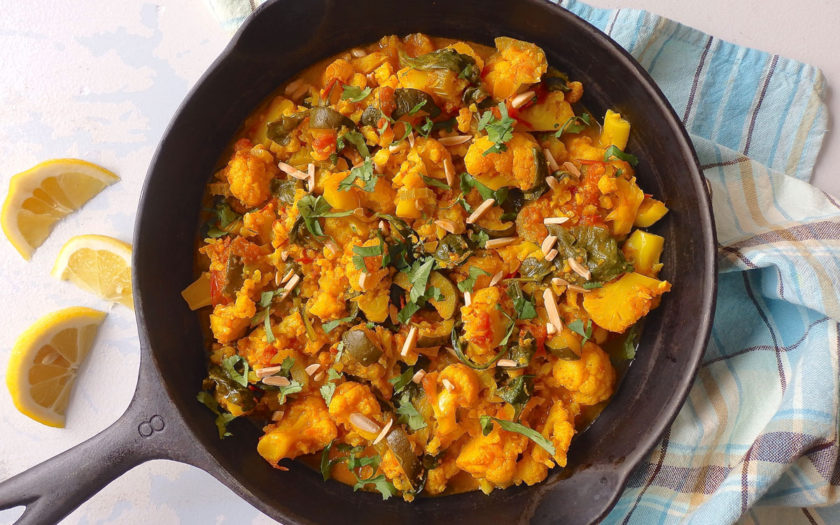 Ingredients
2 Tbsp. oil, such as coconut or olive
1/4 cup diced onion
2 stalks of celery, thinly sliced
1 clove garlic, minced
1/2 tsp. powdered coriander
1/2 tsp. powdered cumin
1/2 tsp. powdered ginger
1/2 tsp. powdered turmeric
1/4 tsp. red pepper flakes
1 cauliflower, about 1 1/2 pounds, cut into bite-size pieces
1 zucchini, halved lengthwise, then sliced into half moons about 1/2 inch thick
3 tomatoes, diced
1 tsp. salt
2 cups water or vegetable broth
2 handfuls baby spinach leaves
2 Tbsp. toasted slivered almonds
2 Tbsp. fresh cilantro, finely minced
1 lemon cut into wedges

Instructions
In a cooking pot or large skillet, heat oil over medium heat.
Add diced onions and sliced celery, and saute for about 5 minutes.
Now add minced garlic and continue to saute vegetables for another 5 minutes or until vegetables are softened.
Next add the powdered spices, coriander, cumin, ginger, turmeric, and red pepper flakes, stir to combine, and saute until spices are fragrant about 1 minute.
Now add the cauliflower pieces, zucchini half moons, diced tomatoes, salt, and water or broth.
Bring to a boil over high heat, then reduce heat to medium-low, cover and simmer until cauliflower is tender about 20 minutes.
Uncover, add spinach and simmer for another 3 to 4 minutes. Season to taste with additional salt and pepper if needed.
Garnish the curry with a sprinkling of toasted slivered almonds and finely minced cilantro. Serve with lemon wedges and a few dollops of plain yogurt (optional).
This Cauliflower Curry is an Indian-inspired vegan dish that comes together quite easily. It is a warmly spiced curry, which gives this classic chunky vegetable dish its exotic taste. Turmeric is a powerful anti-inflammatory and antioxidant, which is perfect for reducing gut inflammation.
source: Lisa Richards, Nutritionist – The Candida Diet