By Dietitian Manoli Mehta
Founder of Tattvum – Discover Wellness
The people of India welcome and enjoy monsoon like a festival. The time when you love to sit with your friends and family having 'Garam chai' or hot tea along with 'pyaaz ke pakore'. Seriously, a rainy day feels to be incomplete without this combo.
After the scorching summer, Rain, unarguably, is a pleasant experience. However, these pleasing moments might be spoiled by non-desirable heath conditions like cold, cough, diarrhea and flu. You can now enjoy those beautiful moments without compromising on your heath by paying some extra attention to the foods you consume.
So, the monsoon is here my friends and it's time to highly indulge in some lip smacking and fingerlicious world of healthy Indian food recipes. PS-Nutritionist Approved!!
Here are my top 4 Favorite Snack recipes to be enjoyed and explored in Rainy season:
1. Corn on the cob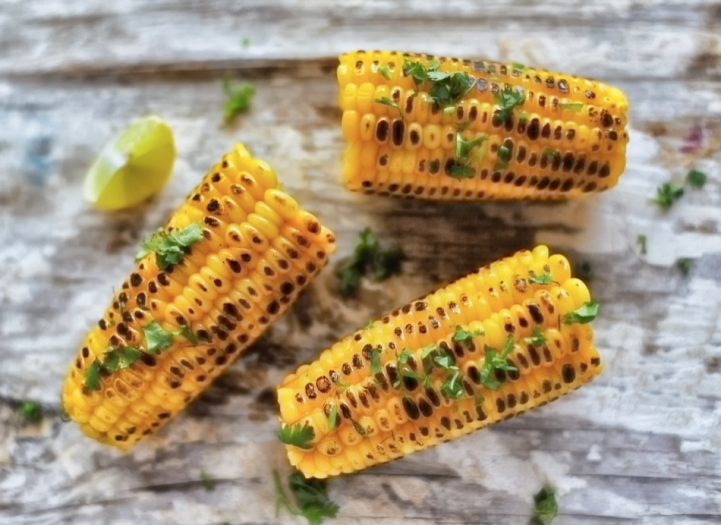 INGREDIENTS-
Sweet corn, husks removed- 1 
Salt to taste
Red chili powder- 1 tsp
Chaat masala- 1 tbsp
Butter- to taste
Lemon juice- 1tsp.
METHOD-
Take the corn and put on the flame directly until cooked and charred.
Remove from flame and sprinkle with red chili powder, chaat masala, lemon juice, butter and salt.
2. Papdi Chaat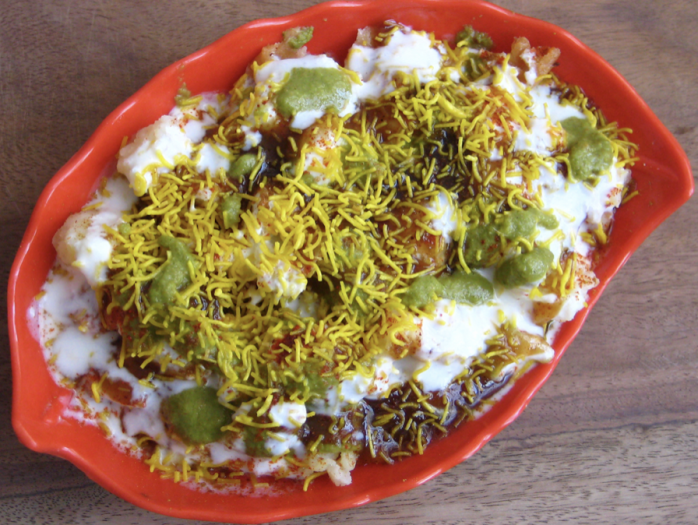 It's a common street food recipe! This crunchy and tangy flavoured recipe is deliciously prepared with curd, green and imli chutney and potatoes as ad-ons.
INGREDIENTS-
Large size papdi- 5-6
Boiled sprouts/chickpeas- ½ cup 
Boiled and chopped potatoes- ¼ cup
Coloured bell peppers, finely chopped- ½ cup
Finely chopped onion- ½ cup
Lemon juice- ½ tbsp.
Mint coriander chutney- 2 tbsp
Khajur imli/date chutney- 2 tbsp
Curd lightly beaten- ½ cup 
Chaat masala- ½ tbsp
Sat to taste
Fresh coriander – to garnish
Sev – ½ cup
METHOD-
Take a bowl add sprouts, potatoes, chickpeas, onions, bell peppers. Sprinkle chaat masala, lemon juice and salt on it. Mix it.
Arrange the papdis and top each papdi with the mixture.
Now pour green and imli chutney on it.
Add some smooth curd on each papdi and garnish with sev and coriander.
3. Cauliflower fritters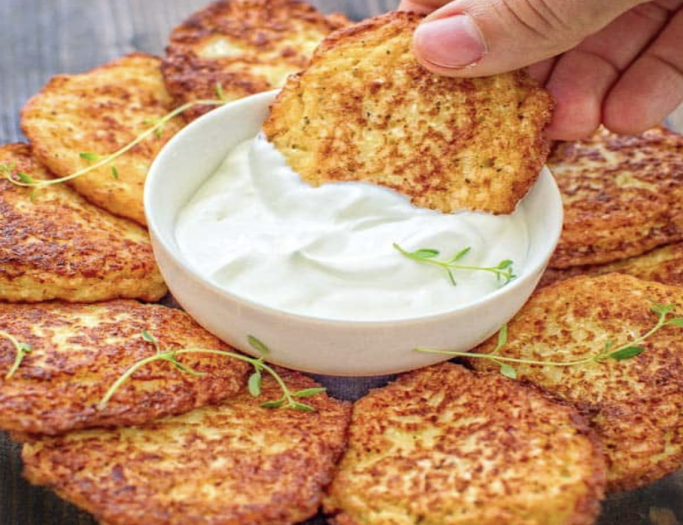 The cauliflower fritter (Gobi Tikki) is an Indian recipe which is served as a snack. This crunchy Gobi tikki is actually a delicious way to eat cauliflower. It takes very less time to prepare without delay.
INGREDIENTS-
Roughly chopped cauliflower florets- 1 bowl 
Minced garlic- 1 tbsp
Finely chopped onions- ½ bowl 
Wheat flour- 2 tbsp
Bread crumbs- 1 cup
Parsley/coriander chopped- 1 tbsp
Lemon juice- ½ tbsp.
Salt to taste
Pepper- ½ tbsp.
Grated parmesan cheese- ½ cup (optional)
Oil- 2 tbsp
METHOD-
Boil or steam the cauliflower so that they become soft and mashable.
Now chop the boiled cauliflower into small pieces and keep them aside.
Take a pan and pour oil in it Add onion and garlic. Stir them for a minute.
Now take a bowl, add cauliflower, onion and garlic. Stir them well. Add lemon juice, salt, pepper and shredded cheese.
Mix well. Add wheat flour and make 7-8 patties.
Roll them in bread crumbs and shallow fry them until golden brown.
Serve them hot with chutney or sauce.
4. Open toasties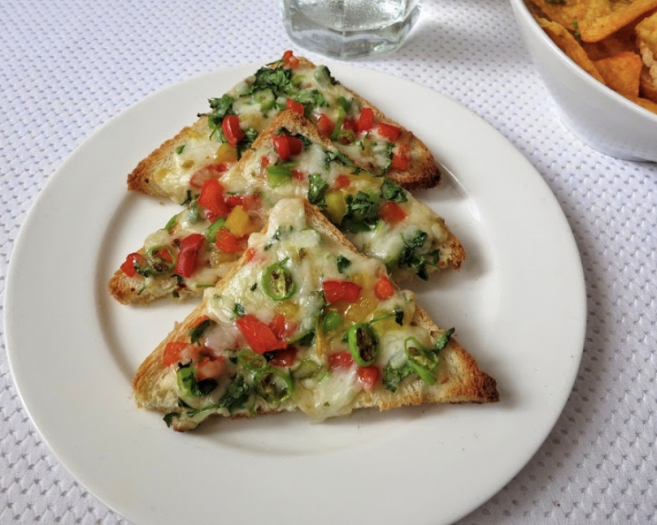 The chilli cheese toast recipe is very quick to make with simple ingredients off your pantry that you can serve either as breakfast or as a snack.
INGREDIENTS-
Whole wheat bread- 4 slices
Butter- 2 tbsp
Chopped green chilli / jalepenos- 2
Chopped red/green bell peppers- 1 
Finely chopped tomatoes- 1
Chopped coriander- 2 tbsp
Olive oil- 1 tsp
Cheddar cheese- to taste
Salt to taste
METHOD-
Combine all the toppings including green chillies, green bell pepper, red bell pepper, tomato, coriander leaves and olive oil except the cheddar cheese. Mix everything well. Check the salt and pepper levels, adjust to suit your taste and keep aside.
Take the bread slice and toast them on the pan.
Once crispy add the mixture on it. Add the cheese. Put in the microwave for the cheese to melt.
Once ready, cut into small pieces and serve with ketchup.