1. Loaded Chorizo Nachos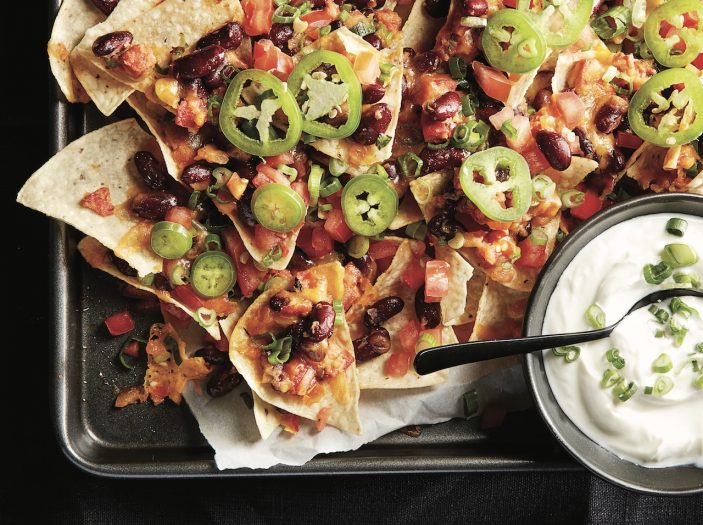 Serves 4
Ingredients
1 2/3 cups cooked chorizo (from Chorizo and Kale-Stuffed Sweet Potatoes with Zucchini-Arugula Salad) 1 cup drained canned unsalted pinto beans 8 (6-inch) corn tortillas, cut into wedges Cooking spray 2 ounces reduced-fat colby-Jack cheese, shredded (about 1/2 cup) 2 ounces queso fresco, crumbled (about 1/2 cup) 1/4 cup chopped green onions 1 cup chopped tomato 1/4 cup thinly sliced radishes 1/4 cup chopped fresh cilantro 1 ripe avocado, peeled and chopped 1 jalapeno pepper, thinly sliced 1/2 teaspoon kosher salt
Procedure
Preheat broiler to high.
Combine chorizo and beans in a small saucepan over medium heat; cook 5 minutes or until thoroughly heated, stirring occasionally.
Arrange tortilla wedges in a single layer on a large foil-lined baking sheet coated with cooking spray. Coat tortillas with cooking spray. Broil 2 minutes on each side or until lightly browned and crisp. Sprinkle cheeses and onions evenly over chips; broil 1 minute or until colby-Jack cheese melts.
Top nachos evenly with chorizo mixture, tomato, radishes, cilantro, avocado, and jalapeño pepper. Sprinkle kosher salt evenly over nachos. Serve immediately.
Nutritional Information
Calories 450 Fat 19g Satfat 6g Monofat 8.3g Polyfat 2.2g Protein 28g Carbohydrate 42g Fiber 10g Cholesterol 53mg Iron 3mg Sodium 608mg Calcium 400mg Sugars 2g Est. added sugars 0g
2. Sheet Pan Kimchi Nachos
Serves 6
Ingredients
12 ounces tortilla chips 2 teaspoons sesame oil 12 ounces ground pork 2 tablespoons minced shallot 2 cloves garlic, minced 1 teaspoon freshly grated ginger 1 1/2 teaspoons fish sauce 1 cup kimchi, drained and thinly sliced 5 tablespoons plain whole-milk Greek yogurt 2 teaspoons Sriracha chili sauce 2 teaspoons water 1 teaspoon seasoned rice vinegar 1/2 teaspoon sugar 1/4 teaspoon kosher salt 1/4 teaspoon freshly ground black pepper 1/2 cup thinly sliced green onion 1/4 cup thinly sliced watermelon radish
Procedure
Spread tortilla chips evenly on a half sheet pan. Set aside.
Heat oil in a large nonstick skillet over medium. Add pork and shallot; cook 3 to 4 minutes, breaking pork into pieces with a wooden spoon. Add garlic, ginger, and fish sauce; cook 2 to 3 minutes, until pork is browned and garlic is aromatic. Use a slotted spoon to remove pork from pan and sprinkle evenly over chips. Spread kimchi evenly over pork.
Combine Greek yogurt, Sriracha, water, vinegar, sugar, salt, and pepper in a small bowl; mix well. Spoon yogurt mixture evenly over nachos. Top with green onion and watermelon radish.
Nutritional Information
Calories 410 Fat 19.5g Satfat 4.8g Monofat 3.8g Polyfat 6.7g Protein 17g Carbohydrate 44g Fiber 4g Sugars 3g Cholesterol 45mg Iron 1mg Sodium 700mg Calcium 95mg
https://www.cookinglight.com/recipes/sheet-pan-kimchi-nachos
3. Apple Nachos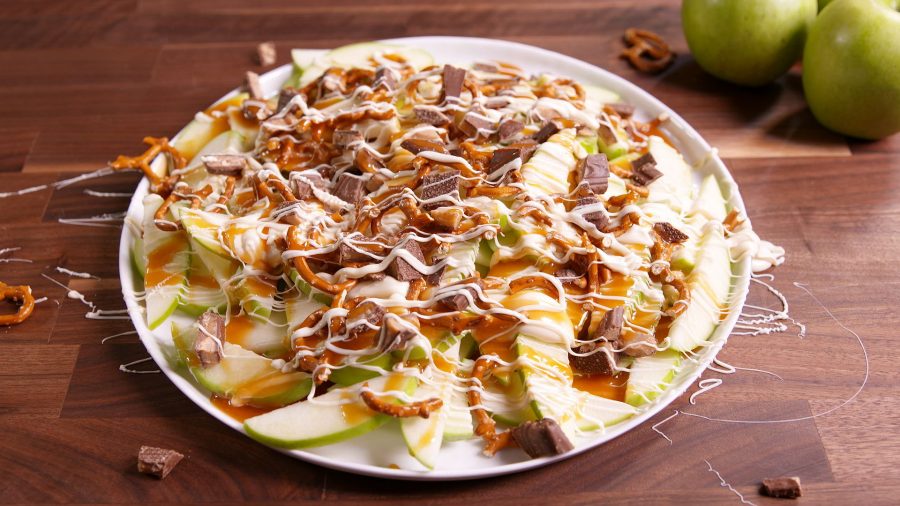 Ingredients
3 medium apples, sliced 2 tablespoons peanut butter powder (such as PB2) 2 tablespoons almond milk 1/2 teaspoon powdered sugar (if desired) 1/4 cup dark chocolate chunks (chips) 1/4 cup granola
Preparation
Wash and slice apples; arrange on a dish.
To make peanut butter glaze, combine peanut butter powder, almond milk, and powdered sugar. Drizzle on apples.
Sprinkle chocolate chunks and granola over apple slices.
Topping Options 1. Melt chocolate chunks; drizzle on apples. 2. Drizzle honey on apples. Sprinkle with granola or toasted oats. 3. Sprinkle with roasted nuts. Top with goat cheese crumbles. Drizzle with honey.
Serves 4 CALORIES 135; FAT 4g (sat 1.9g, mono 1.1g, poly 0.3g); PROTEIN 3g; CARB 26g; FIBER 3g; SUGARS 17g; CHOL 0mg; IRON 1mg; SODIUM 30mg; CALC 11mg
4. Nacho Wraps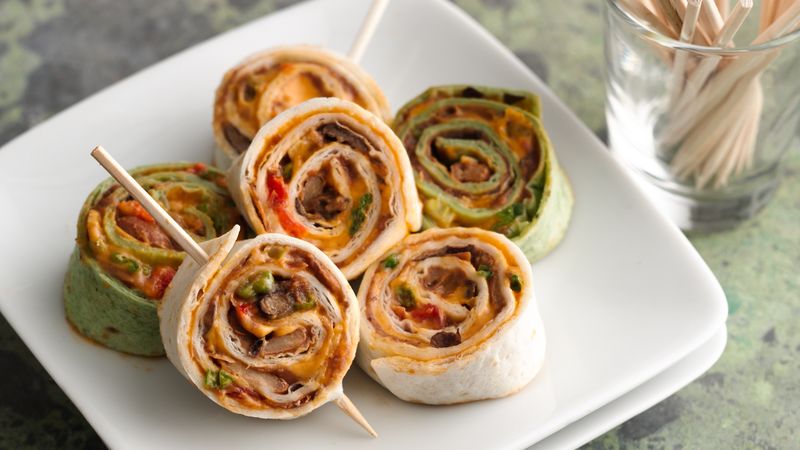 Makes: 4 servings
Ingredients
¾ cup refried beans
2 tablespoons diced green chiles (canned)
½ teaspoon taco seasoning
4 (8-inch) flour tortillas
½ cup guacamole
1 ½ cups shredded lettuce
1 cup crushed tortilla chips
1 cup diced tomatoes
1 cup shredded cheddar cheese
2 tablespoons minced fresh cilantro
½ cup pico de gallo
½ cup sour cream
Nacho cheese dip for dipping
Preparation
In a medium bowl, combine beans, green chiles and taco seasoning.
Place tortillas on a work surface. Spread bean mixture equally in the center of each tortilla. Spread guacamole over beans. Arrange lettuce, tortilla chips, tomatoes, cheese, cilantro, pico de gallo and sour cream in a line across the tortilla. Fold both edges over filling, roll up and refrigerate until ready to serve (in a lunchbox with an ice pack).
Pack the dressing in a separate container to keep the salad fresh until lunchtime.
http://archive.jsonline.com/features/recipes/222179451.html
5. Nourishing Nachos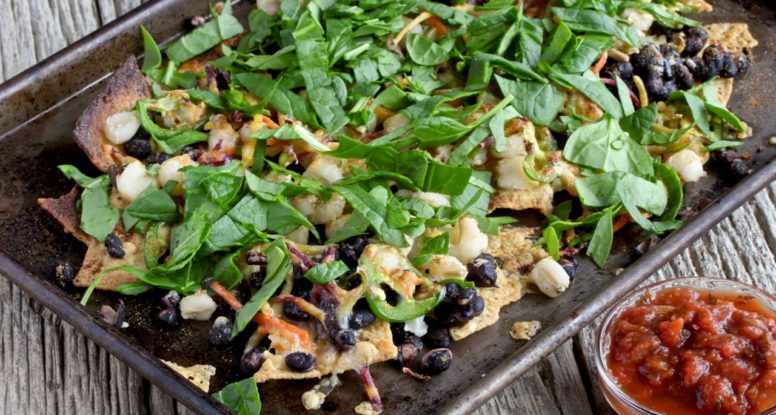 Serves 2 as a main, 4 as a starter
Ingredients
1 tbsp olive oil
1 onion, finely chopped
250g/9oz beef mince
1 tsp hot smoked paprika
1 tsp ground cumin
½ tsp chilli powder
½ 400g tin black beans, drained
200g/7oz lightly salted corn tortilla chips
150g/5½oz cheddar, grated
100g/3½oz cherry tomatoes, quartered
salt and freshly ground black pepper
To serve
4 spring onions, finely chopped
coriander (optional)
sliced chillies (optional)
lime wedges
soured cream
Method
Preheat the oven to 200C/180C Fan/Gas 6. Heat the oil in a frying pan over a medium heat, add the onion and cook for 3–5 minutes until soft and translucent.
Increase the heat and add the beef, paprika, cumin and chilli powder. Cook for 5-10 minutes, stirring occasionally, until the beef is browned.
Reduce the heat to medium and add the black beans, stirring gently, until the beans are heated through. Season with salt and pepper.
Line the base of a 1.5 litre/2¾ pint ovenproof dish or baking tray with a single layer of tortilla chips, then top with half of the beef mixture, then half the cheddar and half the cherry tomatoes. Add a second layer of tortilla chips, then top with the remaining beef and cheese. Transfer to the oven and cook for 8–10 mins, until the cheese has melted.
Remove the nachos from the oven and top with the remaining cherry tomatoes, spring onions, coriander and chilli, if using. Serve hot with the soured cream and lime wedges.