By:Dt. Manoli Doshi
Founder of Tattvam Diabetes Educator Weight Management Expert
The people of India welcome and enjoy monsoon like a festival. The time when you love to sit with your friends and family with 'Garam chai' or hot tea along with 'pyaaz ke paore'. Seriously, a rainy day feels to be incomplete without this combo.
After the scorching summer, Rain, unarguably, is a pleasant experience. Who doesn't like rainy days? They are simply the reason to hog onto those crispy veg pakoras and samosas in the evening with tea. However, if you are on a diet or are struggling to lose weight, rainy days might bring you cravings that are hard to die. So, we say, ditch the idea of deep fried samosas and switch to healthy evening snacks that will take care of your craving along with your weight.
Take a look at these 5 evening snacks that are healthy and perfect for a rainy day. PS-Nutritionist Approved!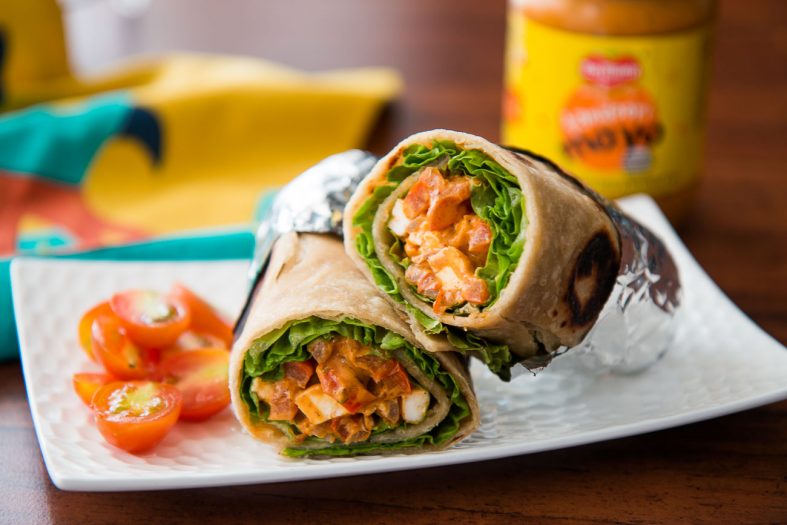 Our very own roll, from the streets of Mumbai, the Paneer Frankie is the perfect snack for everyone! This super tasty, filling, and easy-to-make Frankie will make the perfect evening snack.
INGREDIENTS-
250 gms paneer
2 tsp oil
2 tsp chili powder
2 tsp garam masala
½ tsp chaat masala
1 tbsp finely chopped coriander
1 small onion, finely chopped
Salt to taste
2 Rotis
1 Katori green chutney
METHOD
Add the oil to a pan and the onion and saute till soft. Then add the chili powder, garam masala, chaat masala, and salt and saute.
Add the paneer and mix well. Cover and let it cook for 5 mins till soft.
Add the paneer and onion mixture and green chutney to roti and roll into a Frankie and toast on the pan till crispy.
Enjoy with ketchup or green chutney.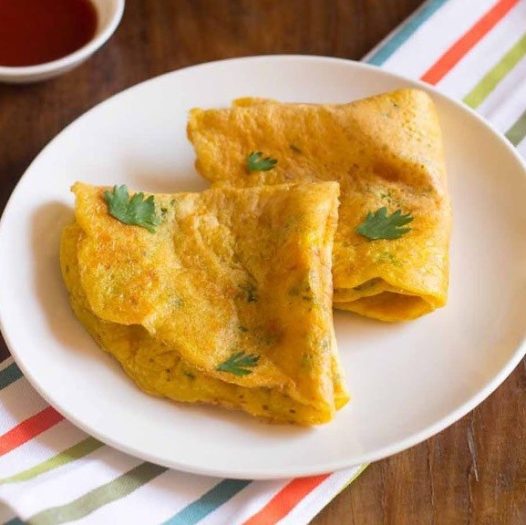 Made up of moong dal, these chillas are not only delicious but have a number of healthy nutrients attached to them as well. Cook them in olive oil to make them healthier. You can have them with a paneer or potato filling as well!
INGREDIENTS
1 cup Yellow Moong Dal
1 tsp Salt
1 inch Ginger (Chopped)
1 Green Chilli
1/4 cup Onion (Chopped)
1 tbsp Coriander (Chopped)
Oil for frying
METHOD
Wash and soak the dal for 2-3 hours.
Drain the water.
Grind the dal with ginger, green chili, and little water to make a smooth paste.
Add salt, onion, coriander, and more water to make a dosa like a batter (medium-thick consistency)
Heat a non-stick pan and pour a ladle full of batter in the center.
Spread the batter to make a thin round using the back of a ladle.
Pour a tsp of oil on the sides and cook till golden brown.
Flip and cook the chilla from both sides.
Serve hot with green coriander chutney or ketchup.
Fresh Corn Bhel is a delicious North Indian snack recipe. The main ingredients used in this quick and easy-to-cook dish are corn kernels, potatoes, cucumbers, onions, and tomatoes. This delightful dish is not only delicious but healthy too as it is loaded with the goodness of all the vegetables used in it. In fact, it is a healthier version of bhel, a famous Indian street food.
INGREDIENTS
2/3 cup corn kernels
1/4 cup coriander leaves
1/2 teaspoon chaat masala
1 teaspoon green chutney
Papdi as needed
1/2 potato
2 cups sev
1/2 cucumber
1 teaspoon sweet tamarind sauce
3/4 tomato
1 & 1/2 onion
salt As required
½ raw mango (optional)
Lemon juice
METHOD–
Boil and peel the potatoes and set aside.
Boil the corn kernels for 10-12 minutes until soft and keep aside to cool.
Wash and chop cucumber, coriander leaves, tomatoes, onions, raw mango and boiled potatoes and add to a bowl.
Crush the papdi and add it to the bowl. Also add salt, sev, green and sweet chutney and chaat masala. Mix all the ingredients well and top with the lemon juice. Serve!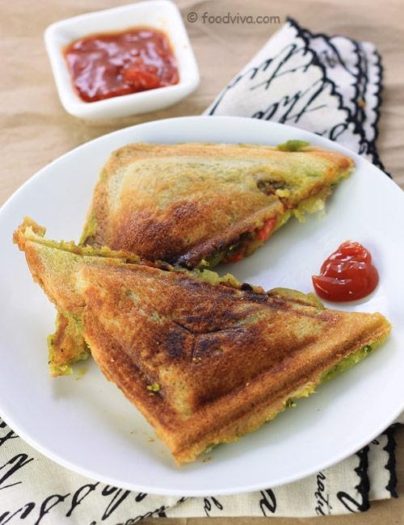 This veg toast sandwich recipe is very quick to make with simple ingredients from your pantry that you can serve either as breakfast or as a snack.
INGREDIENTS
8 to 10 slices of brown or whole wheat, multi-grain or white bread
1 medium-size tomato, thinly sliced
1 medium-size onion, thinly sliced
1 small cucumber, peeled and thinly sliced
1 boiled beetroot, thinly sliced (optional)
1 or 2 boiled potatoes peeled and thinly sliced
butter at room temperature, as required
chaat masala or sandwich masala to sprinkle on the veggies, as required
black salt or rock salt or regular salt to sprinkle on the veggies, as required
coriander & mint green chutney
METHOD-
Apply butter to the bread slices
Apply the green chutney to the buttered slices.
Place the 2-3 slices of all the veggies alternately on four bread slices.
Sprinkle chaat masala or sandwich masala and black salt on the veggies alternately.
Cover these with the remaining bread slices. Now toast the sandwiches in a toaster or grill.
Serve a veg toast sandwich with tomato ketchup and some coriander chutney.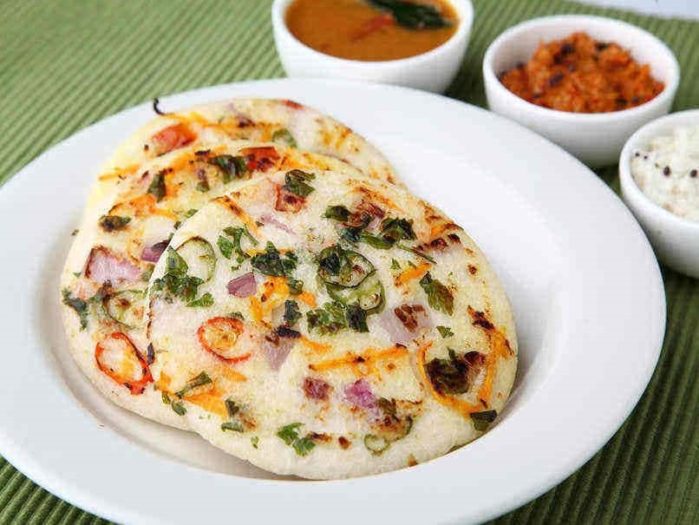 Uttapam loaded with veggies is already a healthy snack, and it becomes healthy when cooked with oats. Add as many veggies as you would like in the Uttapam and relish them with a hot cup of tea/coffee. Sounds heaven right?
INGREDIENTS:
½ cup oats
¼ cup rice flour
2 tablespoons curd
Salt as needed
Water as needed
½ onion, chopped
½ tomato, chopped
2 green chillies, chopped
Coriander leaves, chopped
METHOD:
Preparation:
Add oats to a blender jar and make a fine powder.
If you do not have rice flour then add sooji along with oats to the blender and powder finely.
Transfer the oats flour, rice flour or semolina, salt, yogurt to a mixing bowl.
Mix together with water to make a batter similar to the dosa batter consistency.
The batter should be neither too thick nor too thin. But must be of slightly spreading consistency.
Check salt and add more if needed.
Cover and rest this aside for 5 mins.
Meanwhile rinse and chop onions, tomatoes, chilies and coriander leaves.
Mix together all the veggies on the chopping board and keep them ready.
How to make oats uttapam
Grease a tawa with few drops of oil and heat it on a medium flame.
Stir the batter well and adjust the consistency if needed by adding little water.
Pour a ladle of batter and spread a bit to make a thick oats uttapam.
Sprinkle the veggies as desired and gently press them with a wooden spatula.
This helps them to stick to the oats uttapam.
Cook until the base is done well & slightly crisp. You can also cover and cook until the base is set.
Flip and cook well on the other side as well.
Flip again and fry until the base is slightly crisp.
Remove the oats uttapam to a serving plate.
Before you make the next one, clean the tawa with a tissue if needed and grease it again.
This way make more oats uttapam until you finish the batter.
A good book or a movie and delicious food are what you need on a beautiful rainy day. With the rainy season just around the corner, try these scrumptious snack recipes which you can enjoy during the rains with a hot cup of tea or coffee.
But how about welcoming the monsoon with some lip-smacking and delicious hot snacks with friends or family on a cozy and cold evening. Organize a small cozy table or just a down sitting in your balcony and enjoy the weather with some food and your favorite beverages.