By Ms. Preety Tyagi
Nutritionist and founder of MY22BMI
1. SPINACH SOUP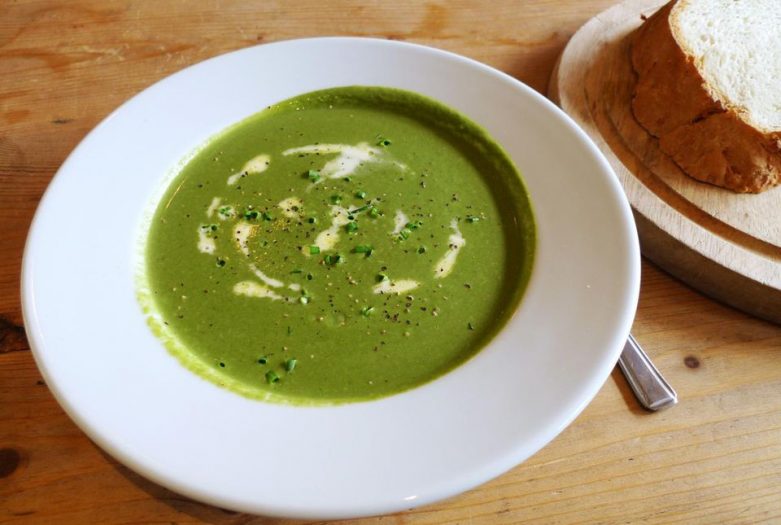 This fresh-tasting spinach soup is nutritious and delicious. It's also surprisingly easy to make and can be ready in less than 30 minutes. That means it's perfect for a light lunch or a great start to a healthy dinner.
When you make it, you will notice that the soup has a brilliant green color. That's because half of the spinach is reserved and blended into the soup after cooking. It's a great trick that also helps retain all of the nutrients found in fresh spinach. If you wish to keep this soup vegetarian, simply opt for vegetable stock instead of chicken stock.
Ingredients
2 teaspoons olive oil
2 cloves garlic
1/2 medium onion (finely chopped)
1 medium potato (white; peeled and cubed)
2 cups chicken broth (or vegetable broth; fat-free, low-sodium)
2 cups milk (fat-free)
1 (6 oz.) bag baby spinach
Black pepper (freshly ground, to taste)
Method
In a large Pan, heat the oil. Sauté the garlic, onion, and potato for 5 minutes.
Add chicken broth and fat-free milk. Bring to a boil, cover, and simmer for 10 minutes.
Stir in half the spinach, cover, and simmer for 10 more minutes.
Cool slightly, and then transfer soup to a blender. Work in two batches, if necessary.
Serve Hot…
The lovely part about this spinach soup is that it's very versatile. It makes a warm and inviting soup for winter, but it can also be cool and invigorating, so it's perfect for summer as well. No matter when you eat it, you will find that this soup is even better when served hot.
2. Italian Style CHICKPEA SOUP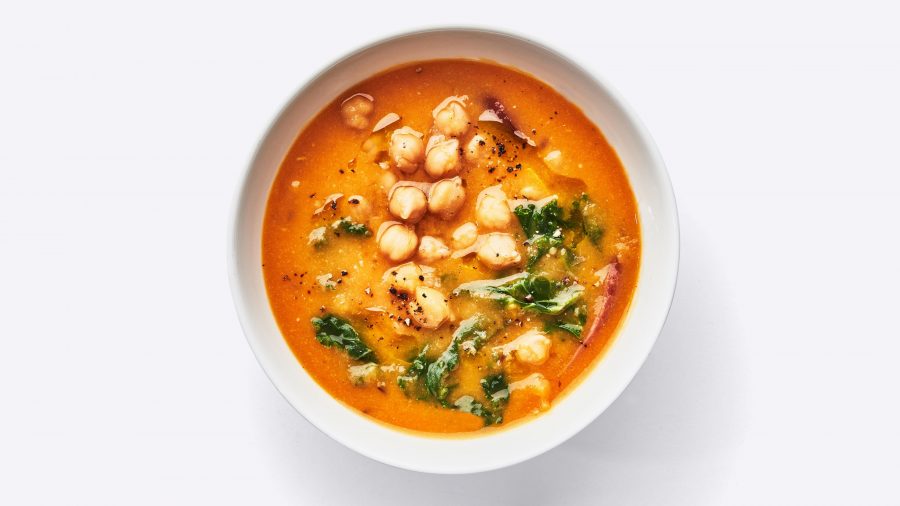 The perfect fall and Winter Comfort food. This Hearty Chickpea Soup, made with loads of chickpeas, potato, tomatoes and spices is made creamy by blending half the ingredients, adding a little pasta makes it perfect. A meal all in itself!
If you are a chickpea lover than you should give this soup a try.
Ingredients
2 tablespoons olive oil
1/2 onion (minced)
1 clove garlic (minced)
1 stalk celery (chopped)
1 potato (chopped small)
2 1/4 cups chickpeas boiled well
1 cup chopped tomatoes
3 cups water
1-2 tablespoons fresh parsley
1/2 teaspoon basil
1/2 teaspoon oregano
1/2 teaspoon salt
hot pepper flakes to taste
1 cup cooked pasta
Instructions
In a large pot add olive oil, minced onion, garlic and celery, sautee on low/medium heat for 2 minutes or until clear.
Then add potatoes, chickpeas, tomatoes, water and spices simmer on low/medium until tender and thickened (approximately 60 minutes).
In the last 15 minutes cook the pasta until al dente then drain well (I prefer Orecchiette pasta in this soup).
Remove half the cooked soup and blend until smooth, return to the pot, add the pasta and heat until hot. Serve with fresh grated parmesan cheese if desired. Enjoy!
These soup recipes are high in protein, fiber and are extremely nourishing to the body. These also promote weight management.