The festival of Holi in India is one of the much-awaited day of a year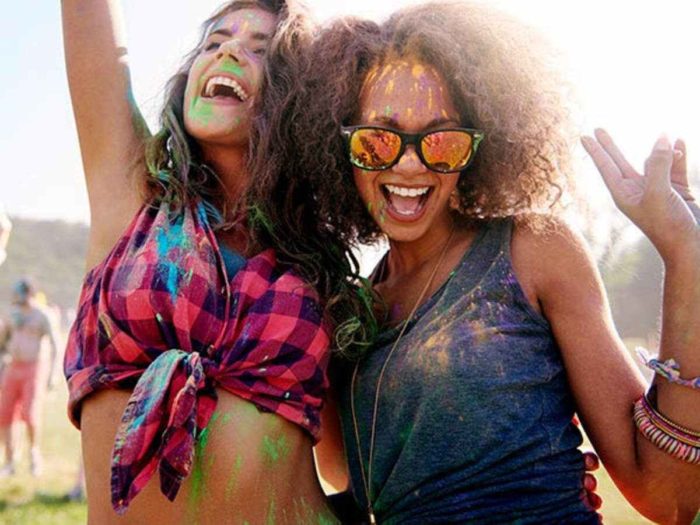 Celebrating Holi, moderation with caution is the keyword.
Skin Care Ritual to Follow
After playing Holi and having a fun time with all under the sun, these skincare rituals are a must.
Exfoliate your skin

Clean your face and body thoroughly after playing Holi. Use a natural scrub that is not harsh on the skin and remove all the stains from your body. Be gentle as your skin has already had a tough day. Investing in a tan-removal scrub is a good idea, as your skin has been exposed to harmful UV rays for quite some time. Rinse with cold water and pat dry.
For oily skin: Grind dried up orange peel and red lentils (masoor dal) into powder and add lemon juice and rose water to it to make a fine paste. Rub the mixture on your face gently and wash off with water.

As for dry skin, you need a pack that removes the stains plus moisturizes your skin. Try a moisturizing face pack by mashing 1 ripe banana and adding milk and honey in equal proportion to it. Apply on the face and let it dry. Rinse with cold water and moisturise.

For combination skin, try a face pack that targets both issues. While aloe vera is a natural moisturizer and good for oily skin, lemon has cleansing properties that get every last bit of colour off from the face. Blend aloe vera extract with some lemon juice to make a smooth paste. Apply on face and neck and wash after 10-15 minutes.
Soothen your skin

Post-Holi skincare should focus on soothing your irritated skin. The best and most organic way to do so is by applying aloe vera gel all over your face and body. Keep it on for some time, sit back, and relax. If you do not want to use aloe vera then a cooling cucumber mask is also an ideal choice.
Rejuvenate your skin
The goodness of rose water is something we all are aware of. It not only helps in refreshing the skin but deeply penetrates into the skin and gives you a natural pinkish glow. This post-Holi skincare ritual is a must-do. Apply rose water with the help of a cotton pad or spray it directly on your face. Keep it for 15-20 minutes then rinse with icy cold water.
Things to Remember While You Play Holi 2022
Avoid large Holi gatherings
Play Holi in a closed family group and ensure no one displays symptoms of cough, cold or flu
Play with dry colours and not water
Practice frequent washing of hands
Ensure you have foods that boost your immune system
Ensure that you have a face mask on, before stepping out.
Have a Safe Holi 2022.