Hot yoga just means doing yoga in a room that's heated to an above-average temp, typically between 80 to 100°F (26 to 38°C). It can include any number of poses and music to get your practice flowing. The intent is that the heat loosens your muscles and the sweat helps cleanse your body.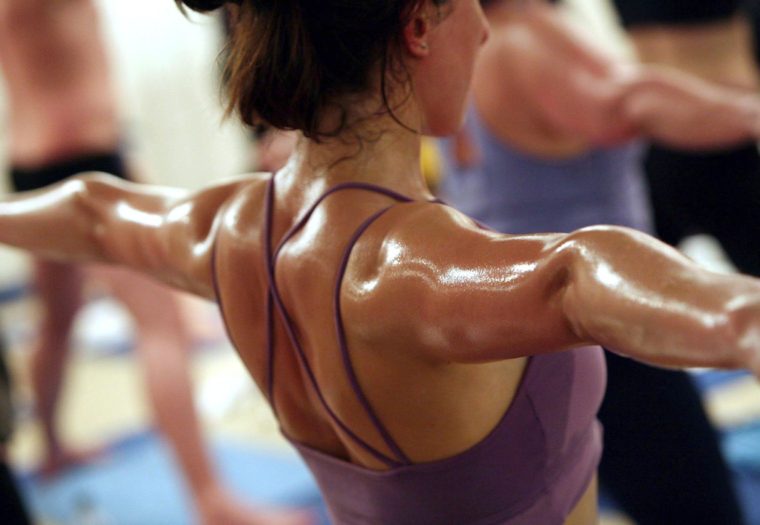 Sweating with heat and/or exercise has been viewed throughout the ages, by groups worldwide, as a process of "cleansing" of all the body toxins. Induced sweating appears to be a potential method for the elimination of many toxic elements from the human body.
Benefits of Hot Yoga
When practiced safely, hot yoga can provide the following benefits.
Increased Flexibility
It's no secret that warmed-up muscles just stretch better. Bending and stretching in hotter temps is safer, and it might make those tough poses a little easier to pull off.
You might find that the heat also lets you settle just a smidge farther into each pose and boosts your range of motion.
Stress Reduction
In a 2018 study of physically inactive, stressed adults, a 16-week hot yoga program reduced the participants' stress levels significantly.
Burn calories
Hot yoga is a solid way to burn calories. The hotter temp makes your body work harder than usual. So even if a hot yoga class is less intense, you'll still burn more calories than you would in a traditional yoga class.
Cardiovascular health
The extra heat and humidity make yoga poses more challenging for your heart — a bonus if you want to kick your cardiovascular health up a notch.
A study found that one hot yoga session gets the heart pumping at the same rate as a brisk walk of 3.5 miles per hour.
Strengthen your bones
When planning your workout routine, you might focus on the muscles and joints and not give much thought to your bones.
But premenopausal women and older adults who are at risk of osteoporosis, in particular, should focus on building bone density since it declines with age. Hot Yoga practice can help achieve increased bone density in the lower back, hips, and neck.
According to one study, women who practiced hot yoga for over five years had shown increased bone density in the neck, lower back, and hips. The heated environment reduced the effects of osteoporosis in women, which prevented bone loss.
Lower your blood sugar
If you're at risk for type 2 diabetes, you might reap extra benefits from hot yoga.
Helps with relaxation and mood
Yoga originated in ancient India, where the practice was much more than physical exercise — it had a meditative and spiritual purpose. Today, it's still well-known for its relaxation and mood-boosting benefits.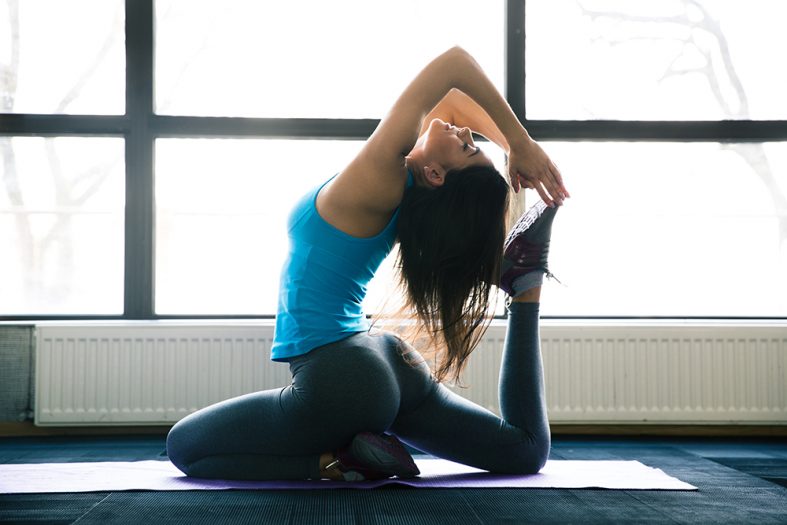 Yoga helps fight depression.
Many studies have concluded that yoga is an effective way to reduce symptoms of depression. Of course, depression isn't one-size-fits-all: What works for someone else might not be your thing. Yoga is not a magical elixir for flawless mental health and serenity, but it just might give you some relief.
Nourish your skin and immune system
Sweating in a hot environment can boost your circulation, which helps your immune system work its best. It also can help nourish your skin from the inside out, giving you a rosy glow.
Tips and Precautions
Hot yoga will need preparation and gear to handle the heat:
You will be sweating a lot on your yoga mat during a hot yoga class. Skidless mat towels (or other similar products) are a part of hot yoga accessories. These towels are placed over the mat to absorb sweat and improve traction.
The sweating you do in hot yoga also means you'll want to choose the right yoga wear. Generally, women find that tight-fitting tops and capris or long pants are best to prevent slipping during poses.
The actual temperature in a class will vary by style and studio. Some can be as hot as 108 F, which makes the 75 F rooms seem almost chilly.
The "sweating out the toxins" catchphrase is popular among hot yoga students. The truth is that sweating is not really part of the detoxification system of our bodies, though it can make you feel better in the end.
Drink plenty of water before and after class so you don't get dehydrated. You can also take small sips of water during class but drinking too much during your practice may cause bloating and may impair your ability to feel comfortable in each asana. It is not advisable to eat within two hours before you take a class.
Hot yoga is not advised for pregnant women since it can raise the core body temperature.
Skip the hot yoga if you have an issue with heat tolerance. 
NOTE:
This form of yoga practice is considerably more intense than classes offered in cooler rooms. Therefore, before taking a class, consider any medical conditions you may have and speak to your doctor about whether it's right for you.
If you have low blood sugar or low blood pressure, you may experience lightheadedness or dizziness. Talk with your doctor before trying hot yoga.
Ref used: https://www.hindawi.com/journals/jeph/2012/184745/