Mehuli Ghosh is an Indian sport shooter. She joined the Serampore Rifle Club in 2014. She received her training at the Joydeep Karmarkar Shooting Academy. In 2016, she was selected for the Indian National Shooting Championships held in Pune. She received two gold medals and seven silver medals at the national championships. In the 2017 National Championships, Mehuli won eight gold and three bronze medals and was judged Best Shooter. In 2019, she won gold at the South Asian Games in Nepal.
Ghosh was awarded the title of "Female Young Athlete of the Year" award at the Sportstar Aces Awards in 2020.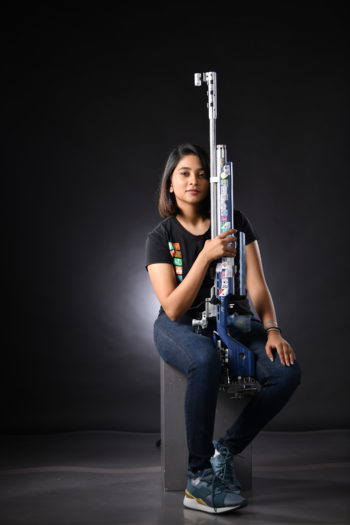 In Air Rifle Mixed Team at Changwon Shooting World Cup(2022), Mehuli Ghosh, and Shahu Tushar Mane won gold for India.
She is currently ranked 1st in India's senior team.
Catch Ms. Namita Nayyar in conversation with shooting champion, Ms. Mehuli Ghosh.
Ms. Namita Nayyar
You have been mentored and coached by former Indian Olympic finalist and Arjuna Awardee, Joydeep Karmarkar. Please share the series of events that lead you to take up shooting at a competitive level.
Ms. Mehuli Ghosh
When I was a kid I used to watch Olympics on television. I really used to like watching all kinds of sports. In 2008 I saw Abhinav Bindra win Olympic gold in rifle shooting. From that very moment I started imagining myself participating and winning a medal at the Olympics, my fascination with rifles and pistols gave me clear clarity when I got to know I can also learn rifle shooting. Later when I finally tried my hands on shooting my love for shooting grew and I knew I wanted to do it professionally.