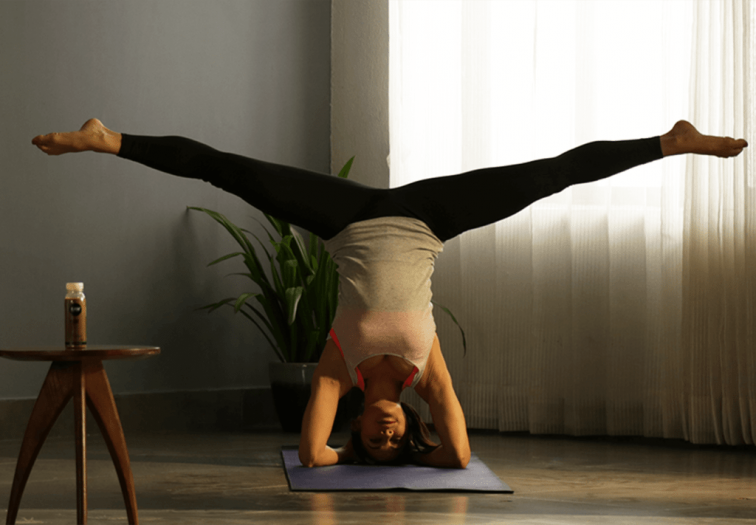 In an interview celebrity actress Jacqueline Fernandez shared her fitness goal for 2019.
Speaking of fitness, Jacqueline shared she wants to do a backflip and a proper handstand. "And a full standing split," she added.
Women Fitness provides an insight into these Yoga poses
Backflip (Viparita Chakrasana): It is a strenuous activity, and it's easy to strain a muscle if you're not careful. Make sure your body is fully warmed up before you flip, and pay special attention to stretching out your core, legs, ankles, arms, wrists and neck. Stand on your toes. Stand with your feet approximately one shoulder width apart, then rise onto your toes and stretch your arms straight into the air. Remember to keep your back straight (so your body is perpendicular to the ground) and your eyes facing straight ahead. Standing on your toes will allow you to get more power in your jump and will also help you to achieve good form. Bend your knees and throw your arms back. Bend your knees until they form a 90-degree angle – any more or less will cause you to lose power. As you bend, swing your arms backwards as far as possible. Make sure they are straight. Jump straight up into the air. Here's the scary part – the jump! Jump straight into the air, as high as possible, swinging your arms to create momentum. Don't throw your head and arms backwards – this is incorrect and could cause injury. Instead, point your hands straight up and focus your eyes straight ahead. You should also avoid arching your back, which needs to be as straight as possible. Contracting your stomach muscles helps. Tuck your knees. Tucking your knees will create the backwards momentum necessary to complete the flip.
So, when you reach the peak of your jump, draw your knees as close to your chest as possible and wrap your arms around them. The harder you tuck, the faster you will spin. At this point you need to really commit to the flip – you can't panic or lose concentration – otherwise you might land on your head, which could result in serious injury. Note that your head should still be in a neutral position, in line with your spine. It should not be thrown back. Spot your landing. About halfway through the flip, when you are completely upside down, you need to spot your landing. This will help you land safely and make a successful backflip. Spotting your landing should come naturally. You can do this by tilting your head back just far enough so you can see the ground. Try to pick out the exact spot you'll land on, as this will help you to gauge when to come out of your tuck. Untuck and land firm. Once you've spotted your landing, let go of your knees and prepare to land. Be aware that landing from a back flip places the same amount of stress on your legs as jumping from a height of five feet. Therefore, you will need to land firmly to ensure that your legs don't crumple beneath you. You can do this by tensing your muscles and squeezing your legs together.The landing can be a little tricky – so don't worry if you land on your hands and knees the first couple of times. A good landing will come with practice.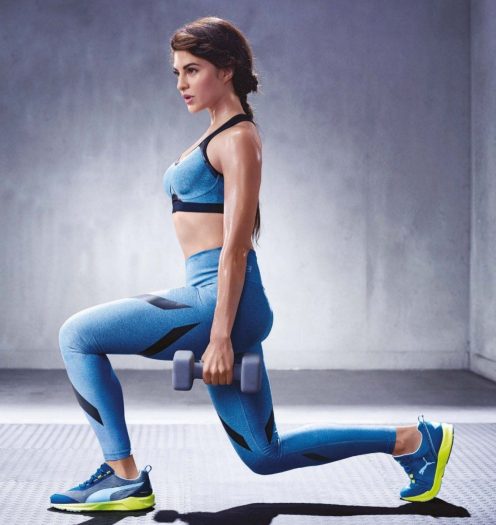 Handstand (Adho Mukha Vrksasana): To begin performing Adho Mukha Svanasana (Downward-Facing Dog Pose) with your fingertips an inch or two away from a wall, hands shoulder-width. If your shoulders are tight, turn your index fingers out slightly; otherwise arrange them parallel to each other. If you're uneasy about this pose, you're not alone. To ready yourself for and secure yourself in this inversion, firm your shoulder blades against your back torso and pull them toward your tailbone. Then rotate your upper arms outward, to keep the shoulder blades broad, and hug your outer arms inward. Finally spread your palms and press the bases of the index fingers firmly against the floor. Now bend one knee and step the foot in, closer to the wall (we'll say it's the left leg), but keep the other (i.e. right) leg active by extending through the heel. Then take a few practice hops before you try to launch yourself upside down. Sweep your right leg through a wide arc toward the wall and kick your left foot off the floor, immediately pushing through the heel to straighten the left knee. As both legs come off the ground, engage your deep core abdominal muscles to help lift your hips over your shoulders. Hop up and down like this several times, each time pushing off the floor a little higher. Exhale deeply each time you hop. Hopping up and down like this may be all you can manage for now. Regularly practice strengthening poses, like Adho Mukha Svanasana and Plank Pose. Eventually you'll be able to kick all the way into the pose. At first your heels may crash into the wall, but again with more practice you'll be able to swing your heels up lightly to the wall. If your armpits and groins are tight, your lower back may be deeply arched. To lengthen this area, draw your front ribs into your torso, reach your tailbone toward your heels, and slide your heels higher up the wall. Squeeze the outer legs together and roll the thighs in. Hang your head from a spot between your shoulder blades and gaze out into the center of the room.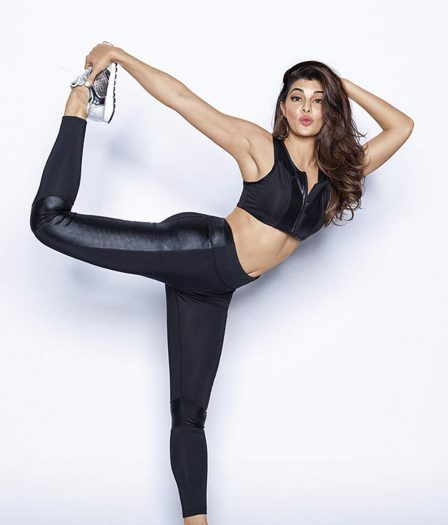 To start stay in the pose 10 to 15 seconds, breathing deeply. Gradually work your way up to 1 minute. When you come down, be sure not to sink onto the shoulders. Keep your shoulder blades lifted and broad, and take one foot down at a time, each time with an exhalation. Stand in Uttanasana for 30 seconds to 1 minute. We tend to kick up with the same leg all the time be sure to alternate your kicking leg, one day right, next day left.
Full standing split (Urdhva Prasarita Eka Padasana): It is an Intermediate to Advanced Level pose practiced for the deeper opening of the hips.  This exercise targets the standing leg's hamstring, while also stretching your hips. Begin in Standing Forward Bend. Inhale and shift weight into your right foot and your palms. Lift your left leg up as high as you can. Tuck your chin and draw your torso toward your right leg, breathing deeply and relaxing the shoulders away from the ears. Stay here for five breaths. Then return your left leg to the floor. Stay here for a complete breath and repeat this stretch with the left foot on the floor.
Go slow till you master these exercises to avoid injury.