In India, no festival is complete without food, Khichdi is one of the many Makar Sankranti specialties.
There is a variety of khichdi recipes that are cooked in India. Sabudana khichdi, Dal Khichdi, oats khichdi, and recently quinoa khichdi is also quite popular.
Vaghareli Khichdi: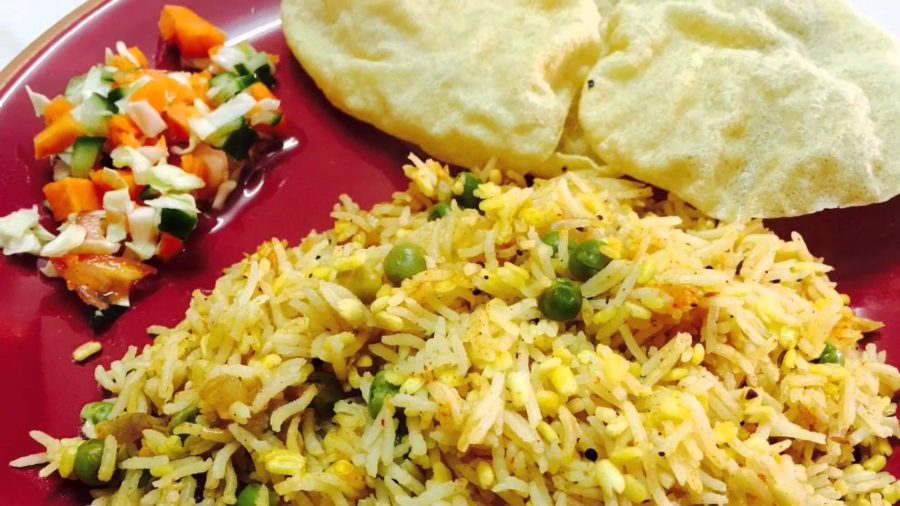 Gujarati Vaghareli Khichdi is a healthy, easy one-pot meal, and comfort food.

Ingredients
1/4 cup Split Urad dal
1/4 cup Toor Dal
1/2 cup Rice
1/2 cup Soya chunks
1/2 teaspoon Turmeric Powder
1 1/2 teaspoon Red chili Powder
1.5 teaspoon Salt
1/2 teaspoon Garam Masala Powder
4 cup Water
For Vaghar/ Temper
2 tablespoon Ghee
1/4 teaspoon Hing/asafoetida
1 teaspoon Cumin
1 Green chilies
2-3 Whole Red Chili
1 inch Ginger (Cut into juliennes)
1 teaspoon Kashmiri red chili powder
Instructions
To make Vaghareli Khichdi, start with soaking and cleaning dal, and rice.
In a bowl add 1/4 cup split urad dal and 1/4 cup archer dal. Mix the dal using your fingers and pour water in the bowl. Now, wash the dal 3-4 times until the water runs clear.
In a separate bowl add 1/2cup basmati rice. Wash the rice too for 3-4 times until the water runs out clear.
For some protein in the khichdi, add soybeans in a bowl and pour hot water in it. Soak the soya chunks in hot water for 5 minutes.
Now in a pressure cooker add the soaked dals and rice from the bowl.
After that add 4 cups of water in the pressure cooker. Then add soaked soya chunks in the cooker.
When you have added the soybeans, add 1/2 teaspoon of turmeric powder, 1 teaspoon of red chili powder, and ½ teaspoon of garam masala powder in the cooker.
Then add salt to taste.
To prevent the spilling of water from the cooker, add a teaspoon of cooking oil in the cooker.
Close the pressure cooker and pressure cook the khichdi for 2 whistles. After this release, the pressure from the cooker and open the lid of the cooker. Allow the khichdi to simmer for a few minutes while stirring in between. Keep it aside.
Now To make tadka/baghar heat 2 tablespoons of ghee in a tadka pan. (Vegans can use 2 tablespoons of cooking oil here)
To that add a pinch of asafoetida and a teaspoon of cumin seeds. When the seeds start to crackle add a teaspoon of ginger juliennes (cut the ginger in long thin strips)
Now add chopped green chili. Stir them once and then add 2-3 broken red chilies,
And half a teaspoon of red chili powder in the tadka pan.
Save about 1/4 of baghar and pour rest over khichadi and mix it nicely.
At the time of serving this baghari khichdi pour rest of the Baghar and enjoy it with a side of papad pickle and dahi.
Chana Dal Khichdi:
Dal Khichdi is an Indian lentil and rice, wholesome one-pot meal. This vegetarian Indian food recipe is a gluten-free, vegetarian, nourishing, comforting, and incredibly tasty meal you can make in 30 minutes or less. You can make khichdi in an Instant pot pressure cooker, or rice cooker. One can use, Yellow moong. Lentils like yellow moong dal or split and skinned green moong dal are used in making khichdi. But on special occasions like Sankranti Chana dal khichdi is cooked.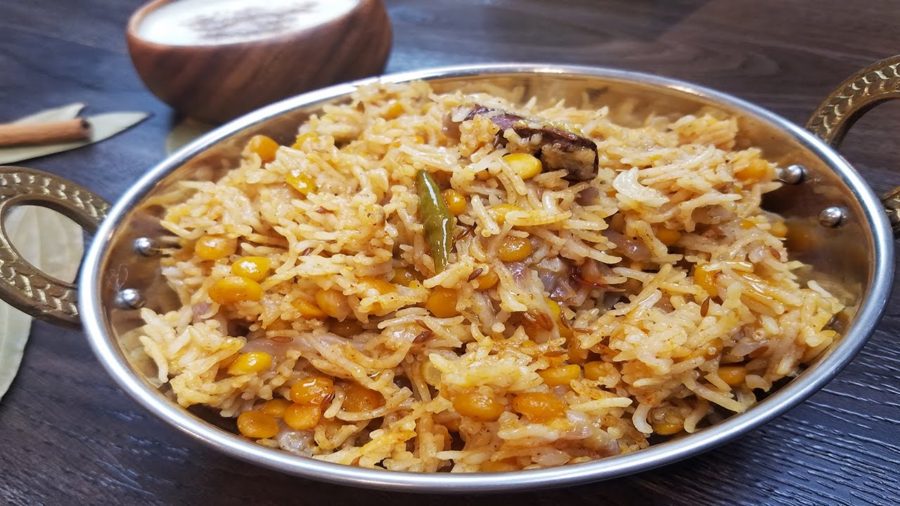 Ingredients

1 cup chana dal
1 cup basmati rice
2 tbsp ghee
1 cup Peas Fresh shelled
1 tsp cumin seeds
1 tsp mustard seeds
1 – 2 Star anise
salt to taste
1 tsp red chilli powder
1/2 tsp turmeric powder
For Tempering
1 Tbsp ghee
2 – 3 red chilli whole
1 Tbsp Sesame seeds

Instructions

Heat ghee in pressure cooker, add mustard seeds cumin seeds, star anise, cloves, cinnamon stick and roast in ghee for a minute.
Add chana dal which is already washed and roast it in ghee for 2-3 minutes and follow it with washed basmati rice.
Cook them together dry for 2-3 minutes and add salt, red chilli powder and turmeric powder. Add 4 cups of water and pressure cook for 2 whistles. And let the pressure release before opening the cooker.
To prepare tempering take a tadka pan heat 1 tbsp of ghee and add 2-3 red chillie whole and sesame seeds. Take the pan off from heat when seeds start to splutter and pour this tadka over hot khichadi and serve it immediately.