Maghi Khichdi: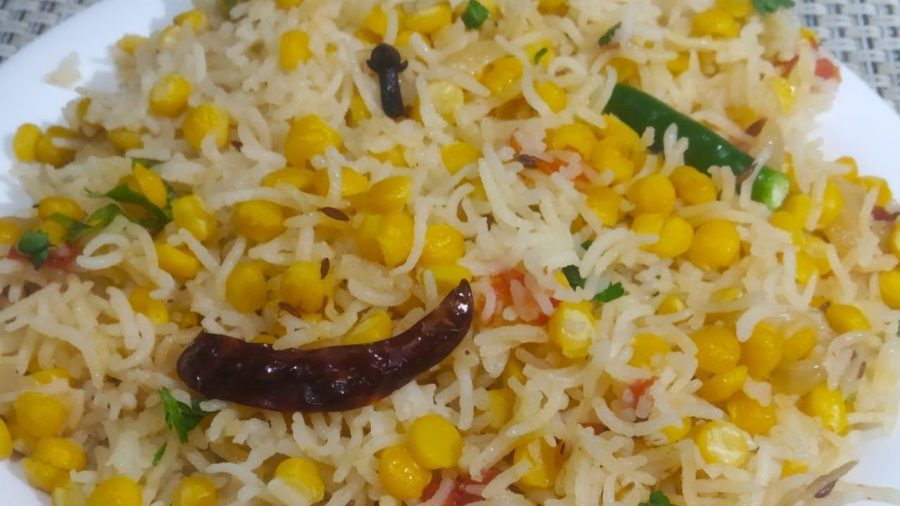 Also called bhuna khichdi, this is made differently from the normal khichdi recipe which is more liquid (gruel) in texture and mushy. This is more like a pulao type of recipe where grains stand separate and whole spices are used.

Ingredients
1 cup chana dal
1 cup basmati rice
2 tbsp ghee
1 cup Peas Fresh shelled
1 tsp cumin seeds
1 tsp mustard seeds
1 – 2 Star anise
to taste salt
1 tsp red chilli powder
1/2 tsp turmeric powder

For Tempering
1 Tbsp ghee
2 – 3 red chilli whole
1 Tbsp Sesame seeds

Instructions

Heat ghee in pressure cooker, add mustard seeds cumin seeds, star anise, cloves, cinnamon stick and roast in ghee for a minute.
Add chana dal which is already washed and roast it in ghee for 2-3 minutes and follow it with washed basmati rice.
Cook them together dry for 2-3 minutes and add salt, red chilli powder and turmeric powder. Add 4 cups of water and pressure cook for 2 whistles. And let the pressure release before opening the cooker.
To prepare tempering take a tadka pan heat 1 tbsp of ghee and add 2-3 red chillie whole and sesame seeds. Take the pan off from heat when seeds start to splutter and pour this tadka over hot khichadi and serve it immediately.
Healthy Vegetables Quinoa Khichdi: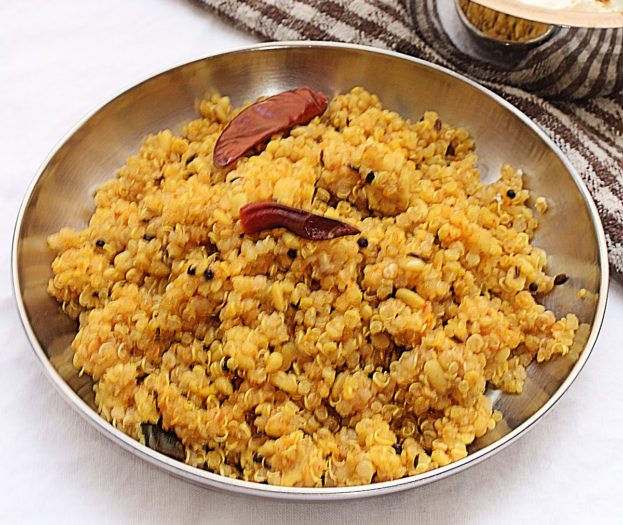 In this recipe, quinoa takes place of rice. You can use yellow moong dal or split skinned green moong dal in this recipe as it takes the same time as quinoa to cook.

Ingredients
½ cup Yellow moong dal/dhuli moong dal
¾ cup Quinoa
Salt
1 tsp Red Chili powder
1/4 tsp Turmeric powder
1 tbsp Ghee
1 tsp cumin seeds
Pinch of hing
1/2 cup Carrot chopped
1/2 cup Beans chopped
¼ Onions chopped
1 Potato medium-sized
1-2 green chili chopped
1 tsp ginger
2 Red Chilies Whole
1 tsp Crushed peppercorns and cloves
1 tsp Coriander Powder
Salt to taste
Water
1 tsp ghee
10-12 Cashews
1 tsp Cumin Seeds
2-3 Red chilies whole

Instructions
To prepare quinoa khichdi, start with preparing the ingredients. In a bowl add half a cup of yellow moong dal and wash it
In another bowl wash a ¾ cup of quinoa. Wash the quinoa too until the water comes out clean. When done, keep it aside.
In a cooker add quinoa, yellow moong dal, salt, turmeric powder, and red chili powder.
Add 3 and a half (3 ½) cup water and mix them well.
Now, pressure cooks the khichdi till 2 whistles. After 2 whistle turn off the heat and allow the pressure cooker to cool naturally.
In another pan heat tablespoon of ghee. Reduce the heat.
Add cumin seeds in the ghee and cook for a minute.
When cumin seeds to crackle and then add chopped onions in it.
After that add chopped green chilies, chopped ginger and saute them until the onion is golden brown.
Add 2 whole red chilies, chopped potatoes, beans and carrots in the pan.
With a mortar and pestle, crush 4 peppercorns and 6 cloves and add them to the pan.
Now, cook the vegetables covered for 5-6 minutes till they are tender enough. You can add a tablespoon or two of water if required.
After cooking vegetables add a teaspoon of coriander powder.
Add salt to taste and mix well.
Now, add pressure cooked quinoa khichdi (that we cooked earlieand mix all the ingredients well.
Add water to adjust the consistency of khichdi as per your preference and allow the khichdi to cook well.
Cover and cook for another 4-5 minutes.
When the khichdi is cooked, turn off the heat and prepare the tempering.
For Making Khichdi Tadka
For tempering, heat a tablespoon of ghee and add few cashews in it.
Fry the cashews/kaju and keep aside.
Now, in the same tempering pan add a teaspoon of cumin, asafoetida and whole red chilies.
Add this tempering/tadka in the khichdi and top it with fried cashews.
Drizzle a teaspoon of ghee in the khichdi and serve with papad, pickles and fresh dahi/curd.
Recipe Tips
To make the healthy quinoa khichdi, it is important to wash the yellow moong dal perfectly. You should wash the dal(lentil) 3-4 times until the water runs out clear.
At the time of tempering keep the heat to medium otherwise, the cumin may burn.