Lavanyaa Narain and P Gladston run NeoKalari which offers training in Kalaripayattu, a graceful martial art form of Kerala. In Kalaripayattu, the emphasis on physical discipline is balanced by equal importance to mental discipline.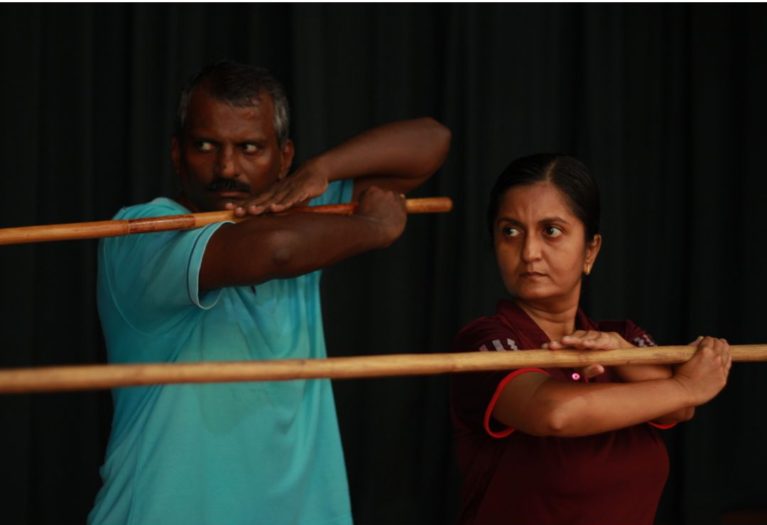 They are practitioners of the Northern style of Kalari, having had rigorous training under the tutelage of Shaji John, for the last fifteen years. They have been practicing Kalaripyattu in a very systematic dedicated manner. Both of them are trained to wield advanced weapons such as dagger (kadara), sword and shield, urumi (flexible sword), and many other wooden weapons and barehand techniques.
Using their experience in training the art, the duo started crafting classes, so that students are able to understand and do the varied movements that the form comprises. Anyone from 7 years, to their early 50s, can take up Kalari for reasons like fitness, healthy living, agility, self-defense, martial arts, learning a traditional form, and strengthening the body. The benefits are endless.
Women Fitness President, Ms. Namita Nayyar got an opportunity to interact with Lavanyaa and Gladston, Fitness & Martial Art Trainers to learn more about Kalaripayattu and Silambam practice. Check out the enlightening interview
Namita Nayyar:
Lavanyaa – You are a professional practicing Architect and have been a performing classical dancer for more than 2 decades. Please share the series of events that led you to take up Kalaripayattu.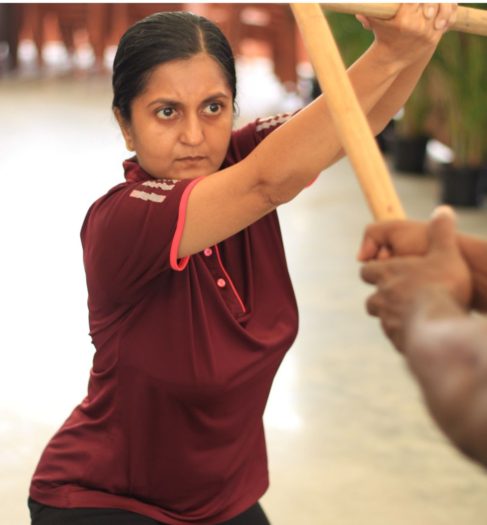 Lavanyaa:
I started learning Bharatanatyam at the age of 11 along with my sister. We had our first public stage performance in 1991. We were very active in the performance circle and did many thematic shows in India and abroad. My Grandfather late K.Balaram was a famous architect in Chennai. I have never met him. I had seen his buildings and a road named after him in Chennai. This was an inspiration for me to get into architecture. I got into the School of Architecture and Planning, Guindy, one of the premier institutes.
In my twenties, I felt there was so much energy in me and I wanted to learn and practice a form where there was no performance pressure. Bharatanatyam is a performing art, and Architecture is also a visual art in one sense. That is when I came across Kalaripayattu, wherein the first class made my body overflow with abundant energy. The way my body felt after every session made me continue the practice of Kalaripayattu. The emotional connection you get with the body was an added feature for me to look into the form from a deeper perspective.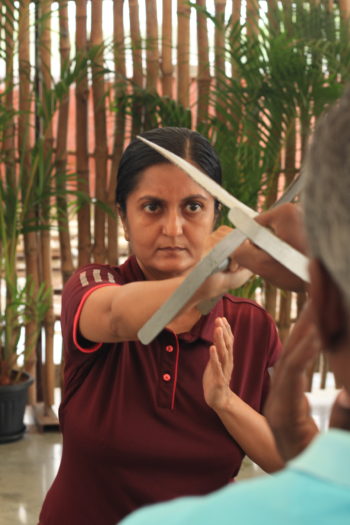 Gladston:
The graceful movements of Kalaripayattu and Silambam interested me for a long time, and I was actively looking for a place to learn. My first intro was to Silambam in Trichy, but it lasted only a couple of months before work took me back to Chennai. After years of searching, found out about the Kalaripayattu classes happening in Chennai, and joined. Amidst work schedules that had me moving around and long hours, was able to continue my practice in the form for sixteen years, before we started NeoKalari. When I was looking to augment my fitness, Lavanyaa pointed me to Silambam. This form had aspects of fitness plus martial art, which interested me so much that I started exploring different styles that are practiced in the interiors of Tamil Nadu.