Dr. Neomee Shah, the founder of Dr. Neomee Shah's Forever Wellness, an Award-Winning Lifestyle Nutritionist, and her daughter, Ms. Divija Shah, a fitness enthusiast join us to answer queries on Lock-down weight loss tips.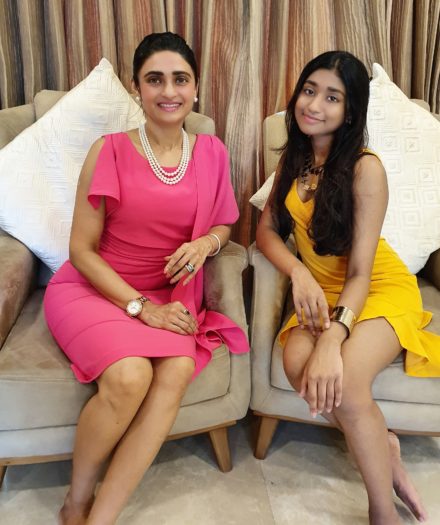 1. During the pandemic work from home, the situation has led to odd working hours and eating and sleep cycle, according to you how can one control food cravings and maintain weight during the current scenario.
First of all, we must remember that we all are in it together. And in these testing times, the least we can do is take responsibility of our own self.
Maintaining weight, staying fit and boosting immunity are the need of the time. And one can't let loose on these by messing up their lifestyle. Hence, one must set a routine and stick to it to the D. Remember the rule.
Get up. Dress up. Show up and never give up. Allot a specific time for your daily course. Keep fixed time for sleeping, waking up, eating office work, Netflix, social media, working out, cooking family, kids, housework and so on. Make a proper time table and organize your days well in advance.
When your day is well planned, you will not tend to overeat, which generally happens when there is a lot of free time or when you are in a holiday mood. Just take three major simple home cooked meals. Do not stock up on any unhealthy, processed, packaged foods at home for snacking as out of sight, out of mind. Instead you may stock up on fruits, fresh fruits, veggies, nuts, seeds, eggs as healthy snack options.
Additionally, you may also practice intermittent fasting or make the most of this time to align your body to its natural circadian rhythm just by following these simple guidelines. You will surely be able to maintain weight even in this lock-down.
2. What according to you is an ideal lock-down diet?
A diet comprising of seven essential nutrients carbohydrates, proteins, fats, dietary fibre, minerals, vitamins and water, along with adequate amount of probiotics, is the best kind of diet to follow in this lock down.
A balanced diet is very important because our organs and tissues need proper nutrition to work, effectively fight infections and boost immunity. Without good nutrition, our body is more prone to infections, fatigue and poor performance.
Here is sample diet planned for you
For breakfast you can have Oats or upma or Idli along with a bowl of curd or you can have eggs and toast.
For lunch you can have one plate of raw salad along with that. You can have either a bajri, nachini, jowar or wheat, roti plus dal or fish curry plus green vegetables. Or vegetable Kichidi followed by a glass of buttermilk.
For snack you can have hummus with carrots and celery sticks or makana behl or fruit plate, nuts and seeds.
For dinner you can have a bowl of vegetable soup , along with sprouts or moong dal cheela or chicken or quinoa khichdi. So this is the plan for the entire day. And note that the quantity will differ from person to person.