MAKHANA KHEER
Another great option for a healthy, dry and delicious dessert for lohri is this yummy Makhana kheer.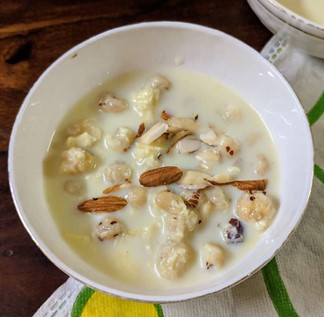 Ingredients
1 cup makhana (foxnuts or phool makhana)
2 cups organic milk or 500 ml organic milk
3-4 green cardamom, powdered
10-12 cashews or 10-12 almonds – blanched and sliced
1 tablespoon golden raisins
3 tablespoon sugar
1 pinch saffron
2 to 3 teaspoon ghee (clarified butter)
Method:
Roasting the Makhanas and Cashews
Heat 2 to 3 tsp ghee in a pan.
Add the phool makhana and cashews.
On a low flame, roast 1 cup phool makhana and 10 to 12 cashews in ghee till the makhanas become crunchy and the cashews become golden. Stir often. Remove and keep aside.
Making the Kheer
Heat 2 cups milk/500 ml in a saucepan or a thick bottomed pan.
Stir at intervals so that the milk does not scorch from bottom. Let the milk come to a boil.
Whilst the milk is getting heated up, reserve 1/3 cup makhana and add the remaining in a grinder or blender jar. Add cardamom seeds from 4 cardamom pods along with a pinch of saffron strands. Grind to a fine powder.
When the milk comes to a boil, then add 3 tbsp sugar. Add the ground powdered makhana and the reserved 1/3 cup makhana. Stir very well.
Simmer till the makhane softens and the milk thickens a bit. About 9 to 10 minutes on a low to medium flame.
Scrape the evaporated milk solids from sides and add to the milk.
Lastly add the golden cashews and raisins. If using blanched and sliced almonds, then you can add at this step.
Stir and simmer the kheer for a minute.
Serve makhane ki kheer hot or warm or chilled.
CORN & SPINACH TIKKI
Every celebration needs a crispy delicious snack! This healthy & delicious corn and palak tikki will be your new favourite snack.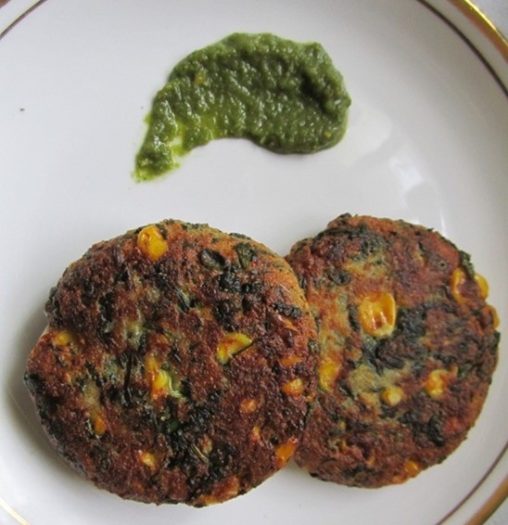 Ingredients
200 Gram Corn kernels
2-3 Cups Milk
2 tsp Lemon juice
1 tsp Chaat masala
800 Gram Spinach
1 Cup Potato, boiled
1 Cup Paneer, grated
1 tsp Red chilli powder
1 tsp Black pepper powder
1 tsp Garam masala powder
1 tsp Cumin powder
1 tsp Kasoori methi powder
1 tsp Salt
1 tsp Ginger, chopped
2 Nos Green chilli, chopped
1/2 Cup Green coriander leaves, chopped
1 Tbsp Cornflour
oil (to shallow fry)
Method
Blanch spinach in water and chop.
Now blanch corn in milk to soften it. Grind and keep aside for a while.
Take the ground corn and mix in lemon juice along with chaat masala to balance the sweet flavour of corn.
Add blanched palak, boiled potato and grated paneer to mix with corn.
Add all the spices in the ingredients along with the salt, ginger, cornflour and chopped coriander leaves. Mix well prepare the tikki paste.
Make round tikkis of the mixture and shallow fry in ghee or oil till crisp.
Serve hot along with a coriander chutney or tomato ketchup.
RAGI & JAGGERY ROTI
If you want to try something new and nutritious this lohri this sweet ragi roti is perfect for you.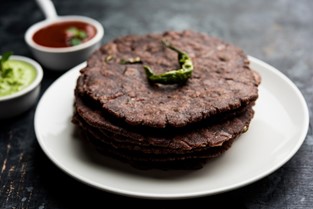 Ingredients:
1 cup fingermillet flour (ragi flour)
1/4 cup grated coconut
a tiny pinch of cardamom powder
oil to toast
1/3 cup jaggery
1/3 cup water
Method:
First take ragi flour in a mixing bowl and add jaggery syrup to it.
Add coconut and cardamom powder to it.
Mix well with a spoon, if its dry sprinkle little water and keep mixing with a laddle till it forms a smooth dough, it will be slightly sticky.
Mix well and form a dough. Make big lemon sized balls. Grease a glass plate and your hands with few drops of oil place the ball and flatten it. Start patting it with your fingers till its thin.
Heat a non-stick tawa and drizzle oil, carefully transfer the roti to the tawa. Toast the rotis on both the sides, drizzle oil. Flip over only when one side is cooked and cook other side. Serve hot!
Happy Lohri!