By Dt. Manoli Mehta
The festival of Lohri is around the corner after one full year and whether you have any plans this year to celebrate this festival or not, there is no reason needed to enjoy the scrumptious Lohri recipes and food meals and enjoy with full zeal, happiness, love and life. Try out these delicious and healthy recipes with your loved ones and enjoy!
PALAK SAAG
This palak saag recipe is the same way Sarson ka saag is made but for when you don't get sarson you can make the Saag with spinach and radish. And you can make the saag with any greens of your choice. A combination of spinach and fenugreek leaves/Methi is also good. If you can get mustard leaves, then make the same recipe with mustard leaves, spinach.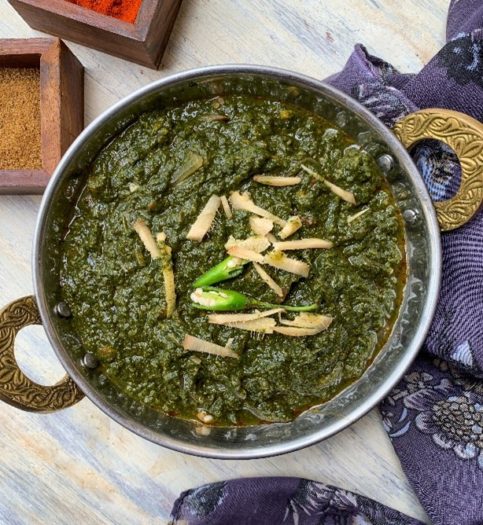 Ingredients:
For the Saag:
1 bunch of spinach (palak), chopped
1 & 1/2 radish with tender leaves (mooli), chopped
1/2 large onion, chopped
1 to 2 medium size tomatoes, chopped
1/2 green chili, chopped
1/2-inch ginger, chopped
2 to 3 small to medium garlic cloves, chopped
1/2 teaspoon red chili powder
1 tablespoons butter
1/2 tablespoon maize flour (makki ka atta)
1/3rd cup water
salt as required
For tempering the saag:
1/2 medium sized onion, finely chopped enough for saag meant for 2 people
1 small green chili, chopped (optional)
1/2 teaspoon chopped ginger, optional
1/2 tablespoon ghee (clarified butter)
Method:
For cooking palak saag:
Add all the greens, onions, tomatoes, ginger, garlic, green chilies with salt and water in a deep pan or a pressure cooker. Add around 1 cup water to the veggies.
Cook the whole lot in the pan for 7-10 minutes or in a pressure cooker for 3 to 4 minutes. Also add maize flour and butter.
Once cooled blend into a smooth or coarse paste. Add the saag in another pan and simmer for 7-10 minutes till it thickens a little bit.
For the tempering:
Brown the onions in ghee and then add the saag to it.
Simmer for 3-4 minutes. Top the saag with this and serve hot.
COCONUT BURFI
This Guilt-Free Coconut Barfi is a quick and easy recipe which combines dates and desiccated coconut into a sweet barfi is perfect for your lohri dessert.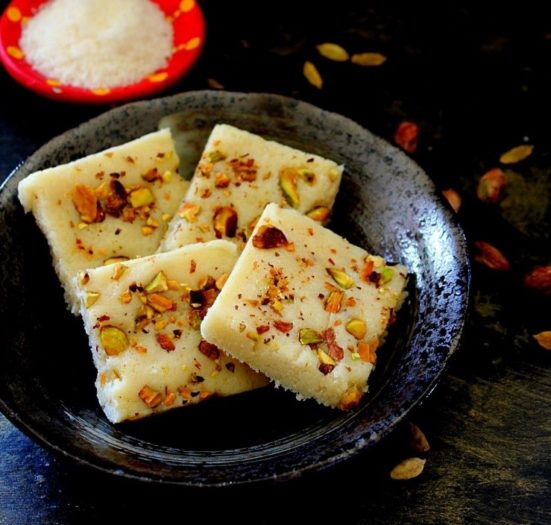 Ingredients:
1/2 cup Badam (Almond), powdered
15 Dates, seedless
3/4 cup Dessicated Coconut, + little extra for garnishing
3 tablespoons Milk
1 tablespoon Ghee, /clarified butter + a little extra for greasing the plate
1 teaspoon Cardamom Powder (Elaichi)
Method:
Using 3 tablespoons milk, make a thick puree of Dates by wet grinding it in the mixer.
Heat a tablespoon ghee in a saucepan kept on medium high and once the ghee melts, add dates puree. Sauté it for about 5 minutes.
Add almonds powder and mix well. It should form a nice and dry dough.
Add Coconut and mix well for about 2 minutes and switch off the flame.
Add cardamom powder and mix.
Pour this barfi mixture on the greased plate or pan that you had prepared and spread well.
Sprinkle some dry desiccated coconut on top for garnishing and press with your palm.
Give the cuts using knife. You can give square or diamond shaped cuts.
Let them cool completely and only then, remove the pieces of guilt free coconut barfi out and serve.