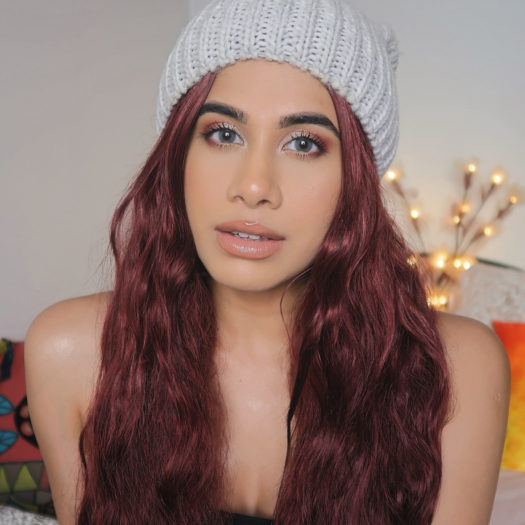 Ms. Namita Nayyar:
What is your favorite form of workout? During quarantine how are you managing your workout regime and who are your favorite fitness YouTubers.
Ms. Malvika Sitlani:
I love functional training regimes, it is what I have been doing for a few years now with my trainer, and going to the gym was an absolute must on my schedule since I prefer working out rigorously to burn off the calories as I don't diet. During quarantine, I enjoy a great workout for my glutes and try to do it with my husband, Akhil to stay motivated and consistent. My go-to fitness YouTuber even before I got a trainer, to my time in quarantine has been Blogliates, but my audience recommended Chloe ting as well, so I shuffle between the two.
Ms. Namita Nayyar:
Today many people want to venture into YouTube as a full-time career, you have a huge subscriber fan base of 500k+, Share 5 tips for a beginner.
Ms. Malvika Sitlani:
#1 – Stay Consistent. Create, edit, and upload at least twice or thrice a week and keep going at it. Sometimes you might want to give up, or delay timelines but when you are starting out, consistency is everything.
#2 – Your followers come first. The minute you gain a certain degree of momentum on your channel, you will be approached by several brands and paid collaborations, and while multiple endorsements seem tempting, pick and choose the brands you personally like, you have tried and tested because you are only an influencer if you have followers to influence, so they always come first.
#3 – Be authentic. Being you is all you got. You must try not to copy another YouTuber or their style of videos. Try and do something different. Stick to who you are and share stories. People love to hear about your life. So try and invite them into your life as much as you can. And be RAW. be real. Show scars, show your face without makeup. Treat your audience like you would your best girlfriends.
#4. It's very important to invest in good equipment because that will set the foundation for your channel. You have to have crisp videos. Clear visuals and aesthetically pleasing content. Natural light is the best, no need to spend money on artificial lighting. So you can save your money and buy a good Vlogging camera instead, like the Canon G7x mark 2 or an iPhone works as well.
#5. Pick a Niche. Don't try and do everything in the beginning.
Pick either beauty, cooking, fashion, workouts or whatever you wish and stick to one main genre. Master Your craft and excel in only that genre in the beginning.
Ms. Namita Nayyar:
Today the audience feels the blogger industry has been completely sold out seeing the number of paid promotions of products being done, do you think this affects the quality of content and authenticity.
Ms. Malvika Sitlani:
Personally, I have always believed in showing my truest self to my audience, which is why it is a mandate for me to try and experience every service, product, and brand that I continue to work with on a collaborative basis since that has what gotten my success today. I refrain from campaigns that hamper my creative freedom and would want me to adhere to a script or a strict narrative since the best way for any influencer to function is to do it in the language they speak with their audience. It is a personal preference for each influencer to select the category of campaigns they would like to do.