By Neha Sahu, @lookgoodinpcos
Nobody wants a declining health profile for themselves and their loved ones! But how easy or difficult is it to maintain a healthy & nutritious diet in this fast paced, competitive & sedentary lifestyle!!
The statistics of increasing obesity as a result of processed & high sugary foods, is clearly visible. As modern life is more sedentary, these data is increasing day by day so there is always a need of a diet which can help you maintain your health in the long run & can prevent some serious health conditions.
Out of number of diets, it is still a lot confusing to pick the one that actually works for you.
Mediterranean diet is one of those best diets which can significantly reduce the risk of type 2 diabetes, heart disease & other chronic conditions as it is claimed to have a significant impact on improving insulin sensitivity in obese/overweight. Therefore, it has become quite popular recently.
What is Mediterranean diet?
Mediterranean diet incorporates the traditional healthy eating habits of people from countries bordering the Mediterranean Sea, including France, Greece, Italy, Spain. However, the definition may vary according to different regions too.
But in general, Mediterranean diet focuses on whole grains, good fats (fish, olive oil, nuts, etc), vegetables, fruits etc and very low intake of non-fish or red meat and dairy products.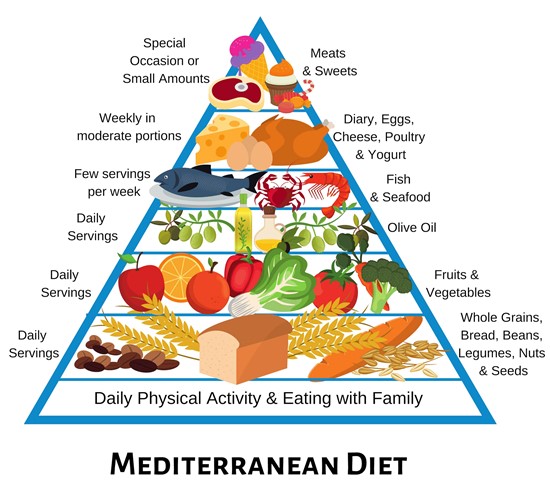 Mediterranean diet advocates for
Less carbs
More healthy fats
Low intake of red meat & dairy
Being physically active
Spending more time with family
How it Helps in Managing Insulin Levels?
As the diet consists of a lot of grains & fruits & vegetables, it maintains a steady blood sugar release in the body therefore avoiding a sudden spike in blood sugar which in turn encourages cells to respond better to the hormone insulin resulting in improved insulin sensitivity.
According to American Diabetes Association, adherence to Mediterranean diet is modestly associated with better insulin sensitivity because it may have anti-inflammatory effects and can lower levels of total cholesterol & blood pressure & glycated haemoglobin (A1C) in obese people.
There are several researches and articles which claim and prove that Mediterranean diet is capable of improving insulin sensitivity by a significant percentage. The brief data in the articles are explored on the basis of the diet as a whole dietary fibre.
Better insulin sensitivity reduces chances of developing type 2 diabetes and fewer diabetic complications like heart conditions.
So why not make your daily food more Mediterranean & heart healthy!! Start incorporating food habits from the mentioned pyramid to take better control of your future health!!
References
American Diabetes Association(R) Inc., 2011, Gretchen Benson, RD, LD, CDE, is the health care project manager
https://link.springer.com/article/10.1007/s001250100009
https://www.ncbi.nlm.nih.gov/pmc/articles/PMC4011042/