A pastry chef and a businesswoman by profession, Bani Nanda is the owner of Miam a patisserie that does some fabulous cakes and macarons and has already become a favourite in the Fashion circles started back in 2015. A tryst at Dalloyau, one of Paris' oldest pâtisserie dating back over 400 years, brought out Bani's passion in French pastry and desserts.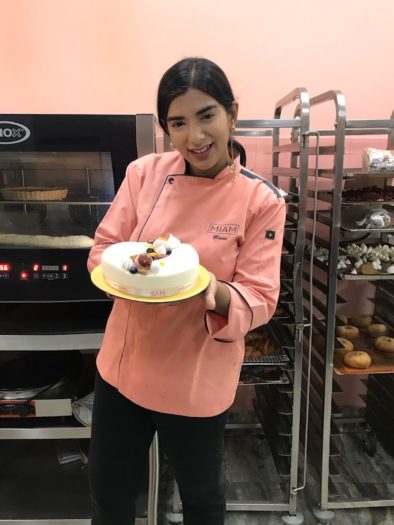 Check out Chit-a-Chat with MIAM fame Chef Bani Nanda:
Ms. Namita Nayyar
Your love affair with pâtisserie goes back to when you first experienced a taste of your mother's delectable homemade cakes. Share with us the series of events that led your passion in French pastry and desserts to open MIAM.
Chef Bani Nanda
I was studying Physics Honors in Delhi University and in my second year, I started interning at some of the finest 5-star hotels in Delhi and it gave me a lot of clarity. I decided to pursue a course in French Pastry after graduation. I went to Paris in 2012 to study at Le Cordon Bleu. After my course I worked at Dalloayou and came back to India in 2014. I worked for a year before starting Miam in 2015.
Ms. Namita Nayyar
Being a pastry chef and a businesswoman by profession, you run Miam Pâtisserie along with your husband, Akshay. How did you plan to start your dream venture and who was your first consumer and complement you received?
Chef Bani Nanda
I started Miam alone in 2015 from home. I hadn't met Akshay then. My first few customers were friends and family and then my clientele began to grow. Word of mouth and social media really helped me establish Miam. Akshay and I started dating in 2017 and got engaged a year later. The idea of him joining me and expanding Miam really resonated with the both of us and with. our families too. We shifted Miam a massive base kitchen in Lado Sarai and there was no turning back!