Galouti kebab is a very soft and irresistible, melt in your mouth dish. Galouti itself means melting in your mouth. This is a famous Awadhi dish.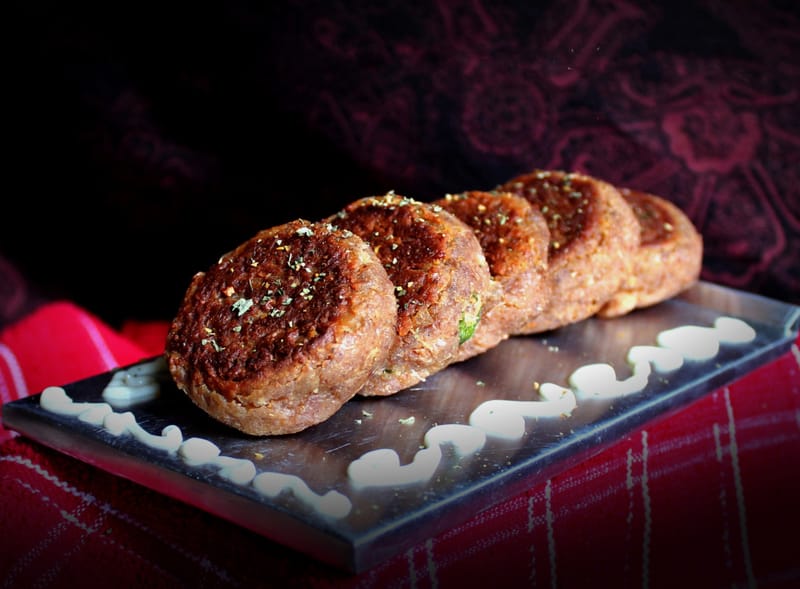 Nutritive Information
Calories - 153 cal
Fat - 9 g
Protein - 13 g
Carbohydrates - 5 g
Sugar - 1 g
Dietary fibre - 1 g
Ingredients
Mutton keema - 1 kg
Unripe papaya paste - 4 tbsp
Onion paste - 3 tbsp
Ginger-garlic paste - 2 tbsp
Cardamom powder - 1 tsp
Yellow chilli powder - 1 tsp
Chana (gram) powder - 2 tbsp
Garam masala powder - ½ tsp
Mace powder - ½ tsp
Coriander powder - 1 tsp
Salt as per taste
Oil - 3 tbsp
Ghee - 1 cup
Instructions
Wash the mutton keema properly with water.
Then, marinate the keema.
Use unripe papaya paste, onion paste, ginger-garlic paste, mace powder, and garam masala powder.
Add coriander powder, yellow chilli powder, chana powder, cardamom powder, and salt to marinate.
Keep it refrigerated for an hour.
After an hour, take out the keema mix out of the refrigerator.
Make medium-sized tikkis out of the mixture.
Heat oil in a pan for some time.
Fry the tikkis on low heat for 15-20 minutes on each side.
Make sure the keema is cooked well.
Both sides of the kebab must turn golden brown in colour.
Once the kebabs are perfectly cooked, transfer them on to a serving platter.
Eat this Galouti kebab in the Lucknow style with the paratha along with mint chutney and raw papaya chutney.
Serves
2 Servings
Notes
From www.boldsky.com