Fragrant lemongrass, chilies and a sweet and tangy sauce flavor this classic Thai appetizer.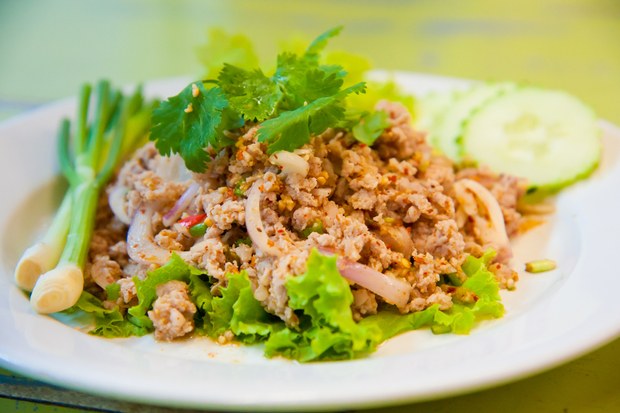 Nutritive Information
Calories

231

Carbohydrates

12 g(4%)

Fat

11 g(17%)

Protein

23 g(46%)

Saturated Fat

3 g(14%)

Sodium

1325 mg(55%)

Polyunsaturated Fat

2 g

Fiber

2 g(8%)

Monounsaturated Fat

5 g

Cholesterol

98 mg(33%)
Ingredients
2/3 cup fresh lime juice
1/3 cup fish sauce (nam pla*)
1 tablespoon sugar
2 teaspoons Thai roasted chili paste* in oil or chili-garlic sauce*
3/4 cup canned low-salt chicken broth
1 1/2 pounds ground chicken
1 cup thinly sliced green onions
3/4 cup thinly sliced shallots
3 tablespoons minced fresh lemongrass*
1 tablespoon thinly sliced Thai chilies* or serrano chilies
1/2 cup chopped fresh cilantro leaves
1/3 cup chopped fresh mint leaves
2 small heads Boston lettuce, separated into leaves
*Available at Asian markets and some supermarkets nationwide.
Instructions
Whisk first 4 ingredients in medium bowl to blend; reserve sauce.
Bring broth to simmer in heavy large skillet over medium heat. Add chicken. Simmer until cooked through, breaking up meat with spoon, about 8 minutes. Add green onions and next 3 ingredients. Stir until vegetables are tender and most of liquid has evaporated, about 4 minutes. Remove from heat. Stir in sauce, cilantro and mint. Season with salt and pepper.
Spoon into lettuce leaves; serve.
Serves
6 servings