These melt in your mouth kebabs are a great dinner party option. Minced lamb or mutton grilled with a range of Indian seasoning and flavors. It derives its name from the city of Kakori on the outskirts of Lucknow.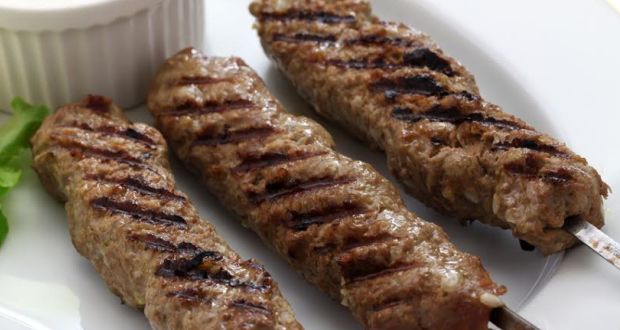 Nutritive Information
Calories 706.0 Kcal
Carbs 17.7g
Fats 59.0g
Cholesterol 82.4mg
Protein 24.5g

Phosphorous: 294.4mg

Sodium: 1235.7mg

Potassium: 372.6mg
Ingredients
Oven temp: 425F-220 C
2 cups minced mutton/lamb
1 tsp ginger-garlic paste
2 tsp salt
1/4 tsp powdered black pepper
2 tbsp chopped green coriander
Chopped green chillies to taste
2 Tbsp chopped raw papaya
4 cloves
1 black cardamom seeds
1/8 tsp powdered cinnamon
1 tsp cumin seeds
1 blade mace
1/4 tsp grated nutmeg
2 cups onions - sliced thin, and browned crisp in 1/2 cup ghee
1/4 cup bhuna chana - powdered
1 egg
Ghee for brushing some chaat masala
Onion rings and lemon wedges for garnish
Instructions
Mix all ingredients except ghee and garnishes to marinate for about 4 hours, then grind to form a smooth, thick paste.
Knead this mixture well and mix in the roasted gram and the egg.
Cover and refrigerate for another hour.
About 25 minutes before serving, shape the meat around the skewers and place thekebabson to a grill over a drip tray, or in a pre-heated oven (also on a drip tray).
If cooking them over a charcoal grill, you will have to keep rotating them so that they brown and cook evenly.
They should take 15-20 minutes to cook.
Brush withgheeand cook another 2 minutes.
Serve garnished with chaat masalaonions and the lemon and serve with green chutney.
Serves
4