Bored of the usual roasted peanuts? Try the all-new Masala Roasted Pumpkin Seeds that will leave you wanting for more!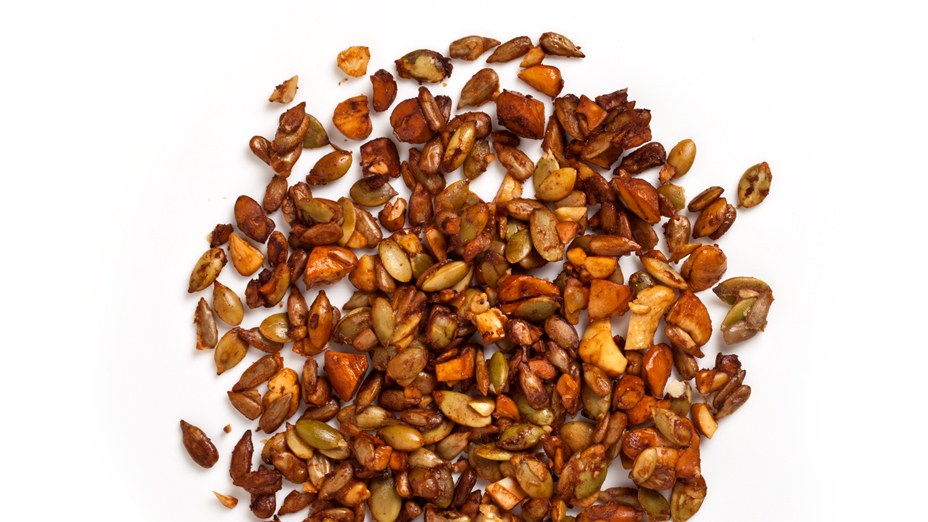 Nutritive Information
250 Calories
Ingredients
1

 

cup

pumpkin seeds

3

 

tablespoons

ghee

(or melted butter)

2

 

teaspoons

garam masala

1

/

3

 

teaspoon

chili powder

1

/

4

 

teaspoon

turmeric

1

/

4

 

teaspoon

salt

lemon juice
Instructions
Take seeds out of pumpkin and remove as much pulp as possible.
Wash the seeds in a colander to remove more access pulp and then lay them out on a paper towel to dry.
You can make them same day by just letting them dry for about 20 minutes and patting them dry, or make them another day and store them overnight so that they completely dry on their own.
Preheat oven to 350 degrees fahrenheit.
In a bowl, mix the seeds well with ghee, garam masala, chili powder, turmeric and salt.
Lay the seeds on a cookie sheet and place in the oven at 350 degrees fahrenheit.
Roast for about 20 minutes, occasionally turn the seeds over so that they are evenly roasted. (Also, if they start to pop, just lower the heat a bit.)
Take them out when they are golden brown or browned, whatever your preference. Lay them out to cool. They will get crunchier as they sit out and add more salt to taste or even a squeeze of lemon.
Notes
From Food52