By Dr Hema, mylittlemoppet_
A breast cancer diagnosis calls for some major changes in one's lifestyle. Yes, there are more hospital visits and new treatments, but it also affects everyday things like diet, sleep, and other activities. Nutrition in form of healthy recipes is a particularly important part of a cancer patient's care, as well as for survivors to keep the cancer from coming back.
Experts say that with the right kind of foods, your cancer risk can go down by 70% and even those with the disease have a better chance of recovery.
However, this is easier said than done. Side effects of medication or radiation therapy can decrease one's appetite, and nausea can cause food to come back up.
Therefore, it is especially important to ensure that whatever food is served to breast cancer patients or survivors is simple, wholesome and packed with nutrition so that even a little makes a big difference. One way to do this is by including healing herbs and spices, which are easy enough to add to any dish and have host of health benefits.
7 Nourishing Recipes
1.Apple Cinnamon Oatmeal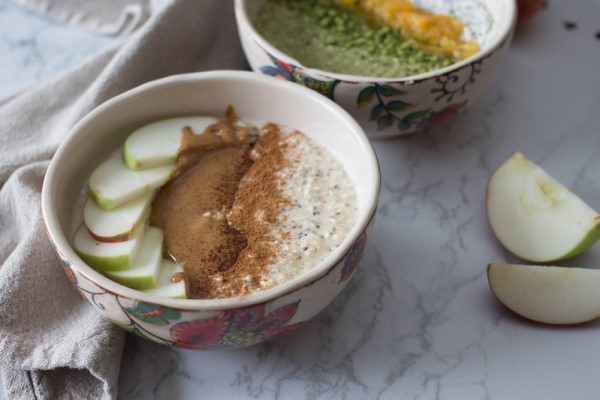 Ingredients:
1 Apple, peeled and grated
1/2 cup Oats
2 cups Milk
1/4 cup Dates, chopped
1 tsp Cinnamon powder
Directions:
Boil the milk in a saucepan and add the oats to the boiling milk.
Add the grated apple and chopped dates. Lower the heat and cover the pan.
Let the oats and apple cook till most of the liquid is absorbed.
Turn off the heat and add cinnamon. Stir it well into the oatmeal.
Serve with more fresh fruit and nuts.
Benefits:
Several studies have proven the effectiveness of cinnamon in reducing the spread of cancer cells and eventually eliminating them. Cinnamon has also been proven to reduce the size of tumors or at least prevent them from growing any further. Besides this, cinnamon can also reduce inflammation symptoms.
Apples are not hailed as health foods for nothing – they contain polyphenols that fight cancer, along with inflammation and heart disease. The polyphenol phloretin has been found to prevent the growth of breast cancer cells, even in advanced stages of cancer.
2. Pearl Millet and Green Gram Pesarattu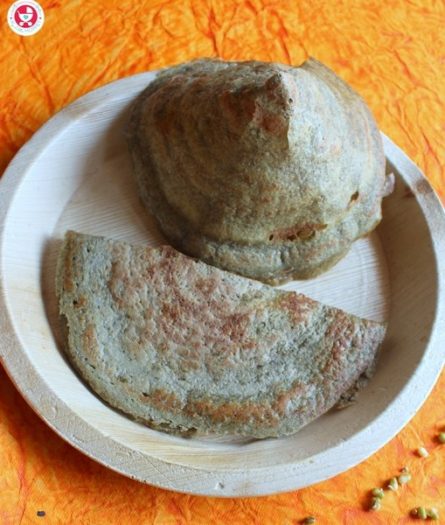 Ingredients:
1 cup Green Gram, soaked for 8 hours
½ cup Pearl Millet, soaked for 8 hours
1 Green Chilli
¼ tsp Cumin seeds
2 tsp Oil
Rock salt to taste
Directions:
Add the soaked and drained green gram and pearl millet in a grinder jar along with cumin seeds, green chilies, and salt.
Pulse for 2-3 times, adding as much water is need for a coarse batter. No need to ferment the batter.
Pour a ladle full of batter in the center of a heated skillet. Lower the flame and spread the batter from center towards the edge using the back of the same ladle in a circular movement.
Drizzle a little oil on the sides of the pesarattu and allow it to cook on medium flame until crisp. Flip it and cook the other side as well.
Repeat the same process for the rest of the batter.
Serve the pearl millet green gram pesarattu with chutney or podi of your choice.
Benefits:
Cumin seeds have been used in Indian households for generations, and not just for cooking. Many of cumin's healing effects are due to a component called Thymoquinone, which provides the seeds its antioxidant, anti-inflammatory and antimicrobial properties.
Several studies have shown how Thymoquinone can prevent tumor cells from spreading, particularly in cases of breast cancer, ovarian cancer, and colorectal cancer.
3. Red Lentil Fenugreek Soup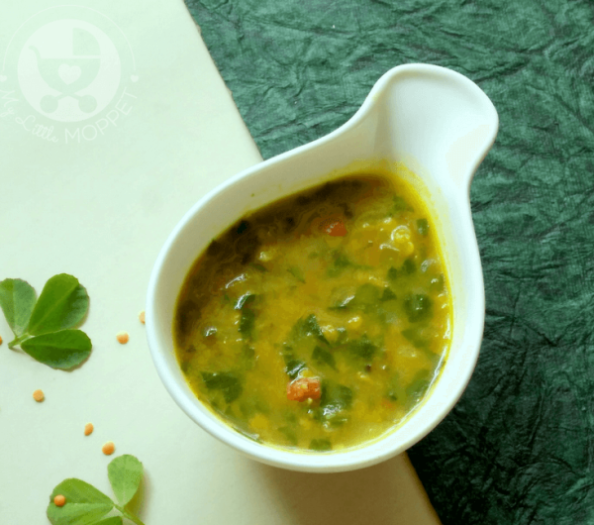 Ingredients:
¼ cup Red Lentils, soaked for 10 minutes
¼ cup Fresh Fenugreek Leaves
1 small Onion, finely chopped
1 small Tomato, finely chopped
2-3 Garlic Cloves, finely chopped
¼ tsp Turmeric Powder
A pinch of Asafoetida (hing)
2 tsp Ghee/Oil
Black Pepper to taste, crushed
Salt to taste
Directions:
Add ghee or oil to a heated pan. Add the chopped garlic and fry till it does not smell raw.
Add onions followed by the tomato. Stir fry for a minute or so.
Add asafoetida and turmeric powder and sauté for a few seconds.
Toss in the finely chopped fenugreek leaves and sauté for few seconds.
Add 1½ cup water and cover the pan. On a low heat, cook the soup for 5-7 minutes or until the dal is completely cooked.
Sprinkle freshly crushed black pepper on the soup. Serve warm.
Benefits:
The black pepper in this recipe is added at the end but is an immensely powerful ingredient. The active component in black pepper is piperine, which is an incredible antioxidant. When pepper is combined with turmeric, they are strong enough to stop the growth of breast tumors.
This soup contains red lentils, another ingredient that helps fight cancer. Studies have found a relation between an increased intake of legumes and a lower risk of breast cancer, almost 20%.
4. Coriander Vegetable Rice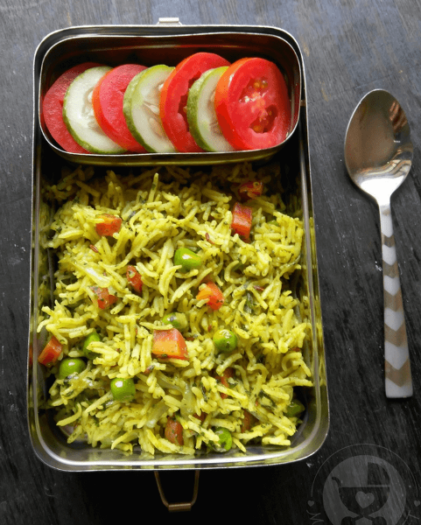 Ingredients:
½ cup Long Grain Rice
½ cup Vegetables, chopped
½ cup Fresh Coriander Leaves, chopped
1 Onion, sliced
½ inch Ginger Piece
2-3 Garlic Cloves
1 Bay Leaf
¼ tsp Cumin Seeds
2-3 Black Peppercorns
1-2 Cloves
¼ tsp Turmeric Powder
1 tsp Ghee
Salt to taste
Directions:
Wash the rice thoroughly, drain and keep aside for 10 minutes. Roughly chop the ginger and garlic.
In a grinder jar, pulse the coriander leaves, ginger and garlic to make a paste. Add 1-2 teaspoon water if needed.
Heat a pressure cooker on a medium flame and melt ghee. Add the whole spices and sauté for 30 seconds.
Add onion and stir fry until it turns soft. Add vegetables and fry for another 1-2 minutes.
Now add the prepared green paste and sauté well.
At this stage add the turmeric powder and salt followed by rice. Stir fry everything well for 1-2 minutes.
Lastly add 2 cups water, stir well. You can do a taste test at this point. Adjust the seasoning if desired.
Cover the pressure cooker with a lid and cook for 2 whistles. Turn off the flame.
Allow the pressure to release naturally. Open the lid, fluff the rice with a fork.
Serve warm with salad and curd/ raita.
Benefits:
Coriander leaves and seeds both have shown promising results in cancer research, thanks to the component linalool. Lab experiments have found that an increased intake of coriander increases the activity of the antioxidant system, making the body better equipped to fight cancer.
Ginger has several healing benefits, which is why it is commonly used in home remedies. These benefits are due to the gingerol in fresh ginger which has antioxidant and anti-inflammatory properties, all of which can help prevent cancer. Cancer patients suffering from nausea due to chemotherapy also find relief in ginger tea.
5. Pomegranate Mint Raita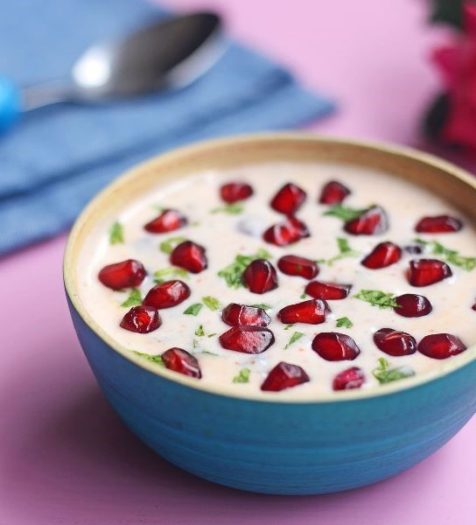 Ingredients:
1 cup Homemade Curd
1/2 cup Pomegranate Pearls
1/4 cup Fresh Mint Leaves
2 Garlic Cloves
1 Green Chilly
1/2 tsp Cumin Powder
1/2 tsp Red Chilli Powder
Salt to taste
Directions:
Whisk together the curd till smooth, adding water if required.
Add the cumin, red chilli powder and salt to taste and whisk again.
Blend together the mint leaves, garlic and green chilly to a paste.
Add the mint paste to the whisked yogurt and mix thoroughly.
Stir in the pomegranate pearls. Serve chilled.
Benefits:
The most important ingredient in this recipe is garlic, a member of the allium family. Like onions and shallots, garlic contains allicin and organosulfur compounds, which are known to boost immunity and fight cancer.
The bright red color of pomegranates is an indication of its high antioxidant content. Pomegranates are also known to provide relief from inflammatory pains and other side effects of cancer treatments like radiation therapy.
6. Turmeric Milk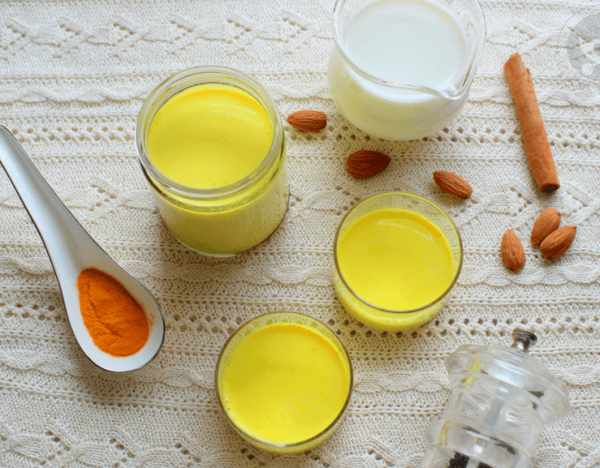 Ingredients:
1 cup Milk
1 tsp Turmeric Powder
¼ tsp Cinnamon Powder
¼ tsp Black Pepper Powder
½ tsp Almond Powder
Honey to taste
Directions:
Brink milk to a boil in a saucepan. Add turmeric powder followed by cinnamon powder and black pepper powder.
Heat the milk for a few minutes on a low flame.
Add almond powder and put off the flame. Stir well.
Lastly add honey and give a quick stir. Serve warm.
Benefits:
Turmeric is probably the most used spice in home remedies, and it has an important role in healing all kinds of ailments. This healing power extends to cancer as well, thanks to the compound curcumin. Curcumin has powerful anti-inflammatory properties and kill cancer cells.
A regular intake of curcumin has found to reduce cancerous growths, even in cases of aggressive breast cancer. It also reduces the side effects of radiation therapy in patients receiving cancer treatment.
7. Vegetable Dalia Khichdi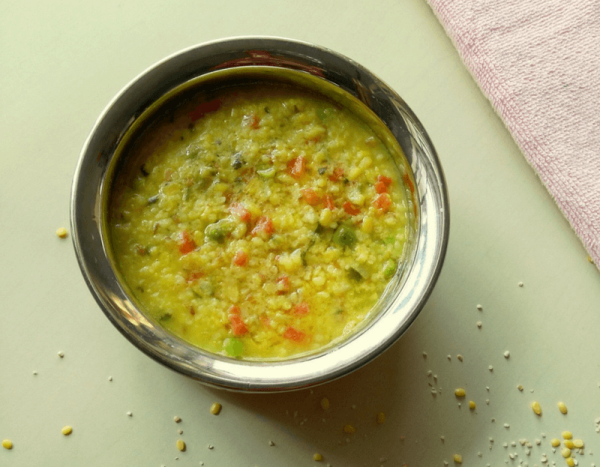 Ingredients:
½ cup Broken Wheat (Dalia)
¼ cup skinned and split Green Gram
1 small Onion, finely chopped
1 cup Carrot, finely chopped
2 tbsp Fresh Green Peas
2 tbsp Coriander Leaves, chopped
1/4 tsp Cumin Seeds
1/8 tsp Turmeric Powder
1 tbsp Ghee
Salt to taste
Directions:
Rinse the mung dal in 2-3 changes of water. Drain and keep aside.
Heat a pressure cooker. Melt ghee and add cumin seeds.
Once the seeds crackle, add onion. Sauté for few seconds and toss in the chopped carrot followed by green peas. Stir fry the veggies for a minute or so.
Add turmeric and stir well. Follow with the washed and drained mung dal. Fry for a few minutes and add the broken wheat. Stir fry on a low flame till the aroma rises.
Pour in 2 cups of water followed by finely chopped coriander leaves. Give a quick stir and put on the lid.
Pressure cook the khichdi on a medium flame for 2 whistles. When the pressure releases on its own, open the lid and stir the khichdi through. Serve warm.
Benefits:
This khichdi recipe is a simple one dish meal that is also not overpowering, but still packs in a lot of nutrition.
With several cancer-fighting ingredients like lentils, carrots, coriander, cumin, and turmeric, this is an ideal food for patients and survivors.
Carrots contain beta-carotene, which is believed to boost the immune system and has shown to cause a reduction in breast and prostate cancer.
These recipes have been especially crafted keeping in mind breast cancer patients & survivors but can be enjoyed by anyone & everyone.