Roshni Misbah, learnt to ride from her father is today known as the "Hijabi biker" of India. She has ridden 100+ motorcycles, around 1 lakh + kms. Has been a participant of the Mtv Ace of space 2, a 2x teDxspeaker. Today she is the owner of 2 superbike store "The Bikers World"
She is only girl to own the fastest legal motorcycle in the world, Ninja H2 & rare superbikes including yamaha r1, suzuki Intruder1800, Triumph Rocket, Hayabusa.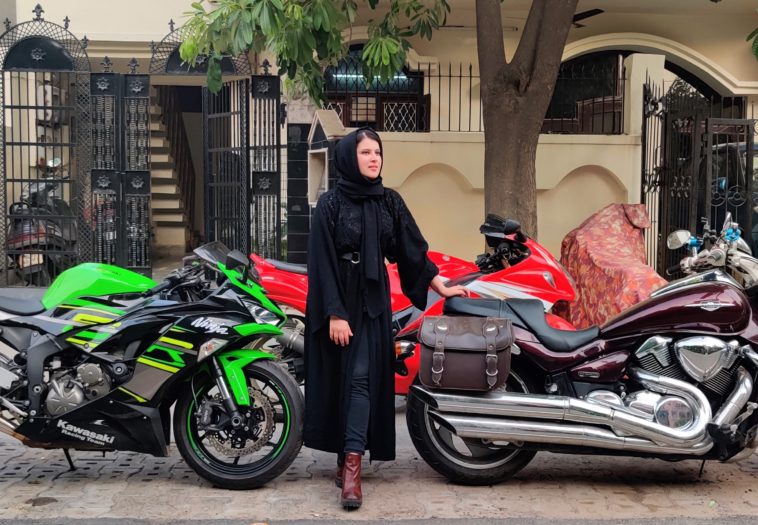 Catch her in an interview with Namita Nayyar, Predident, Women Fitness.
You were born in a simple Muslim family. Grew up to be popularly known as 'Hijabi Biker'. Share your journey and what led to you riding a bike?
I have been a shy, simple girl, who would go to college, study, come back to helping mom with household chores. I wanted to do every possible thing in this one life. Got myself enrolled in every possible course, wanted to do everything that I could, because if the fear that I will never get to follow My dreams and passions or hobbies later in life.
At one time I wanted to be a Singer, a rockstar! But it all came to an end with trying to keep up with the career competition & busy life.
I always wanted to ride bikes, but never knew where to start from & if I did, I was told "you will fall, or this is not for girls." Hence, I just let it go for a while. 3 years ago, while I was preparing for my CAT exams, when the rut of everyday life bore down on me — I was at my lowest. I remember leaving the house to give CAT exam, when it hit me that I really didn't want to — so I turned around and came back.
Honestly, at the time, all I knew was that I wanted to do something I loved. So, I took admission in Jamia University because it gave me an opportunity to ride a bike to and fro.
My parents were hesitant, but I kept pushing and convinced them. I had some money saved up from working at a publishing house — pooled it all in and with my father's help, bought my very first bike.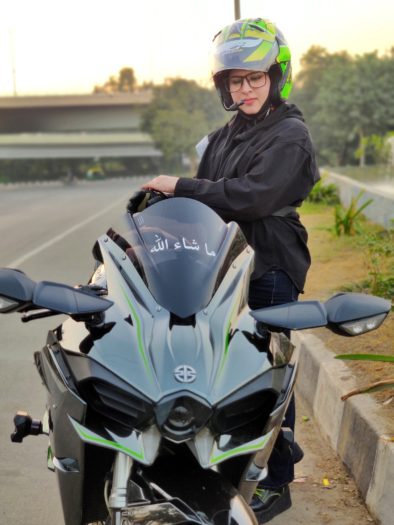 According to you "Unlike many girls, I wanted to ride a bike rather than a scooty (gearless). I always had a passion for bikes, and I am fulfilling it," What excites you most about riding a motorbike. The model you presently ride & why you chose it?
The foremost thing was to make myself mentally bold enough to take this step. Riding a bike 16kms to college every day.
People are not used to seeing a girl riding a bike often. As much as we say, "We Are Living Modern & Free." In some parts of the world, women are still not ALLOWED to do a lot of stuff just because of the Gender Discrimination. However, it was my father who supported me so much! It was my mother who encouraged me to do what I like & not listen to anyone.
I got my first bike, Bajaj Avenger Cruiser 220 as soon as I got admission in Jamia.
I have been riding since 3 years & in the first 2 years of riding went touring around India riding from k2K to the dgolden quadrilateral on a 1800cc Indian Chief, also the youngest to do it on an Indian. I have been participant of the Mtv Ace of space 2.
Today, I am the only girl to own the fastest legal motorcycle in the world, Ninja H2 & rare superbikes including Yamaha r1, Suzuki Intruder1800, Triumph Rocket, Hayabusa.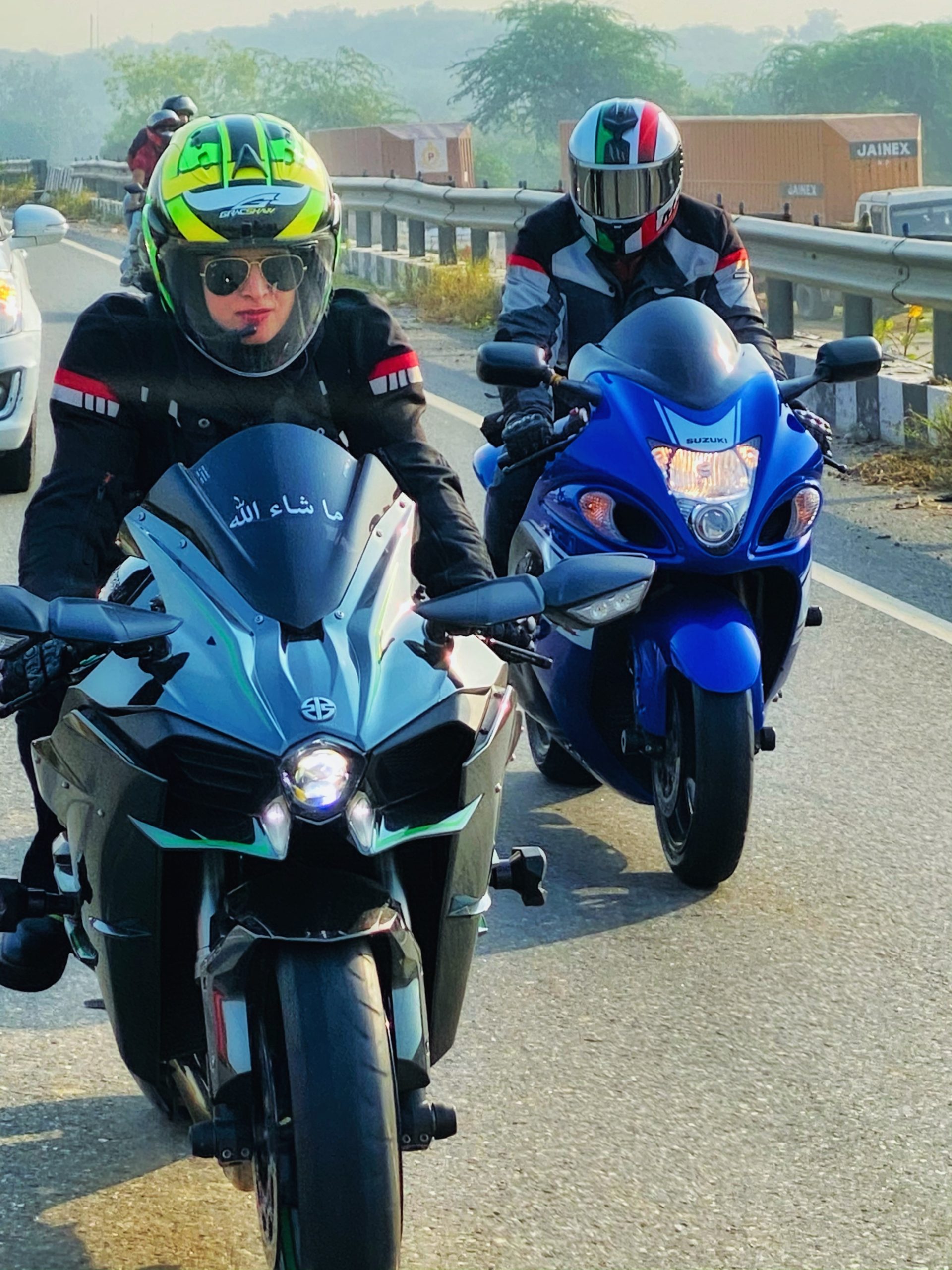 Share your daily fitness routine.
I do not follow an elaborate exercise routine, do cycling as a workout. Riding a Motorbike is a struggle and exercise for me as both my legs do not reach the ground. I handle weight on toes and arms.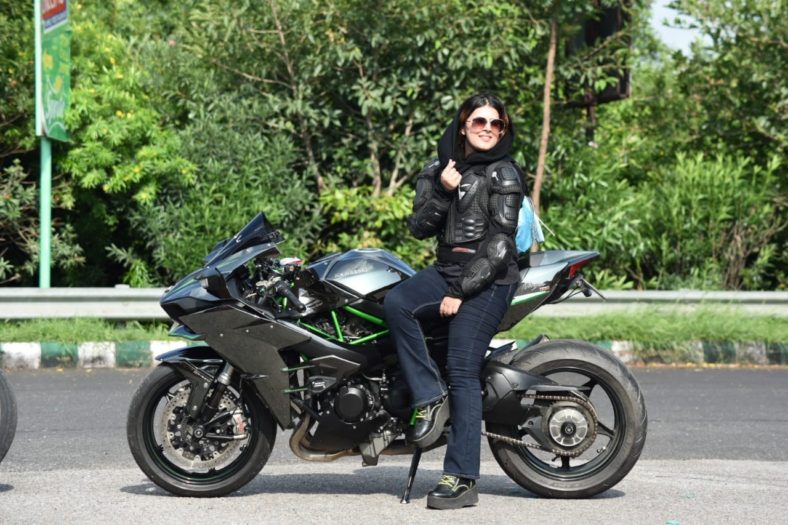 Your diet pattern. Foods you avoid and 5 foods you enjoy eating?
Avoid Oily food. Love having watermelon salad, grilled chicken , briyani , ice creams, kebabs
Riding a bike can take its effect on skin & hair. Share Daily skin & hair care ritual you follow?
Wash my hair after every bike ride, cleanse my face every night before sleeping.
A Memorable incident?
Once I was wearing my normal abaya dress & my 450 kg indian motorcycle ws parked outside a cafe. Everyone was gathered & were in awe looking at the bike, thinking there must be a muscular guy riding it. When I was to leave, I ask everyone to please give me a side & let me reach to the bike. They weren't letting me in as they were sooo mesmerised by the bike.
This or that way I go to the bike sit on it & everyone stares at me. I took the bike off the stand n start reversing it. The faces & reactions were jaw dropping. I start the bike, smiled & started riding. They all looked at me till I was not seen anymore. The scene was difficult for everyone to digest, but it gave me a really good feeling.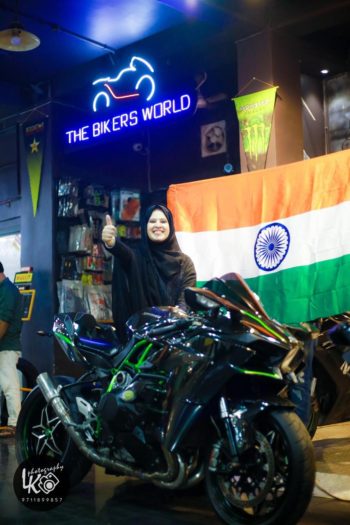 Message for your fans?
"I think it's all here in the mind, for you to stay up to your passion. I always say. You can follow your culture, your ethics & still follow your passion. You can be an absolute woman & also be smart & tough and not lose your femininity "
To do her bit for women's empowerment, she has taken part in bike rallies with NGOs like Breakthrough and Khushi…Ek Ehsaas to further the cause of education and saving the girl child.
Follow her on:
This interview is exclusive and taken by Namita Nayyar, President womenfitness.org and should not be reproduced, copied or hosted in part or full anywhere without an express permission.
All Written Content Copyright © 2021 Women Fitness Org