Celebrity Trainer, Rupal Sidhpura Faria, the owner and founder of Rupals Yogasthenics is unstoppable with an unquenching thirst to learn more.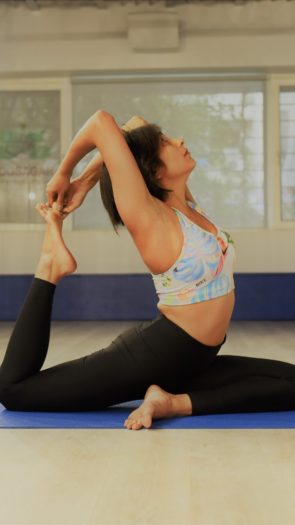 WF Team got in touch with Rupal Sidhpura Faria to learn about GYROKINESIS® Method and the somatic Therapy,
Namita Nayyar:
We would like to know more about your latest venture GYROKINESIS. Please share more input on what is it and how it works.
Rupal Sidhpura Faria:
Hello, GYROKINESIS® Method is a technique I'm learning to master this year. It's a beautiful combination of moves in the forms of exercises that work as prehab, and rehab and help achieve your mental, physical, and emotional goals. It complements the yoga practice. I'm a GYROKINESIS® Apprentice pursuing to be a trainer and hopefully, study further as I practice among other things. Most people haven't heard about it in India. I intend to make it big in my country, I will also be the one practicing and licensed GYROKINESIS® Method Apprentice in India.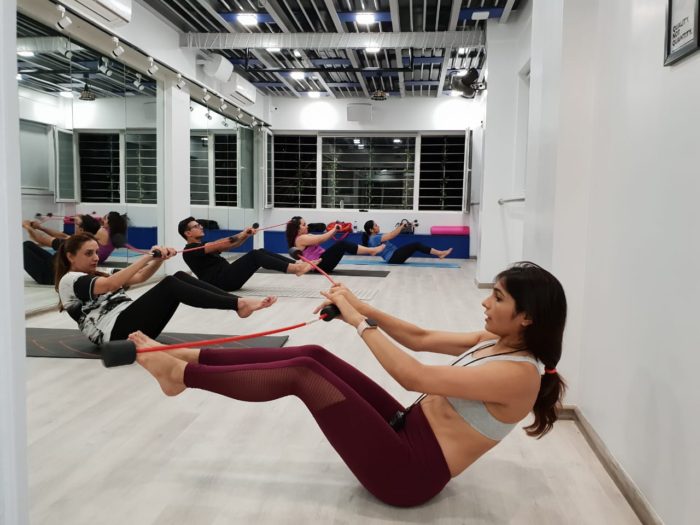 Namita Nayyar:
According to you, why should one try a GYROKINESIS® exercise class? Its benefits and for whom are they meant.
Rupal Sidhpura Faria:
The Gyrokinesis® Method is a movement method that addresses the entire body, opening energy pathways, stimulating the nervous system, increasing range of motion, and creating functional strength through rhythmic, flowing movement sequences. It works as more than just a workout. It is meant for everyone who wants to try it and follow it, all fitness enthusiasts! It's a flow of workout that will start slow but get your heart racing in a few. I feel it has the ability to transform one in all aspects of life making them stronger individuals.
Namita Nayyar:
You are a celebrity yoga instructor who has had the privilege of training several renowned actors. From Soha Ali Khan to Kareena Kapoor, Zoya Akhtar to Surveen Chawla. How do you plan one's fitness regime to help them achieve results in spite of their busy schedule?
Rupal Sidhpura Faria:
By being my most flexible best. And they do the same!!! Prioritising good health is a plus and whoever I have trained so far, have seen it firsthand. I think today whether you're working as an actor or an industrialist, making time for your health should always be one's priority and I'm glad I see that change in the life of most people today. And of course, speaking of what I teach, I keep 2-3 workout routines handy for each one of the students and train keeping in mind, their energy levels, state of mind, and the kind of day they have ahead of them. Even though I have been training these people for so many years, m still have starry eyes around them because of the individuals they are.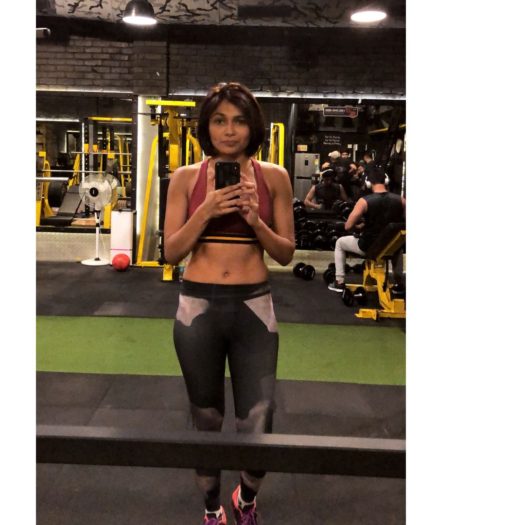 Namita Nayyar:
After being in business for so many years, please share the top 5 myths about Yoga & exercise that continue to dominate our fitness industry.
Rupal Sidhpura Faria:
The first one definitely would be "only a variety of workouts together can help achieve mental and physical fitness goals", I believe Persistence in any workout is what helps you achieve it, rather than a variety of it. Variety can be used to engage and keep the interest sometimes, but it slows down the progress.
"A workout or yoga class doesn't help unless it's strenuous." (HAHA) They don't know that a meditative practice is more difficult than a cardio class.
"Yoga is about fancy postures, you're no good if you can't do it". Well, here's where most people make a mistake, Yoga is a way of Life! Asanas are a tiny part of it. Running behind fancy poses only beats the purpose of taking up yoga as a way of life.
"You can learn yoga or any exercise by watching a video or reading a book." Everything you do has to do with the nature of the exercise or yoga asana. There are so many attributes to it. One should not limit it to just being an exercise. It's an experiential science.
"The spiritual axis of yoga has religious beliefs" That's the worst one, It's an experiential science, not a religion. It's a way of life.
Namita Nayyar:
A lot of women approach yoga for weight loss. According to you the key elements & asanas one needs to add in their life for permanent transformation?
Rupal Sidhpura Faria:
Everybody is different. You should always start slow and get your body used to it to increase intensity. The Key elements in any workout don't depend on the workout, it depends on the student. If you speak only of the workout, for eg., an ideal yoga class should have all forward, backward, side bends and twists and inversions put together.
No posture, in particular, makes for a permanent transformation, it is Swadhyay, the study of self to evolve and bring a balance in your Dharma(Duty), Artha (Life earnings), Kama (Pleasure), Moksha (Liberation) through your practice on and off the mat.
Remember, when you're off the mat, you are on the mat too. Whether it's a physical transformation you seek or a mental one, it all starts at the same place. Without an improvement in your overall personality, you are not doing yoga, you're doing gymnastics. It is a transformation when it changes you to be a better person on all levels.
Namita Nayyar:
Trauma can register within our bodies on a cellular level. Share your input on somatic therapy. What is it and how do you use it in mind-body healing?
Rupal Sidhpura Faria:
To Overcome trauma you need to first be AWARE of the trauma. My thoughts as a teacher say that all stress is PTSD. Somatic healing is something that works on a cellular level and has the power to heal through the connection we have between the mind and body. Using techniques to release pent-up tension or call it stress that is draining you out both emotionally and physically. There are different techniques to it. For eg., when we use yoga for somatic therapy, a little stretch, and movement goes a long way to relieve you of the trauma that's been sitting in your body for years and causing discomfort on all levels. It's also the persistence that is needed. It's one of the many techniques I have seen perform miracles after Yoga. There is much more to this than we can put here, the Positive BHAVAS namely
Dharma(DUTY)
Jnana(AWARENESS)
Vairagya( LETTING GO)
Aishwarya (SELF CONFIDENCE).
They are widely used in everything we do, without knowing that we are using them.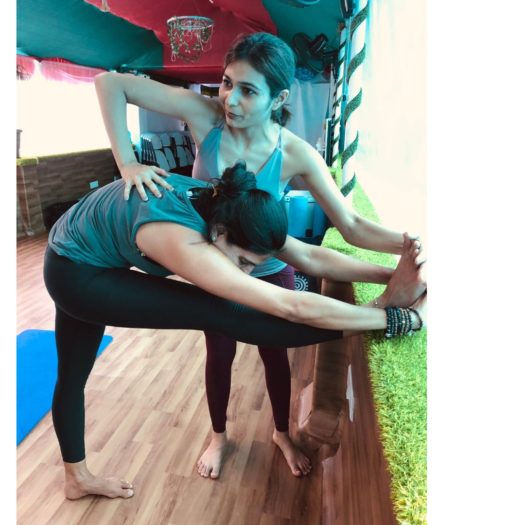 IF YOU USE THESE IN THE RIGHT ORDER, YOU'LL FIRST FIND THE DUTY TO YOURSELF AND WORK ON YOUR TRAUMA, HOW DOES THAT HAPPEN, BY BRINGING AWARENESS ON WHERE IT IS HAPPENING AND HOW IT HAS AFFECTED YOU, One can only overcome with the awareness of how, when, where, and why. Once you know you learn to let go of the techniques and cultivate an emotion of confidence and self-reliance while riding yourself of the trauma.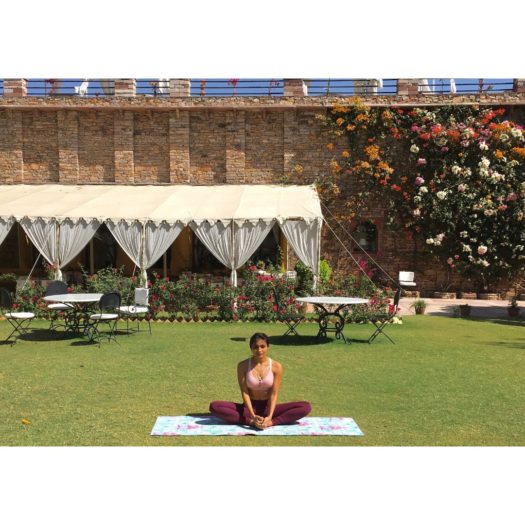 Namita Nayyar:
Please share an insight into a day's routine of Rupal Sidhpura Faria.
Rupal Sidhpura Faria:
Oh Boy!
Some days I start my day at 5.00 a.m. and some days I start at 7.00 a.m. All my days start with a good stretch on the wall to warm up my spine activate my CNS and wake me up! It's a kick-start to my day! I listen to some music sometimes, or chant mantras when I wake up in bed. I have a minimum of 4 classes every morning, I have Zoya, Reema, Anurag, and Srishti Behl most days among others.
I come back home and grab some breakfast or eat on the way if I'm too hungry. Then I get back home check on my socials and catch up on correspondence and any errands. Get in a nap post-lunch routine(never miss it). Evening class with meal prep. Then workout(Yoga, MMA, GYROKINESIS®, OR JUST A RUN). Read and spend time with family. I love watching series, but I hold it all till 10.30, and by 11-11.45 pm I'm in bed either passed out or studying further about Cranio-Sacral Therapy.
This is my routine most days. My life here in Mumbai is mostly work. My travels are all about learning and release. So it's work hard, and spend time with family & friends.
Namita Nayyar:
How do you celebrate your success?
Rupal Sidhpura Faria:
Spending time with my family, my siblings, and a few close friends with a homemade dinner or out with a glass of wine and dining. We mostly are athletes and don't prefer sitting around, we love activities to engage and have fun! That's my way of celebrating success.
P.S.: I love playing pool/snooker too!
Namita Nayyar:
What kind of diet do you follow on a daily routine?
Rupal Sidhpura Faria:
Breakfast: Soaked almonds, Walnuts, sometimes Bhakri with lots of Ghee, multigrain bread and avocado or Chia seed pudding, soup or juice(seasonal). Followed by ginseng 1-2 times a week.
Lunch: Dal Sabzi Roti/Rice with lots of kachumbar, sometimes When I'm too hungry I add rice too and a banana after.
Snack: Sandwich or dosa or just green tea or the kawa or the saffron tea or ace blends shroom coffee.
Dinner: An early dinner, maybe a vegetable soup, pumpkin patties, salad, or any lentil preparation with just salt as masala.
Sometimes on weekends, a glass of a red Sangiovese adds to my glutton palette.
Namita Nayyar:
The reason behind that beautiful glow?
Rupal Sidhpura Faria:
YOGAAAAAA…..The sattvic guidelines of yoga have helped me come a long way with good skin. Simple things like enough good fat in meals, a healthy amount of yoga and exercise, hydration, and sleep are recovery so of course 7-8 hours of sleep and a Pav Bhaji once a while keeps me so happy and that's the main reason for my glow! I try to do all things that keep me happy and positive and I release everything and everyone that does the opposite. Simple.