Sakshi Keswani aka Being Suku began her content creation journey during the pandemic and in just 2.5 years has over *3.5+ million followers* across social media.
Sakshi realized that she enjoys composing poems. When she first composed a poem about her hometown 'Allahabad', she was quite pleased with herself for being able to do so. Later, when she made a video, she realized that she was exactly where she wanted to be and that's how she began her journey during the lockdown when she realized she had nothing else to do except to take this opportunity to begin her career as a content creator.
Beginning her journey in 2020 from scratch, today Sakshi's videos go viral like crazy. Her video *When your girlfriend is way too beautiful* is one of her viral videos and has *20 million views* on Instagram, her other video *When your crush notices you have 10.3 million views*, making her one of the few content creators to have so many viral videos under her hat.
Women Fitness keeping up with its tradition of promoting new talents gets into a fun & quirky conversation with Sakshi Keswani.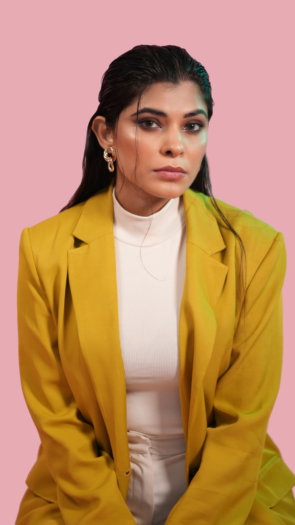 Ms. Namita Nayyar
Sakshi, you are one of the most trending and fast-growing influencers in the comic category at present, tell us how your journey began and was content creation was something you always wanted to do.
Ms. Sakshi Keswani
Thank you so much for your kind words; they mean a lot. But I still think there's a long way to go. I never thought about content creation and acting as a career because I didn't believe I had what it takes. I always wanted to and hope to become a world-famous artist someday.
When it comes to my journey, it all started with me posting sketch videos, photoshoots, art, and so on. I didn't realize I was entertaining many others until much later, I used to create the content because I enjoyed it. So I eventually started making short-form videos, and as my videos grew in popularity, I realized this was the best course of action. I enjoyed making people laugh and that's the mindset you need to keep going. It wasn't a quick process, there were ups and downs and it felt like a lifetime till people realized I am worthy of entertaining them.
FULL INTERVIEW ON THE NEXT PAGE!
This interview is exclusive and taken by Namita Nayyar, President of womenfitness.org, and should not be reproduced, copied, or hosted in part or full anywhere without express permission.
All Written Content Copyright © 2022 Women Fitness Org