Shivani Patel, is a founder of Sculptasse Studio, and has been a personal fitness instructor for 7 years now. She trains around 600 fitness enthusiasts every month.

However, she was not always like this. It took a lot of hard work, determination, and perseverance.
This was her not too long ago, weighing a hefty 286 pounds.
Back when she had embraced the corporate world and all the lifestyle changes that came along with it. Her job as a PR agent involved coordinating with two time zones on either side of the hemisphere – U.S & Indian. She worked for Motion Picture American Association (aka Hollywood) and her responsibility included getting press releases ready in time for the Indian media. The consequence of that resulted in sleeping at odd hours, and undue stress, which she coped by eating processed junk food which ultimately added to her heavier-than-normal frame – the end result being this whopping size you see.
Despite the outer shell of "I don't care attitude", it hurt when the people made snide remarks and body shaming comments started to pour in subconsciously. When Auto drivers would ask her to step out of autos when driving up the hill. Once a guy at a club made a remark that "everything below my neck was ugly." Although she loved shopping, I hated it when the dresses she loved would never fit – she was 5XL which was an extremely uncommon size to find in India. Words such as "fatty, jaadi and moti" by friends and colleagues became too familiar which tanked my low self-confidence even further. The struggle was real!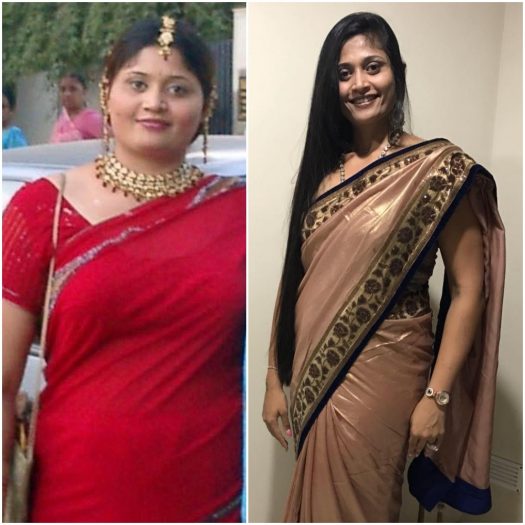 Not knowing any better she coped with the struggle by further indulging in comfort food and emotional eating. Her solution for depression back then was food, although she did try antidepressants for a while – which didn't help much at all. The body shaming in subtle and open ways continued, which she felt addicted to food in order to cope – it was a vicious cycle.
Her life changed one day when she was at a movie theatre and got stuck in the seat. It was so embarrassing that the entire seat had to be taken apart just so she could get out. That was when she decided she had enough and had to do something dramatic.
Here is her story:
The first step in a fitness journey is WHEN YOU yourself decide that you want to lose those pounds. What is your "WHY", your motivation? SETTING YOUR GOALS.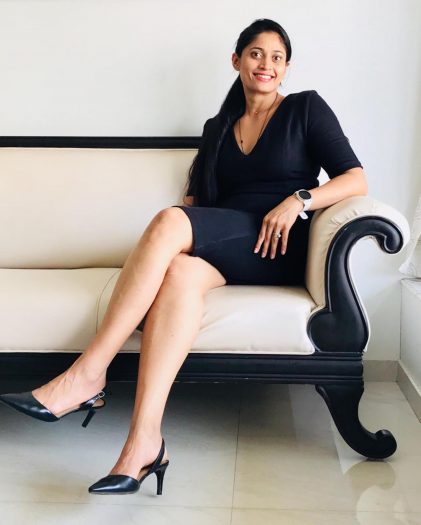 I decided to get a personal trainer. I was lucky that I found someone highly knowledgeable and persistent. Despite my late night lifestyle, he made it a point that I showed up for a workout at 6 a.m. every morning. During routines, he told me the names of exercise and also which muscle groups I was working on. He did not just make me exercise but educated me on what I was doing in that one hour I was with him.
Which brings us to the second step in fitness journey – FOCUS,DISCIPLINE & SELF-BELIEF.
Both of these are interconnected. You have to stay focused on your goal and to attain that stick to a regime. Your journey does not have to be similar to mine, it could be anything that you want to wake up to each day. For me, it involved completely reorganising my schedule. I woke up at 6 a.m., went to bed earlier, set definite timelines for activities and ate healthy. Trust me it did not happen overnight, I failed a lot more before I succeeded but I had my eye on the goal, so surrounded myself with mentors that would help me reach my goal.
This lifestyle change resulted in how I see fitness today but self- discipline is the key to fat loss.
Phase 1 : The Student
Getting over one's first love is hard. We all resort to something to get over a bad phase. In my case, I resorted to food. The emotional eating had the twin effects of deflating my self-esteem and degrading my health. I was called names by friends and colleagues like fatty, moti which further affected my self-esteem. I ended up in more comfort eating thus spiralling into a vicious circle.
I tried antidepressants but they did not help much. Although what did help was my sister's support through this rough phase. She kept encouraging me, and helped me stay positive. That was when I realized the importance of staying positive.
Now my favourite mantra is Train your mind along with the body. Physical and mental health go hand in hand. It is essential that they complement each other.
This was also the reason I wanted a well-informed and knowledgeable coach. He pushed me beyond my limits. During the session while working out, he helped increase my knowledge on which muscle group I was targeting while exercising and why we needed to train them.
Phase 2 : The Master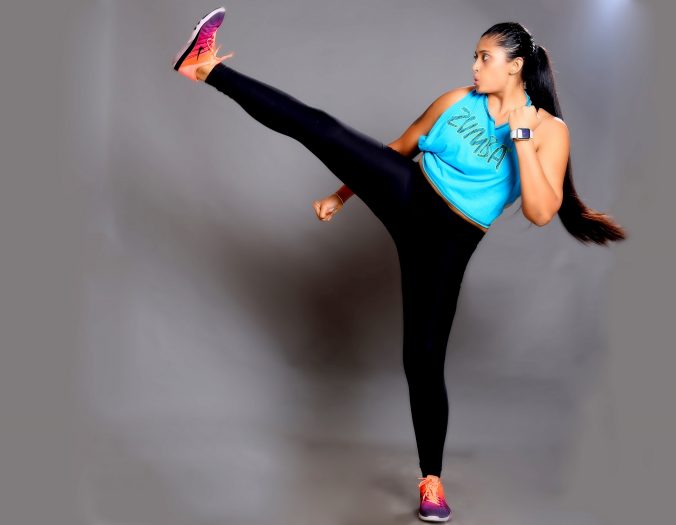 It took me about six months to enjoy my workout routine. Up until then I saw it as something I just had to do. The positive comments elicited about my figure from the very people who called me moti, fatty, jhadi was a great boost to my self-confidence. This motivated me to challenge myself further during my workouts. I also started to take a keen interest in the muscle groups.
When I began losing weight further, I realized I would love to do this every day. That was when an idea struck me – I want to stay healthy for good, and motivate others to do the same. Why not get paid for it ? By now, I had an idea of the different muscle groups and which workout routines would best hone them.
Phase 3 : The Trainer
I decided to quit my corporate job and focused completely on being a trainer. I didn't want to bite more than I could chew, so I started small. Around the same time, I came across a book by Zumba Fitness. Reading that book in itself was a life changing experience. I underwent the training and currently offer Zumba classes, and various fitness variations such as Strong by Zumba, Aqua Zumba, Poundfit & High Intensity Interval Training.
When everything seemed to be going on a good roll, life threw a couple of unpleasant surprises which tested my grit.
I was diagnosed with hypothyroidism – a deficiency of the thyroid hormone. Symptoms include fatigue, weakness, weight gain or difficulty losing weight. This presented a challenge in further achieving my goal of losing weight and achieving my target. I found that I would keep working out, eat healthy but my weight had plateaued and would not budge. It caused a lot of frustration, and was thus advised to refer to a physician to rule out medical issues. This is when I was learned more on hypothyroidism. So I did what I usually do when presented with a challenge: research more about it, treat it if I can and move forward.
Not too long after I thought I had tackled the issue of hypothyroidism, sometime and started seeing results towards my goal I met with an accident and had to undergo ACL reconstruction surgery. Anterior cruciate ligament (ACL) is important for maintaining stability of the knee joint, particularly in activities involving weaving, pivoting or kicking. The knee becomes unstable with a ruptured ACL and the joint became more damaged over time. Moreover, my job involved a lot of knee activity.So I needed an additional surgery.The recovery and rehabilitation post the surgeries took almost a year, and I was asked by my doctor to take a year off that knee. It was heart breaking to me since my life revolved around my mobility and my legs.
I wondered whether I could still continue my workouts. That was a depressing phase. The thought of going through all this effort only now to be constrained to bed was not a happy thought. But when life gives you lemons, make lemonade out of it. Since I was asked to stay off the physical activity, I used that time to work my mental health since I believe they go hand in hand. So I coped by picking up a lot of reading, surrounded myself with people who were a positive influence in my life. Decided to use that time to travel, by going places that rejuvenated my soul. I watched motivational videos to stay positive. I also worked out how to grow my business while staying at home. Once recovered, I began offering fitness classes to people. Zumba is extremely popular. In fact, I ended up opening classes at 10 locations with 600 clients in a span of one year. To solidify my background in the fitness industry, I am also pursuing further education from American College of Sports Medicine and ACE.
Tips to Stay Motivated in Your Fitness Journey
Keep Regular Reminders – Every day is a new day with a new start. Hence, every day I reminded myself on where I wanted to see myself. I stuck pictures of women whose figures I admired on the mirror – the first thing I saw as I brushed my teeth in the morning. It served as a daily reminder of where I wanted to be. I created a scrapbook and vision board of interesting articles with respect to healthy food, exercise routines, fitness competitions,gym workout and anything else which struck my fancy and I thought would help me reach my goal.
Smaller, healthier  Portions  – I cut down on the amount of food I ate. I picked out a bowl and limited my portions to the size of that bowl – be it rice, pasta, or sabzi. I stuck to fruits for my in-between-meals cravings. During the occasions my friends and I decided to meet up at a buffet restaurant or street food, I took my entire meal in the soup bowl, as opposed to a plate. This ensured I did not fast and feast.
Work Around your Hobbies – As mentioned in an earlier post, I loved shopping. Every time the dress I loved did not fit me, it was terribly depressing. After I began my regime, I started getting dresses one size smaller which motivated me to keep losing weight till I fit in.  If you love socialising, be conscious of the amount of calories you consume. Similarly, if travelling is a hobby, ensure you keep working out during your travel/ stay at a hotel.
Follow us on facebook: