By Sneha Sadhwani,
Clinical Nutritionist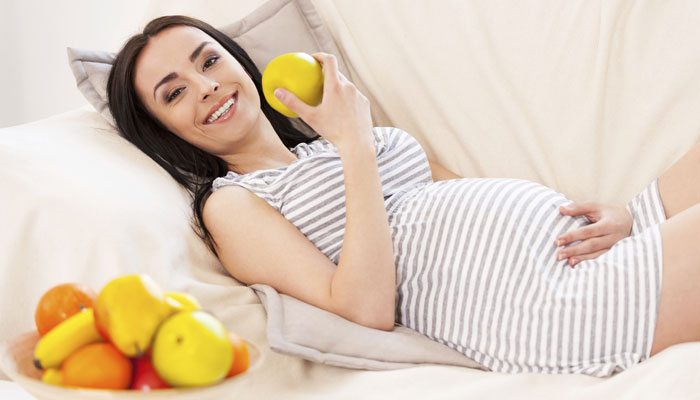 'Pregnancy is easy', said no one ever, but this is a beautiful phase and every woman deserves to look beautiful and feel pampered. During pregnancy you become extra careful about what you eat. Similarly, you need to give extra attention to your skin. Experimenting new skincare or beauty products at this point of time is not a great idea. Hence, you need to be extra cautious about what you apply to your skin.
Here are 5 natural skincare and beauty tips to enhance your beauty and to make this phase more beautiful.
This simple yet effective tip not only benefits your gut, but also gives you a clear-looking skin. Water flushes out all the toxins from the body, which reduces the risk of acne and dull skin. It further boosts complexion and improves skin appearance.
Drink at least 8-10 glasses of water daily. Do not replace water with sugar-laden beverages like packaged fruit juices, sherbets and caffeinated drinks like tea and coffee. Plain water is the best.
Eat a variety of natural foods so that your skin gets the goodness of various vitamins, minerals and antioxidants. The food choices we make directly affects our skin, hence, we should be careful about what we eat. For a flawless, beautiful and glowing skin eat at least 2 fresh fruits and 3-5 servings of fresh vegetables daily.
Vitamin A and C fight wrinkles and other signs of premature ageing of the skin like dark spots and fine lines. Get your dose of these vitamins from orange, red and yellow colored fruits and vegetables and citrus fruits.
Vitamin E protects the skin proteins and cell membranes against damage caused by free radicals. Add nuts, oilseeds, avocado and dark green leafy vegetables to your diet.
Omega 3 fatty acids regulate the oil production and keep the skin soft and supple. It also prevents acne, a common problem faced by many pregnant women. Eat fatty fish like mackerel, herring, sardines, salmon and anchovies. Plant sources of omega 3 fat include flax seeds, chia seeds and walnuts.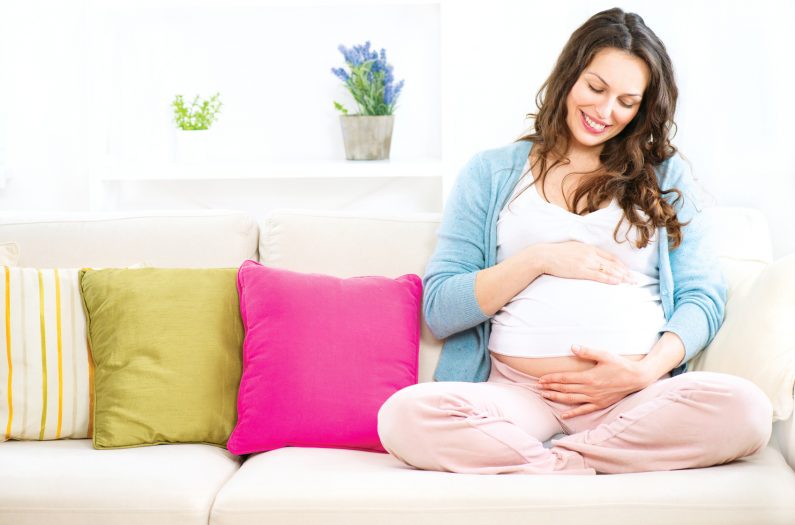 Pregnant women must sleep for at least 6-8 hours. Proper sleep is essential for your body, mind as well as baby's growth. Besides this, getting adequate sleep helps in the repair of the damaged skin cells, which is caused by hormonal changes during pregnancy. Sleep deprivation causes your body to produce more stress hormone 'cortisol'. Cortisol interferes with the quality of your skin and makes it look dull. Cortisol can also raise the severity of acne by increasing the action of inflammatory compounds. Hence, it is important for every pregnant woman to get a good night's rest.
Choose The Correct Cleanser
It may not be a great idea to try new skincare products during pregnancy. Use products that are gentle and mild and they should not contain any harmful chemicals. Use a gentle cleanser twice a day that will remove all the dirt, impurities and extra oil from the skin pores. Cleansing may not reverse the hormonal changes that take place during pregnancy, but it can definitely give your skin a fresh and clean look.
Know Which Beauty Products Are Safe For You
With so many beauty products being introduced in the market frequently, it becomes difficult to keep up with what is safe during pregnancy. Let's have a look at some skincare products, which are better to avoid if you are pregnant:
1. Topical Retinoids
Though the amount of this drug absorbed from the skin when using this product is small, 4 case studies have reported that topical use of tretinoin, a preparation of retinoic acid used to treat acne may cause minor birth defects. But, many other scientific studies have found no adverse effects of use of topical retinoids during pregnancy. However, topical retinoids cannot be advised for use during pregnancy because their safety still remains questionable.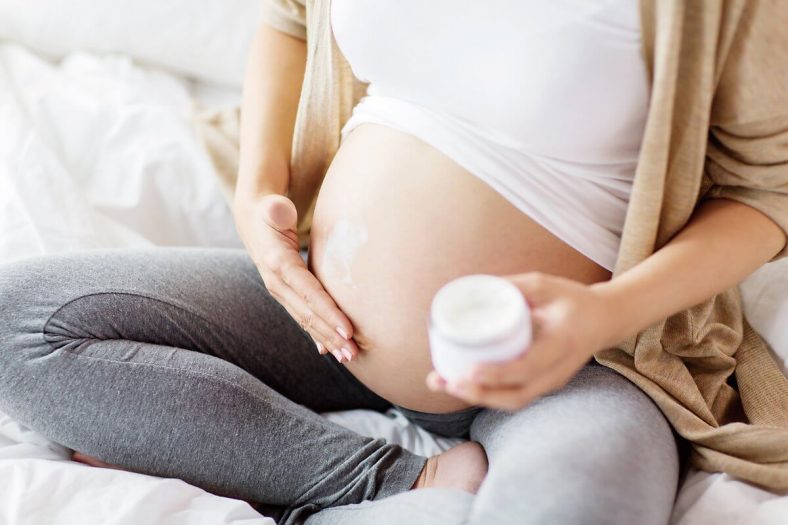 2. Skin-Lightening Agents
Hydroquinone is a depigmenting agent and it is also used cosmetically as a skin-whitening agent. 35% to 45% of hydroquinone is absorbed following topical use in humans, says research. Because of the high absorption rate, it is recommended to avoid this during pregnancy.
FINAL VERDICT
Enjoy this special phase of your life by taking extra care of what your eat, drink and apply to your skin. Use natural ingredients from the kitchen to enhance the glow of your skin. Beauty comes from internal care as well. Hence, pay special attention to what you eat and drink.
References:
https://www.ncbi.nlm.nih.gov/m/pubmed/22174426/
https://www.ncbi.nlm.nih.gov/pmc/articles/PMC3114665/