By Dr.Hemapriya, Mylittlemoppet_official
There is enough information about healthy eating available all over the internet that we have a general idea of what to include in our diets and what to avoid. Among the foods that are often praised as superfoods are sprouts, also a popular favorite with weight watchers. Recipes with sprouted beans can be an additional health booster.
What are Sprouts?
Sprouts are seeds that have germinated, by being placed in a warm, humid environment for many hours. Various different foods can be sprouted, and the most common ones are dried beans like mung beans, black beans, kidney beans, chickpeas or soy beans, grains like amaranth, quinoa, ragi as well as nuts and seeds like almonds, pumpkin seeds, sesame seeds or funflower seeds. You know the seed has sprouted when you see small shoots appear, and they're usually around 2 inches long.
Sprouts are incredibly healthy, and the process of sprouting elevates the nutritional profile of the original food. Here are some of the health benefits of sprouting:
Sprouting increase the amounts of nutrients like folate, phosphorous, magnesium and manganese as well as Vitamins C and K and antioxidants
Sprouting also increases the amount of protein, with amino acid levels going up by 30%
The sprouted version of beans whose sprouts are at least 5 mm long contain over 200% more fiber than the unsprouted version, reducing chances of constipation
The sprouting process reduces the amount of antinutrients which means that they are more easily digested and the nutrients are more easily absorbed
Sprouts help control blood sugar and increase the amount of good cholesterol while reducing bad cholesterol
Basic Sprouting Procedure:
Soak the beans for 6-8 hours in enough water to cover the beans by at least three inches.
Drain the beans and rinse well. Drain again.
Tie the beans in a kitchen towel and place in a dark and warm place (preferably in a casserole or in a microwave oven) for 6-8 hours till white shoots appear.
If they don't sprout, try rinsing them twice a day, in the morning and evening. Drain and place them in the kitchen towel again till they sprout.
Once you get the hang of sprouting beans you'll then be on the lookout for healthy sprouted beans recipes. Here are some easy and delicious sprouted beans recipes that kids – and the whole family will enjoy!
5 Sprouted Beans Recipes for Kids
1. Sprouted Moth Beans Frankie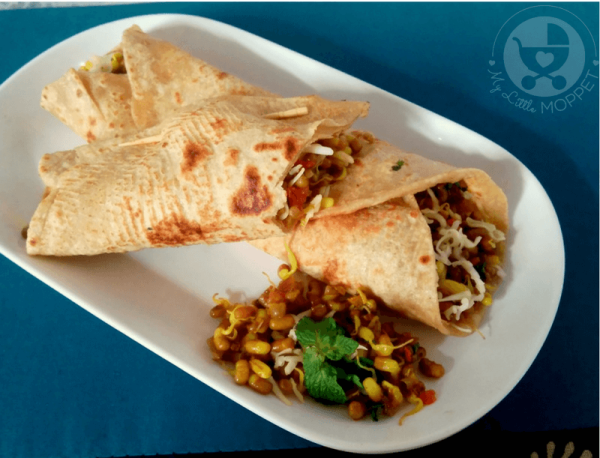 Ingredients:
1 cup sprouted moth beans (matki)
1 onion finely chopped
1 tomato finely chopped
2-3 cloves of garlic
1 teaspoon oil
1/4 teaspoon cumin seeds
1/4 teaspoon turmeric powder
1/2 teaspoon garam masala (optional)
Salt to taste
Small bunch of fresh coriander , finely chopped
Instructions:
Heat oil in a non stick pan and crackle cumin seeds.
Add the chopped garlic followed by finely chopped onion. Stir fry until the onions become soft.
Add chopped tomatoes and stir fry till they get mushy. Add turmeric powder followed by garam masala.
Toss in the sprouted moth beans. Stir fry for 1-2 minutes.
Season with salt. Cover and cook for another 5-7 minutes on a low flame. Once the beans are soft and can be mashed between the fingers, turn off the flame.
Stir in finely chopped fresh coriander. Add ½ teaspoon of lemon juice if you like.
Place a few tablespoons of the beans in the middle of a chapathi or paratha. Sprinkle some grated cheese on top and roll it while still hot.
2. Moong Dal Sprouts Dosa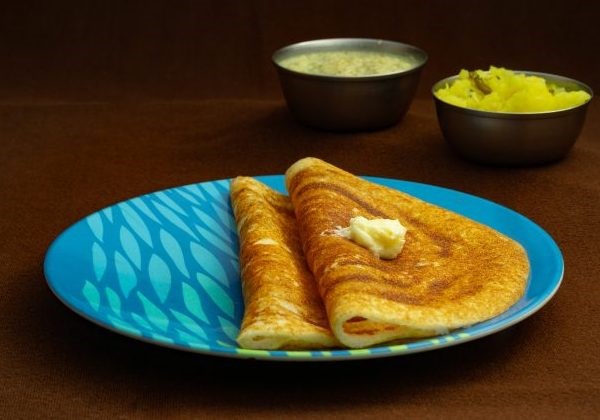 Ingredients:
1 cup gramflour/besan
1/2 cup sprouted green moong
Salt to taste
1/4 tsp turmeric powder
1/2 tsp coriander powder
1/2 tsp garam masala
A pinch of asafoetida
1/2 cup buttermilk
Instructions:
In a bowl, mix the gramflour with the sprouts. Add all the spices and mix.
Pour in the buttermilk to make a batter. Keep it aside for 10 minutes.
When ready to make the dosa, add salt to the batter and mix.
Heat a nonstick pan and sprinkle some ghee on it.
Pour a ladleful of batter and let it cook so the sprouts also get cooked.
Once done flip an cook on the other side till brown.
Serve with dip of your choice.
3. Sprouted Bean Burger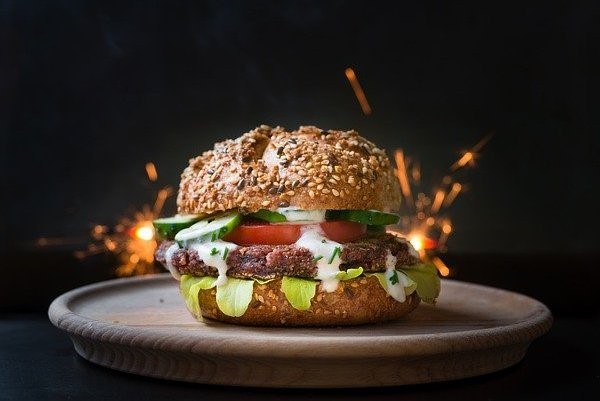 Ingredients:
1 cup sprouted mung beans
2 medium potatoes, cooked and mashed
1 tbsp ginger-garlic paste
1 small onion, minced
½ tsp turmeric
½ tsp chilli powder
2 tbsp fresh coriander leaves, minced
2 tbsp mint leaves, finely minced
Salt to taste
Instructions:
Cook the sprouts in a pan or a pressure cooker till they're cooked but not mushy.
Grind the cooked sprouts till you get a grainy paste.
Mix the mung bean paste with the remaining ingredients to get a dough like mixture that can hold its shape.
Make patties out of the dough and let them rest in the fridge for half an hour.
Heat some oil on a non-stick pan. Cook the burger patties over medium heat till golden-brown. Flip and cook the other side.
Place the patty between a burger bun along with a slice of cheese, lettuce, tomatoes and sauces of your choice.
4. Moong Sprouts Pav Bhaji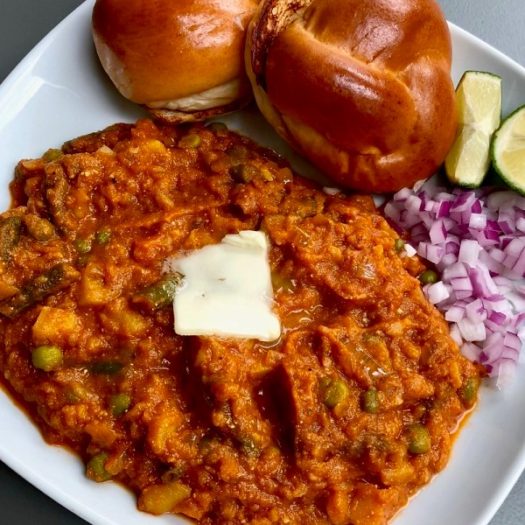 Ingredients:
1 cup moong sprouts
2 medium potatoes, peeled and cubed
1 carrot, peeled and cubed
1 small green capsicum, chopped
1/4 cup green peas
1 onion, chopped
3 tomatoes, chopped
1 tsp garlic paste
2 tsp chilli powder
2 tbsp Pav bhaji masala
2 tbsp fresh coriander leaves, chopped
1 tbsp butter
Salt to taste
Chopped onion and lemon wedges to serve
Instructions:
In a pressure cooker, melt butter and fry the garlic paste till the raw smell goes.
Add the chopped onions and fry till soft. Add the tomatoes and cook till mushy.
Add the chilli powder and pav bhaji powder and fry for a minute.
Toss in the vegetables along with the moong sprouts and mix well.
Season with salt and add enough water to cook the bhaji.
Cover the pressure cooker and cook for 2 whistles on a high flame.
When the pressure cooker cools down, use a potato masher to mash the bhaji – it should still be a little chunky.
Sprinkle the coriander leaves and serve the bhaji with buttered pav buns, chopped onion and lemon wedges.
5. Sprouted Chickpea Cutlets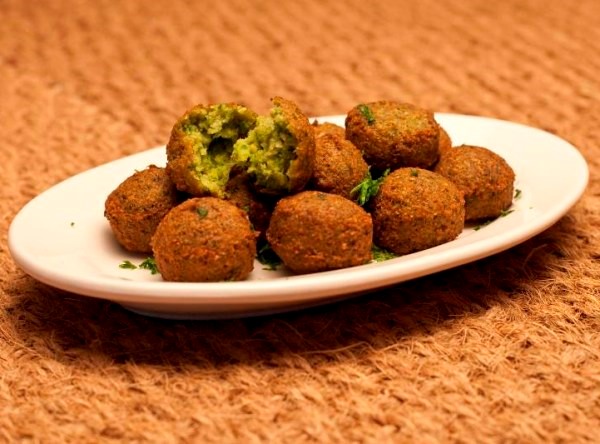 Ingredients:
3 cups sprouted chickpeas
2 bunches fresh coriander, chopped roughly
1 onion, minced finely
12 garlic cloves, minced
1 tbsp coriander powder
1 tbsp cumin powder
1 tsp chilli powder
1/4 cup lemon juice
Salt and pepper to taste
Instructions:
Grind the chickpea sprouts and coriander leaves till you get a rough paste. It should be a little grainy.
Mix in the chickpea paste with the remaining ingredients to get a dough that holds its shape.
Scoop out some of the dough and shape it into cutlets or balls.
Heat oil in a deep pan and fry the cutlets on a medium heat for 3-5 minutes till brown.
Drain the fried cutlets on a paper towel and serve with a dip of your choice.
When preparing means with sprouts, it's important to consider the risk of food poisoning. Since sprouts are grown in humid conditions, they may help in the proliferation of bacteria like Salmonella or E. coli. This is why it is recommended to always cook sprouts, especially for children, pregnant women and senior citizens. Throw away sprouts if they appear slimy and always store sprouts in the fridge.