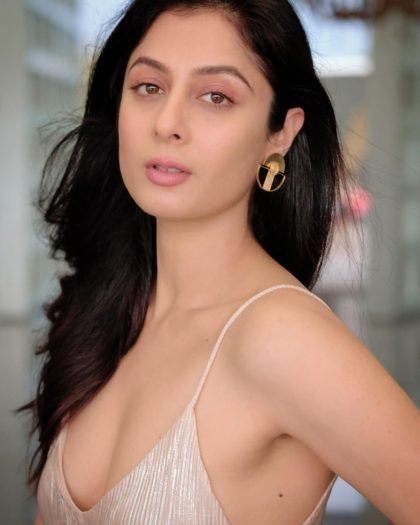 Namita Nayyar:
What comprises your workout routine? how many days in a week do you train? Your favorite target areas?*
Sukhmani Sadana:
I like doing cardio, and it freshes my mind. I also enjoy walking. I could walk for an hour straight without realizing the time. When I hit the gym, I do 20 minutes on a treadmill and then do body weights. I like strengthening my core. So, I love doing planks. If you feel strong, then half the job is done. Feeling fit and strong is always going to be in trend. Physical strength is equivalent to mental health. So, it is important that you feel strong and grounded.
Namita Nayyar:
You have been part of Sacred Games, one of the most loved series on OTT. How was your experience, and how did you prep for the role?
Sukhmani Sadana:
It was an incredible experience! In a way, Sacred Games brought a boom in digital content in India. I am so proud to be a part of an iconic show like it. As an actor, it was a learning school for me because I got a chance to observe Nawazuddin Siddiqui and Saif Ali Khan on the sets. It would be hard for me to put it in words. For my prep, I read and re-read the book and the script to grasp my character. It allowed me to gain a perspective of Mikki. I sat with the makers and writers to understand their vision of my role.
Namita Nayyar:
You also have two upcoming web series. Tell us more about them. Do you feel that OTT is now the big thing?
Sukhmani Sadana:
Dil Bekaraar is already out now! I am so happy to receive so much love from the audience for the show. It is very close to my heart because I loved the book Those Pricey Thakur Girls. Next in line, I have Apharan. I will be able to share more details on the same soon. Yes, OTT is now the big thing. I am so proud of the audience who have allowed the space to become a crucial medium. It has given a platform to many voices. It is a great time to be a creator or an actor because we have an audience for every sort of content. Gone are the days when one could say the project was good, but it didn't get eyeballs. Today, everyone can be heard and judged based on the quality of work.
Namita Nayyar:
You seem to have amazing hair and skin, self-care rituals that you swear by?
Sukhamani Sadana:
Thank you for the compliment. Because I travel a lot and don't usually end up eating home-cooked food due to continuous shoots, my lifestyle is not that proper. So, I consciously make an effort towards my beauty regime. No matter what, I make sure to wash my face before going to bed and put on a heavy oil serum. It helps me keep my skin hydrated. In the morning, I wash my face. Post that, I apply toner, moisturizer, and sunblock. I am as regimented about it as I am about brushing. I am working towards increasing my water intake these days. Consistency in the skin routine is more important than what you are using. Eat well because it makes a lot of difference. What is inside your body will show outside on your skin. And the most important is to don't stress and be happy. If you are happy, your skin will glow naturally.