Tanya Sharma is one of the most stellar and gorgeous actresses in the entertainment sector. The diva is loved by viewers for her acting chops and an outstanding sense of style. In Sasural Simar Ka 2, she is currently playing Reema Narayan. Fans appreciate her chemistry with Karan Sharma.
Women Fitness India gets in a candid chat with Tanya Sharma on her journey and future goals!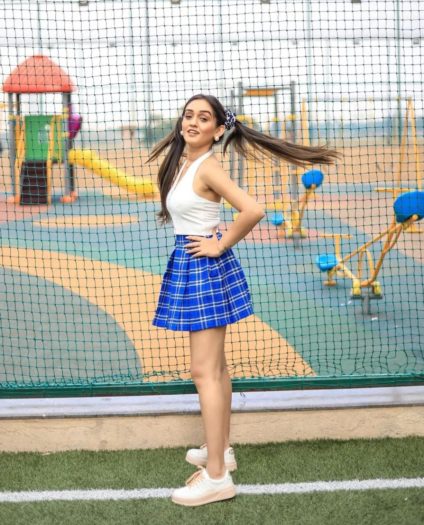 Ms. Namita Nayyar
Tanya, you started your journey in 2011, today after being in the industry for over a decade, how would you define your journey as? And was being an actor your dream?
Ms. Tanya Sharma
The first show I did when I was a child was Afsar Bitiya in 2011, and I have been working ever since then. The journey has taken me over a decade, and it's been a beautiful one. Of course, I have come from 0 to where I am now. When you come from the ground up, you understand the value of success when it comes to yourself, and that's how I will describe my journey. it has been very fruitful all the hard work I was putting in all years I got the results and by the result I mean the tremendous amount of love from the audience and I that now I am a known face.
I Have worked very hard to make a place in this industry, its a very very competitive industry and I just feel that it has been a beautiful journey and I love every bit of it even the disappointments because all the disappointments made me work harder and there was always this hope, I have missed out few big opportunities but I have always been positive that maybe it's for the good and I had that hope that it's gonna be better the next time and it did. I am still working in this industry for over a decade and I am very very very proud of my journey from where I come. I never wanted to be an actor since childhood, I Always wanted to become a businesswoman. My journey in this industry began so naturally and effortlessly that I knew that God gave me an opportunity and I have to put all my efforts and hard work that I did and now I can say that I am living the dream.
FULL INTERVIEW ON NEXT PAGE!
This interview is exclusive and taken by Namita Nayyar, President of womenfitness.org, and should not be reproduced, copied, or hosted in part or full anywhere without express permission.
All Written Content Copyright © 2022 Women Fitness Org