Dipped in patriotism, these recipes are perfect for an Independence Day celebration. Easy as well as healthy, these recipes can be cooked at home and relished with your friends and family on a holiday!
3 Recipes to Celebrate Independence Day
Assorted Vegetable Tricolour Dumplings: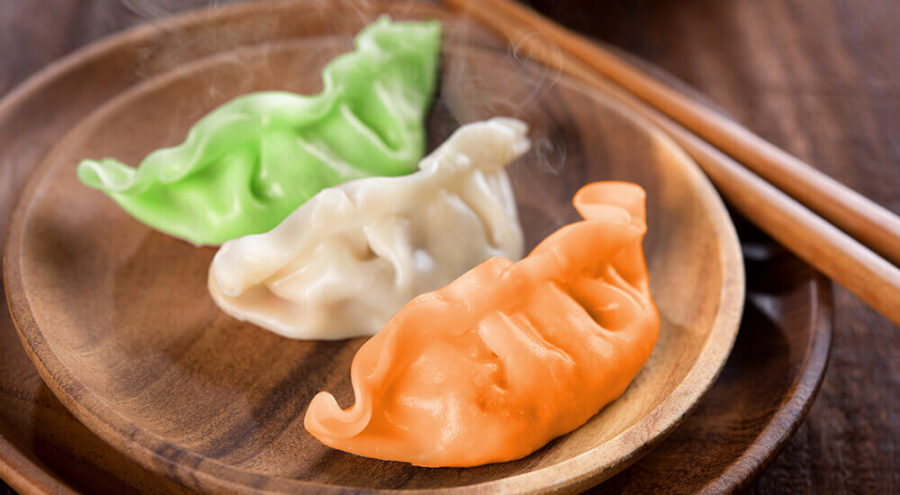 Ingredients:
For Filling
Cabbage (Chopped) – 250gms
Carrot (Chopped) – 50gms
Bok Choi (Chopped) – 50gms
Veg Seasoning – As per taste
Salt – As per taste
Sesame oil – 1-2 tbsp
Salad oil – 1tbsp
For Dough
Refined flour – 200gms
Carrot paste – 1
Spinach paste – 1
Water – As per requirement
Method:
Take a bowl and add all the chopped vegetables. Add veg seasoning, sesame, and salad oil and mix properly. Once done, keep it aside for a few mins.
Take a bowl and knead the refined flour. Add water as required to maintain the consistency. Cover the dough with a muslin cloth and let it rest for 20 mins.
Separate the dough into three equal parts. Now, add carrot paste to one portion and knead it for 1-2 mins. Repeat the same process with another portion and add spinach paste to get the green colour.
Divide the dough into equal portions and shape into balls. Roll the dough into thin 5-inch rounds.
Place some of the veg fillings in the centre and ensure that the filling is evenly spread. Bring the edges together and twist them to seal them in various ways.
Steam for almost 15 to 20 minutes. If you are using rice cookers, the trick is to know the right time to cook the dumplings.
Remove the dumplings from the cooker and serve hot with different types of sauce. Arrange the dumplings in the tri-color to get the Independence Day look!
Tricolor Salad
Now that your mini meal is ready let's complete it with a healthy tricolor fresh salad.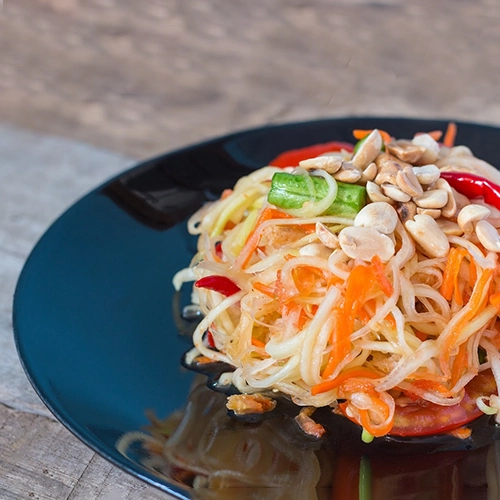 Ingredients:
1 medium green papaya
1 large carrot
2 cucumbers
1 cup of green beans
½ cup toasted peanuts
1/4 cup vinegar
3 teaspoon honey
1 teaspoon soy sauce
Salt as per taste
1 garlic clove
2 red chilies
1 green chilli

Method
Mix vinegar, honey, soy sauce, salt, minced cloves, and finely chopped chillies in a bowl and keep aside
Slice papaya, carrots, and cucumber in thin elongated flakes uniformly and with equal shapes that look good when you serve.
Chop finely mint leaves and peanuts.
Toss these sliced and chopped veggies into the bowl with marination, and serve!
Tri-Color Modak
Steamed modak made with coconut and jaggery stuffing wrapped with coconut and jaggery.
Ingredients
1 cup Rice Flour
2 tbsp Milk
1/4 tsp Salt
1 cup Water
1/2 tsp Ghee
1 tsp Poppy Seeds
1 Cup Shredded coconut
1/2 cup Jaggery
Green food color
Orange food color
Instructions
Heat up water in a medium-sized pan. Add milk, salt, and ghee and bring it to a boil. Once it starts boiling, turn off the gas and add the rice flour. Mix it well with a spatula till everything is combined well.
Keep it covered for 10 minutes or till you are done preparing the filling
Heat up another pan on medium heat and add in the poppy seeds. Dry roast the poppy seeds for about 1 to 2 minutes. Make sure you don't burn them! Add in the shredded coconut and dry roast till it's about slightly brown in color. Add in the jaggery and keep roasting it for 5 to 7 minutes. Add 1 tbsp of water in between to make the filling slightly wet Let the filling cool down.
Take the dough onto a clean plate and start kneading it for 7 to 8 minutes. If the dough is too sticky, rub some ghee on your hands for kneading.
Divide the dough into three equal portions, one for each color. Add orange gel food color into one of the portions and knead it till the color is mixed in well. Repeat the above with green gel food color with the 2nd portion of the dough. Leave the third portion as it is. Now you have three colors
Start making smaller 1-inch size balls from each of the dough portions. You should get around 7 to 8 balls for each color.
Take one ball of each color and press them together, with no gaps in between any of the three different balls. Once the dough is somewhat pressed out flat and thin, fold and pinch along the edges to make a form of dip in the center.
Add in the filling and close up the dough by pinching the top of the folds to the center. Now the modak is ready to be steam cooked.
Bunch up some aluminum foil into three small balls and place them in a deep pan. The foil balls are kept to give some clearance between the bottom of the pan and the modak. Add an inch of water to the pan.
Grease a plate with ghee and place the modaks on it. Place this on the aluminum foil. If you want, you can improvise a steamer. Close the pan with a lid and steam the modak on medium heat for 20 minutes. Do not steam at high heat
After 20 minutes, take the modaks out. Drizzle some ghee on it and serve it hot.
source: https://sugarspiceneverythingnice.com/
Happy Independence Day!