Urmi Kothari aka Coach Urmi is an energy coach and believes that one can transform the mind, starting with the body. With an experience of over 21 years in fitness, sports, martial arts, professional dance and yoga, she is currently spreading the philosophy of "Kinetic Living" at her HQ in Mumbai and online, via my Kinetic Living podcast and recently via TEDx talk.
She is also a Nike trainer and a Master trainer who has coached over 200 aspiring coaches in the country all while building up an eclectic mix of clientele (artists, actors, comics, models, writers, directors, photographers) over the last 7 Years.
Women Fitness India got an opportunity to get in touch with the stunning, energy-packed celebrity trainer, Coach Urmi to talk about her life, passion, work, and much more. Read on.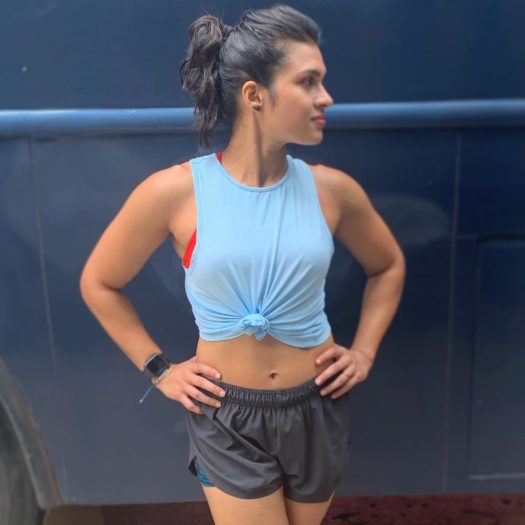 Namita Nayyar
Your first venture in workout routine was at the age of 12 and as of today, you are one of a kind fitness coach. Please share your journey with your achievements.
Urmi Kothari
wow! That's a demanding question haha. Well as the question itself suggests that it is has been a 'journey' …and achievements are just milestones in the journey and while they have a motivating and validating factor, the true journey is the time and mindset between these achievements.
I think my biggest achievement and a source of gratitude has been the physical, mental, and financial ability to spend time and energy on learning different forms of fitness. I started learning Bharat Natyam when I was 8 years till I was 10. I started out with shot put and throw all at 12 Moved on basketball full time – 2 hours EVERY single day from the age of 13 to 21 In junior college, I continued to also play basketball and represent Jai hind and KC colleges
Between 2004 to 2006, as I studied BMM graduation, I ventured into Kickboxing for almost 2 years where my fitness skyrocketed. During This time, In college, I indulged my dance keeda with Shiamak Dakar's SDIPA for a year where I got the opportunity to also be a part of one of his Filmfare performances as part of the troupe with headliners like Hrithik Roshan and Bipasha Basu and John Abraham. When I started working, from 2007, I started regular gym training which would continue till 2008 when I left for my MBA abroad. There again I started playing basketball, every evening or running very regularly. Till 2009.
In 2009, I switched careers and turned towards professional Indian contemporary dancing with Daksha Sheth where I learn Kalaripayattu, Iyengar Yoga, Mallkhamb from 2009 to 2012 full time
In 2012, I started Kinetic Living and learned and certified myself as a professional in Pilates, Kettlebells from three different schools, Trampoline, Functional Training, Animal Flow, Barefoot Training, Core and Metabolic conditioning.
Started training TV personalities like Rajesh Kumar, Gul Khan, Gorky M. In 2014, became best women lifter in EKFA National Kettlebell Championship under 60kg weight category.
In 2014, I became a master trainer to train other trainers in functional training.
In 2015, I was Mumbai's first Nike certified trainer delivering training's to women at large through Nike Live session in Mumbai and certain influencers in helping them achieve their fitness goals like Rohan Joshi (stand up comic) for pull-ups, Archana Walawalkar, co-founder of Style Cracker, for running and Priyanka Kapadia who is Editor at Vogue Magazine for weight loss.
Was Featured in Nike's Cannes Award-Winning Ad, 'DA DA DING'. In 2016, went to LA to participate in the Ultimate Beast Master show by Netflix
In 2017, Started my own studio "Kinetic Living" – coached clients like Sarah Jane Dias, Dayana Erappa. In 2018, launched the Pilates Studio at Kinetic Living and also became an expert with Apple. Worked with brands like Red Bull, and started coaching celeb clients like Kubbra Sait, Kaneez Surka, Sumukhi Suresh, Mallika Dua, Veer Das. Worked as a Fitness Technical Head for Shilpa Shetty App for her fitness programs from 2018-2019In 2019, Featured in Making the Listen World Campaign by NikeIn Feb 2019, was awarded the Women's Super Achiever award by 6th NAtional World Leader Ship congress 2019, Worked with TATA sky for featuring Kinetic Living workouts on their platform started as the fitness coach for the celebs for YouTube India's First original related to FitnessIn 2020, winner of the TIMES OF INDIA SHE Unlimited Entrepreneurship Award in Aug 2020.
FULL INTERVIEW ON NEXT PAGE!
This interview is exclusive and taken by Namita Nayyar, President womenfitness.org and should not be reproduced, copied or hosted in part or full anywhere without an express permission.
All Written Content Copyright © 2021 Women Fitness Org