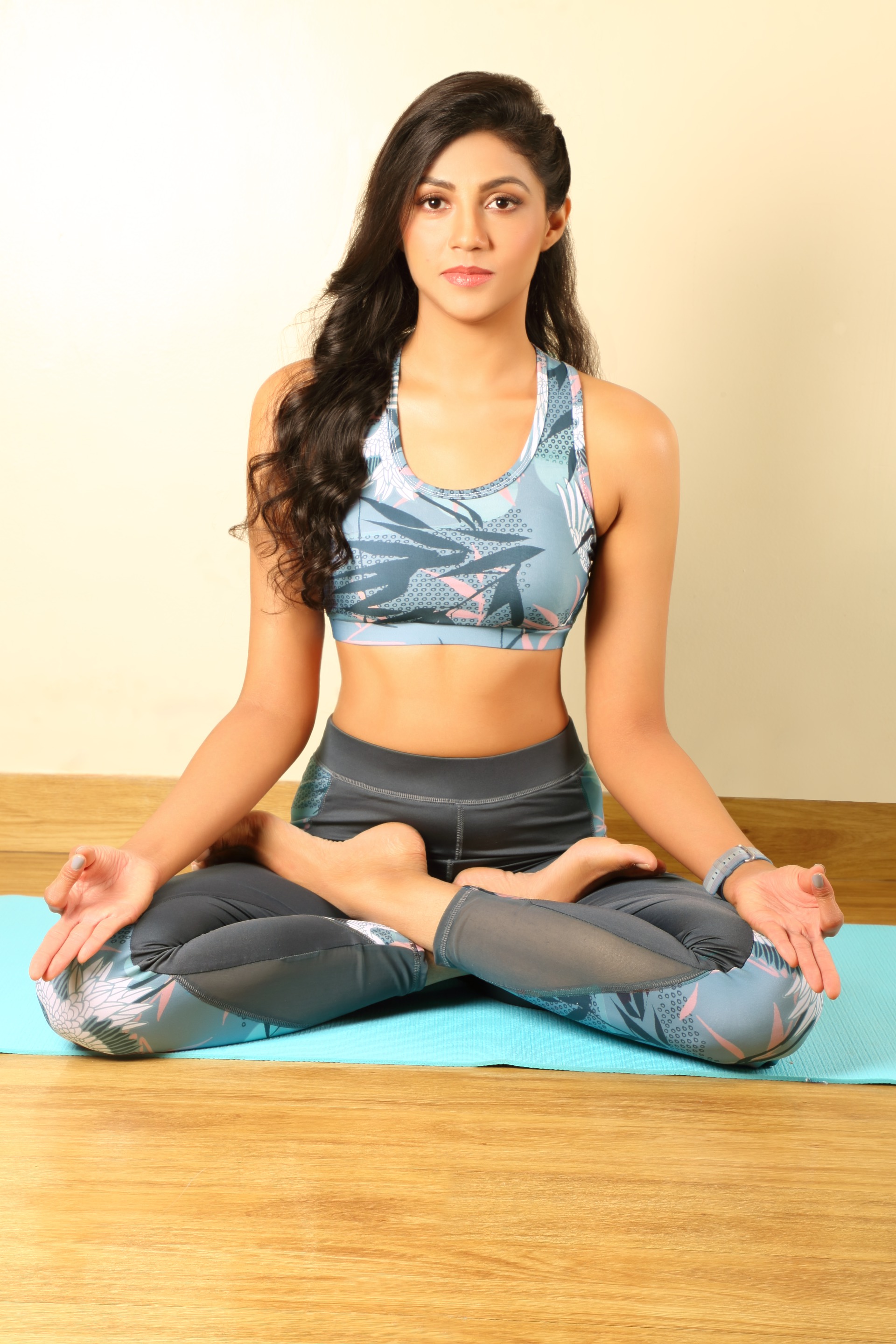 Ms. Namita Nayyar:
One form that you still have to learn or get better at?
Ms. Anshuka Parwani:
Being a pioneer of aerial yoga in the country, I am yet to come across a hybrid version which I haven't learnt. But the one form I feel I need to practice more is Yin Yoga. I love the cool, calming benefits it gives us. 
Ms. Namita Nayyar:
Introduce us to FlyFit.
Ms. Anshuka Parwani:
An amalgamation of Aerial Yoga, Aerial Pilates & Aerial Fitness that uses traditional mat yoga with postures with Pilates techniques suspended in soft fabric hammocks.
Aerial Yoga assists an individual to get deeper into Traditional Yoga postures. Like yoga props such as a strap or a block the hammock is intended to assist alignment & immediately provide the benefit of spinal decompression. 
Zero Compression Inversions – While you are upside down it applies reverse traction and hydrates the vertebral discs of the spinal column, which when the weight of the body partially or fully supported along with the help of gravity, you can explore and create space in your bodies as intended in traditional Yoga practice. Without the compression of the joints and spine you can achieve proper posture and alignment through relaxation rather than effort, therefore finding a more balanced and unencumbered expression of each pose. 
Through aerial yoga you develop new skills and work muscles that you never thought you would. Because you are virtually weightless, you are forcing muscles to stretch and move that would otherwise not be used in a standard yoga practice and/or workout.
Aerial Pilates is a powerful aerial conditioning workout. Extending Classical and Contemporary Pilates technique from Mat, Reformer, Cadillac, and Ladder Barrel exercises into the air. Age is no bar as long as you do not have any of the contra-indications.
FLYFIT is all of the above and we add powerful meditation & breathing techniques with a floating shavasana making sure it's a 360 degree workout.
Ms. Namita Nayyar:
Yoga poses that are great to combat stress? Role of proper breathing while training?
Ms. Anshuka Parwani:
Eagle Pose (Garudasana)

 

Standing Forward Fold (Uttanasana)
Child's Pose (Balasana)
Thunderbolt Pose (Vajrasana) Variation
Reclined Bound Angle Pose (Supta Baddha Konasana)
Though we don't typically focus on our breath during the day, in a yoga class, breathing is just as important as the poses and serves a greater purpose. Each inhale and exhale can energize, calm, and help you form a deeper mind-body connection.
It's crucial that you breathe correctly when you exercise. When you are doing aerobic activities, like swimming or running, or other types of exercise like strength training or bodyweight training, following the right breathing pattern will ensure that your working muscles and connective tissues get enough oxygen. Proper breathing also keeps your joints lubricated.
If you're a beginner you may wonder why we are discussing breathing, since everybody knows that breathing is a natural process. Everybody breathes in and breathes out and it's an involuntary function. However, you will understand what I am talking about once you start exercising.
Ms. Namita Nayyar:
Yoga poses ideal for post pregnancy weight loss?
Ms. Anshuka Parwani:
Cobra
Bow
Tiger
Pigeon
Plank
Triangle

 

Camel
Ms. Namita Nayyar:
Hard to judge, but who is your favourite celebrity yoga student?
Ms. Anshuka Parwani:
I wish I could answer that but every one of them is unique and inspiring in their own way.