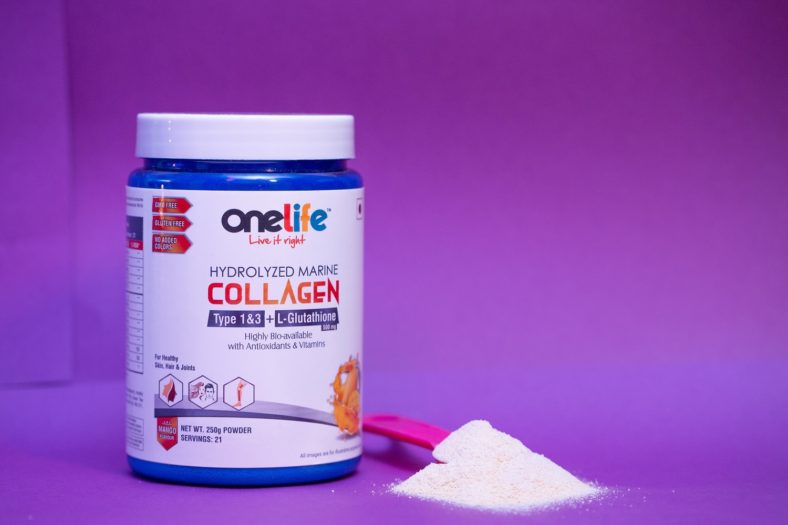 Are you wondering what marine collagen is? What are the health benefits of hydrolyzed marine collagen peptides?  
Marine collagen, which comes exclusively from fish, has numerous health benefits including helping to reduce the appearance of wrinkles and scars, thereby improving the elasticity of the skin. Collagen is the most abundant protein in our body, yet our bodies produce less and less of it with each passing year. Since most of us don't get enough collagen through our diets, supplementing with a quality source of collagen peptides is essential to keeping our bodies strong and healthy.  Hydroxyproline is the amino acid that is effective information of natural collagen. The marine source of collagen is rich in hydroxyproline as compared to other sources. Onelife hydrolyzed marine Collagen (type 1 and 3) improves skin, hair texture, joint health along with enhancing bone and muscle mass.

Benefits:
The green tea extract, Grape seed extract, vitamin C and E act as potent antioxidants to ward off free radical damage to the skin and other tissues.
Enhances the beauty and offers anti-aging benefits!
How it works?
Mix 1 scoop  in 250ml of cold water, Stir well and consume post-meal, Immediately after stirring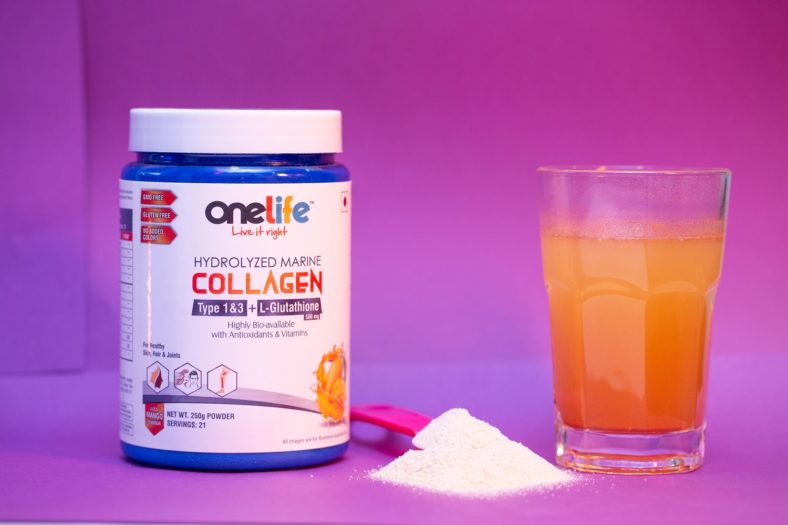 Price: Rs 2,999
With almost four decades of experience in health, wellness, and nutrition, OneLife is incepted with the vision to enhance the everyday of life in today's busy lifestyle. After all, we have one life, live it right.
With everyday routine, stress, lifestyle and eating habits, many of our nutritional needs are unmet or deficient. With One Life supplements we ensure we cater to your daily requirements for vitamins and nutrients. A supplement for all your requirements, be it bone health, or beautiful hair and nails, daily energy or overall strength and wellness, One Life products with the authentic experience and knowledge of nutritionists and food engineers coupled with the ancient knowledge of local doctors and farmers, bring to you a variety of natural foods, supplements and herbal infusions to mitigate and enhance the quality of life.
Website:www.onelifeindia.in