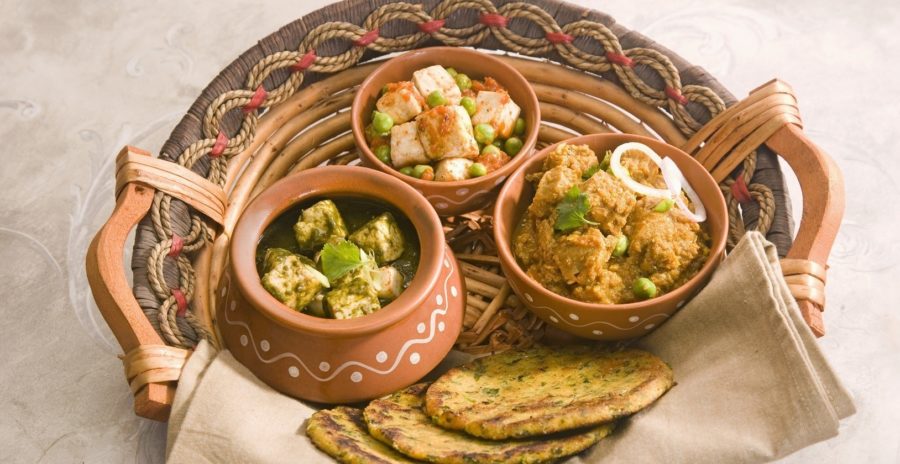 It's time to try different Indian cuisine from across India on UNESCO's World Heritage Day (18th April). To get the best of all, we have divided them largely into four categories- North, West, East and South.
Cuisine from North India
Tandoori chicken

This is a recipe enjoyed by non-vegetarians where chicken is marinated in yogurt and seasoned in tandoori masala. Grilled to give the smoky 'tandoori' flavour, you can opt for a low greasy version this World Heritage day.
Rajma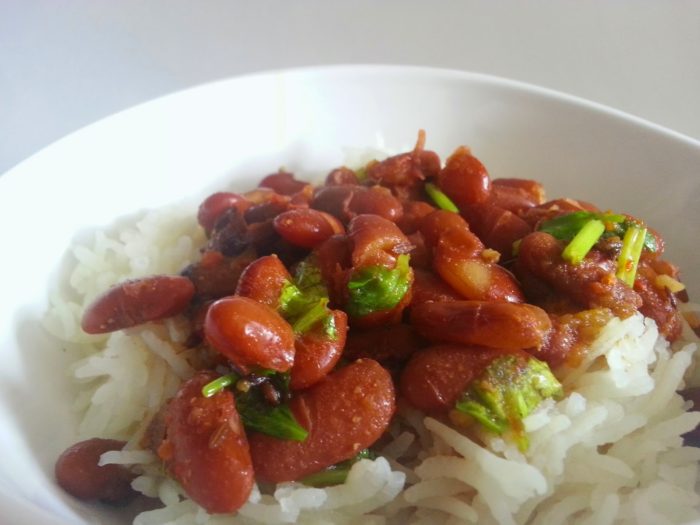 Rajma-chawal is as monumental a dish as the historical place it originated from. Made of red kidney beans in a thick gravy with lots of spices. Serve with brown rice and multigrain roti for a healthy twist.
Hara bhara kabab

The crispy hara bhara kabab is a a vegetarian kabab full of aromatic spices. With healthy green ingredients such as palak and peas it can be pan roasted or even grilled for a marvelous taste.
Litti-Chokha

A popular dish from the Eastern U.P. / Bihar region. Littis are charcoal-baked wheat balls, stuffed with a Bhojpuri staple ingredient Sattu. Sattu is gram flour prepared by roasting gram in hot sand. Chokha is a mix of mashed Roasted Brinjal , mashed potatoes, lightly spiced with a dash of freshly chopped tomatoes, onions, and cucumber for crunchiness. A truly incredible Indian dish.
Dal Moth

Dalmoth is a traditional savory dry snack which is a common local dish in Agra. It is made from fried lentils, nuts, spices, and oil. For many years it has been famous amongst local people. Chana Jor is an ideal replacement and accompaniment to the evening tea. On World Heritage Day, make sure you snack wisely on this protein food.
Chaat

Chaats (savoury snacks) are are the mainstay of Indian street food. Popular snacks include
kachori
pani puri
bhel puri and
masala puri, with a base of puffed rice and peas, vegetables and spices.
Chaats originated in north India, and gradually spread to every nook and corner of the country.
Cuisine from East India

Eastern cuisines include the North East regions of India in the high Himalayan mountains.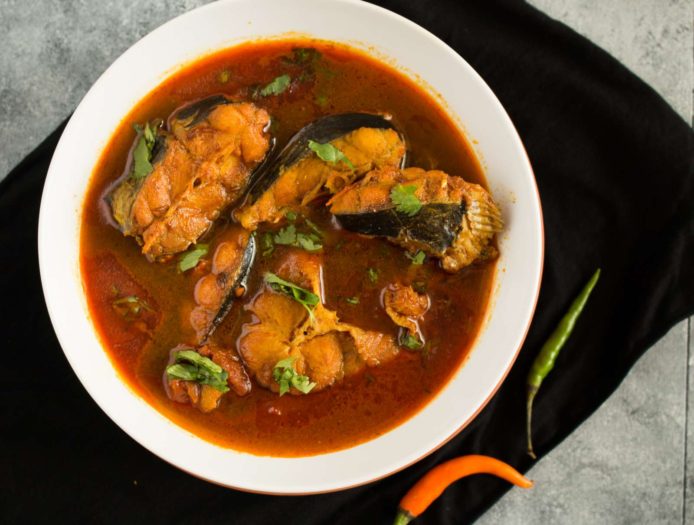 Bengali food is symbolized by rice and fish. The other characteristic of its cuisine is the use of coconut, mustard oil instead of ghee or peanut or coconut oil.
The world famous panch puran or combination of five spices combines nigella, fennel, cumin, mustard and fenugreek seeds to impart a typical flavour.
Popular dishes include:
Tomato achaar (tomato pickle)
Machcher Jhol (fish curry)
Jhaal-muri (a spicy snack made with puffed rice and mustard oil).
Momos

Momos are steamed, meat- or vegetable-filled wontons and Thukpa (a clear noodle soup) make for a healthy indulgence. Skimp on oil and opt for whole wheat covering to make it wholesome.
As historical and rich is the heritage of Odisha, so is the state's cuisine.
Fish and other seafood such as crab and shrimp are very popular.
Chicken and mutton are largely consumed.
Panch phutana, a mix of cumin, mustard, fennel, fenugreek and kalonji (nigella) is widely used for tempering vegetables and dals while garam masala (curry powder) and haldi (turmeric) are commonly used for non-vegetarian curries.
Cuisine from West India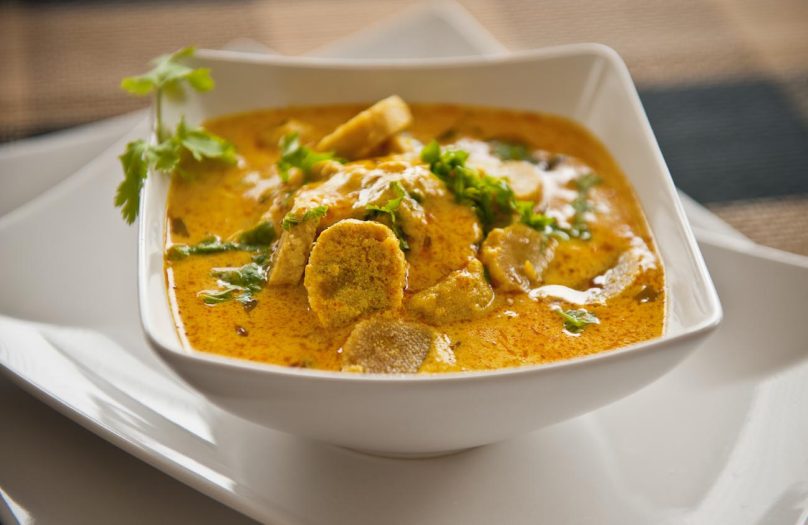 Gatte ki Sabji

Traveling down the Rajasthani essence, Gatte ki Sabzi is an all-time favourite Rajasthani recipe. Prepared with gram flour balls and tangy gravy made up of buttermilk and spices, it is best enjoyed with rotis (Indian flat bread) and rice.
Sabudana Khichdi

Sabudana Khichdi is an excellent Maharashtrian breakfast dish made with sago pearls, spiced with green chillies and seasoned with roasted peanuts and fresh coconut. This is a popular breakfast dish.
Sol Kadhi

Sol Kadhi is a well popular traditional kokam in coconut milk dish from the western coastal region of India. It is a common dish prepared across Maharashtra, Konkan, and Goa regions. It is made with coconut milk, spiced with some green chillies, sweet and tanginess of kokum and flavoured with fresh cilantro.
Cuisine from South India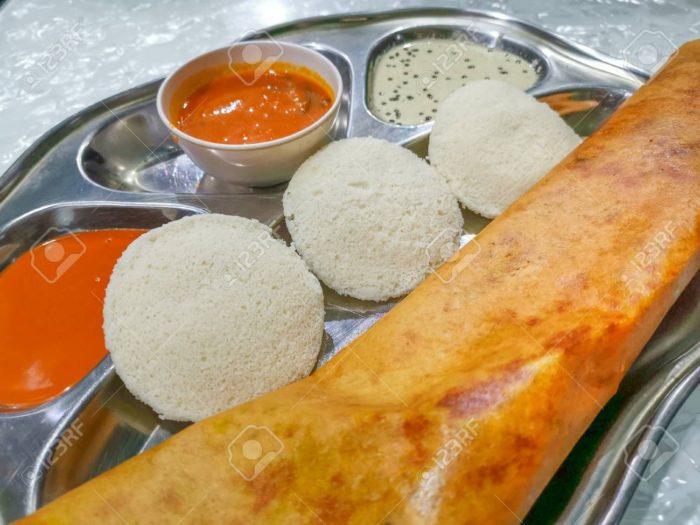 In Tamil cuisine, red chilies. turmeric, tamarind and a whiff of asafoetida are important ingredients. Coconut or gingerly oil is normally used as a medium of cooking.
Besides the popular items like
Dosa
Idli
Uppuma
Vada
Sambar
Kozhambu (stews)
Rasam
the various ways of cooking rice, koothu, poriyal, avial.
Since most of the items are steamed, request for a low oil indulgence as you tour the world famous places of Tamilnadu.
Kerala is known for its traditional sadhyas, a lavish vegetarian meal served with boiled rice and a host of side-dishes. The sadhya is complemented by the payasam, a sweet milk dessert native to Kerala. The sadhya is as per custom served on a banana leaf.
Apart from this, some other south Indian delicacies include bisibele Bath, saaru, vangi bath, khara bath, kesari bath, akki rotti, Davanagere Benne Dosa, Ragi mudde, and Uppittu.The famous masala dosa traces its origin to Udupi.
Hope you Enjoy uncovering the various Indian cuisine served across the country on World Heritage Day.