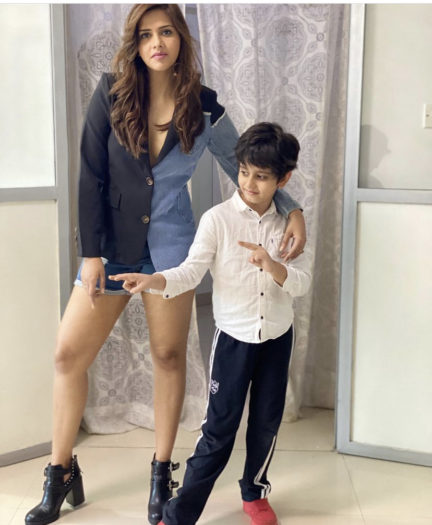 Dalljiet Kaur is an Indian television actress. She is primarily known for her portrayals of Niyati in Kulvaddhu, Anjali in Iss Pyaar Ko Kya Naam Doon? and Manjiri in Kaala Teeka. She participated and became the winner of Nach Baliye In 2019, she participated in the reality show Bigg Boss 13
Women Fitness team catches up with her about her journey, fitness, diet, in a candid conversation!
Ms. Namita Nayyar:
Born in a family with an army background, to become a finalist in a number of beauty pageants including, Miss Navy, Miss Mumbai and Miss Maharashtra Queen how did you decide to make a contemporary career choice and how has the journey been for you uptil now?
Ms. Dalljiet Kaur:
Actually, when I won Miss Pune, I was quite shocked because I was a total tomboy with short hair. I was not a girl who was growing up to Bollywood numbers or dancing to the tunes or, taking care of myself or secretly applying lipstick. I was never that good. I was somebody was playing basketball with boys and swimming and, going cycling. I was a very outdoor person and I had no idea that I had the capability to win a pageant because honestly, I would not even spend like a minute looking at myself in the mirror. I had acne. I was dark, I think, because of all the sunburn. But when I won Miss Pune and somebody offered me my first is when I realized, oh, I do look nice. And and I started exploring, this side of creativity or art. And I realized very early in my career that I was good at it. I was good at emoting.
FULL INTERVIEW ON NEXT PAGE
This interview is exclusive and taken by Namita Nayyar, President womenfitness.org and should not be reproduced, copied or hosted in part or full anywhere without an express permission.
All Written Content Copyright © 2021 Women Fitness Org