Lacto-vegetarian do not eat meat, poultry, fish, or eggs. They do eat dairy products, such as milk, yogurt, and cheese. Like everyone, vegetarians must be careful to eat foods that are balanced and nutritious.
Chef Reetu Uday Kugaji, Culinary Expert & Chef Consultant shares 6 nourishing Lacto-vegetarian recipes for toddlers. You too can enjoy them!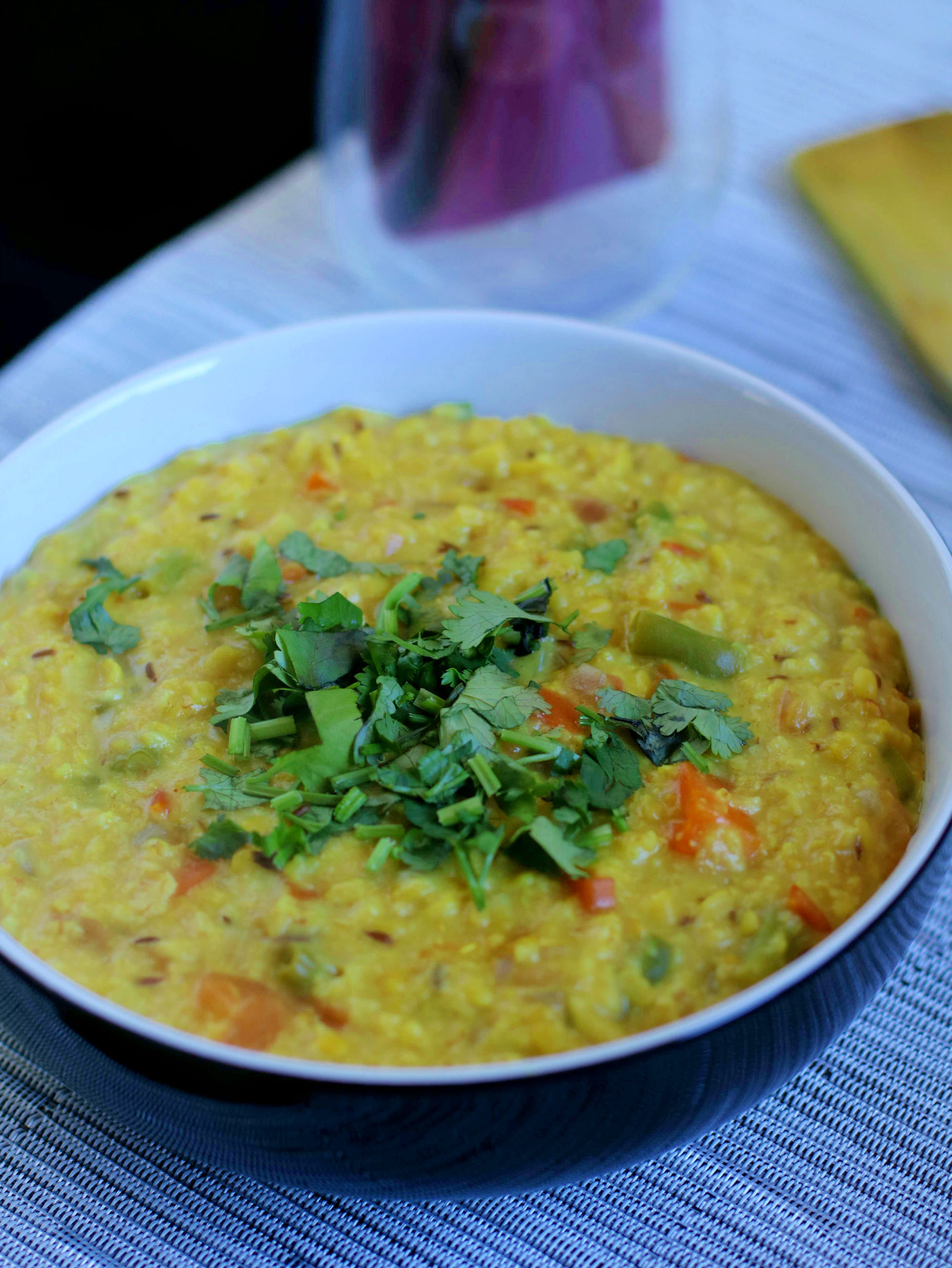 Oats And Vegetable Khichdi
A full meal on its own so comforting and quick to make. Serve it with Yogurt .
Preparation Time: 30 minutes including the time of soaking the Split Moong Dal.
Cooking Time: 30 minutes
Serves: 6
Ingredients and Quantity:
Quick Cooking Oats- 1/3rd cup
Moong dal, split and skinned – 1/3rd cup
Cumin seeds, lightly toasted and crushed- 1/4th tsp.
Turmeric powder- ¼ th tsp.
Onion, finely chopped- 1 no. small
Tomato pureed, seeds removed – 1 no. small
Green peas- 1/2 tbsp.
Red Carrots, peeled and chopped- 1 tbsp.
French beans, stringed & Chopped- 1/2 tbsp.
Water – 2.5 cups / as required
Desi Ghee- 1/4th tbsp.
Ginger, peeled and grated- 1/4th tsp.
Salt- to taste
Method:
Pick, wash and soak Split Moong Dal for 15 minutes.
Heat ghee in a deep non-stick pan add crushed cumin seeds, let them crackle.
Add chopped onion, cook till translucent, add the grated ginger cook for a few more seconds.
Add turmeric powder.
Add all the green peas, carrots & french beans.
Sauté for 2 minutes.
Add the tomato puree and let them cook till tender.
Add the rinsed moong dal and oats. Sauté for a few seconds.
Add water. Adjust salt.
Pressure cook for 3 whistles.
Once it is cooked , mash it a little with the back of the spoon.
Serve it accompanied with Yogurt.
Chef Tips:
You may add more vegetables of your choice.

Carrot and Cashew Payasam or Carrot and Cashew Kheer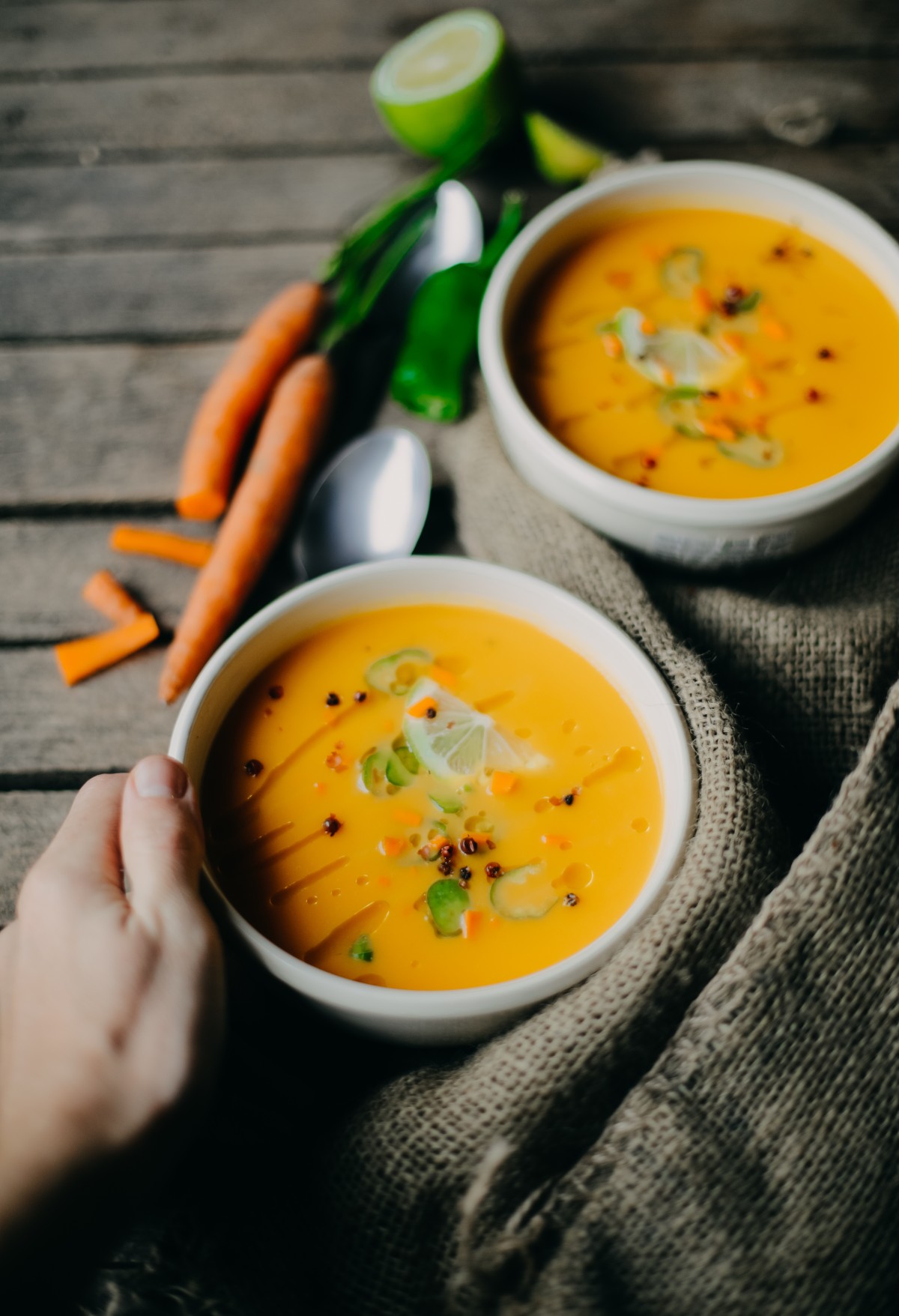 Beautiful colour and flavor of seasonal carrots…..Overloaded with the richness of cashew nuts ….Prepare this vibrant and creamy… full of flavors… payasam prepared with carrots, cashew nuts and milk… … Sugar free it is… Inherent sweetness of red carrots.
Preparation Time: 15 minutes
Cooking Time: 25 minutes
Serves: 6
Ingredients and Quantity:
Carrot (grated) – 1/2 cup
Cow's milk- 750 ml.
Cashew nuts, broken- 1/2 tbsp.
Warm milk for soaking cashew nuts- ½ cup.
Green Cardamom powder- a pinch
Ghee- 1/4th tbsp.
Method:
Soak cashew nuts in warm milk for ½ an hour.
Heat ghee , saute grated carrots in it for 5 minutes.
Grind the soaked cashew nuts and carrots into a fine paste. Keep aside.
Boil milk in a heavy bottomed non-stick pan. Keep stirring till the milk reduces to 3/4 th of its original quantity.
Add the carrot and cashew coarsely ground paste to the milk. Mix well and ensure no lumps are formed; you may whisk it or stir it.
Add the cardamom powder. Mix well.
Serve it warm / at room temperature,
Chef Tips:
You may add organic honey / strained organic jaggery syrup , if desired once the Payasam is prepared and completely cooled down.