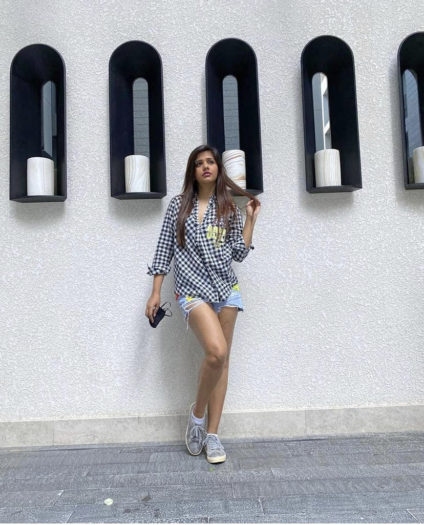 Ms. Namita Nayyar:
You have been in the entertainment industry for almost a decade, tell us which role did you enjoy doing the most
Ms. Dalljiet Kaur:
Yup, it's been about 16 years since I'm a part of this beautiful industry and I have nothing but a lot of gratitude, a lot of immense respect for those who gave me the confidence that I could be an actor. I have done some really celebrated roles right from the start of my career to the time that I was really appreciated for Anjali, from "Is Pyaar Ko Kya Naam Do". I played Manjima in Kaala Teeka and also I think for a very little short span of time that I was in Big Boss 13. I feel really thankful to the makers to have made me a part of that because I found really a lot of love even though the shortest span that anybody could spend in a reality show like Big Boss and of course, as Nach Baliye winner also, I think I had the confidence that I could dance. And this industry has given me a lot, I'm thankful for multiple reasons. And now I'm starting to produce as well. I've just registered my production company. And I'm really proud, really happy that I'm stepping into a new journey in this industry.
Ms. Namita Nayyar:
Women Fitness India talks about celebrity diets and fitness regimes, do you follow any particular diet? What is your favorite cuisine?
Ms. Dalljiet Kaur:
So my diet keeps changing. I used to do intermittent very, very efficiently during my shoots. Then recently I did keto for about two months. I keep changing it I don't make my body used to a particular way. I like to give it carbs. Also, I like to deprive my body of carbs. Also, I believe in a balanced diet. So if I'm not having carbs, I'm making sure that I'm having a lot of vegetables and mixed nutrition so that my body is not deprived at any level. And I think touchwood, my immunity is fine. And, I recover very fast when I fall ill also. And I just think that having a diet is important. I think it is all about having discipline in life, but also to let loose is important. So it's a mix that I have in my life, but my friends who know me say that I'm very disciplined and I'm not somebody who goes out of my way to spoil my body.