By Rima Kleiner, MS, RD
Here are three easy dip recipes to try while on a weight loss plan that is high in protein or dietary fiber to help you feel fuller for longer. Protein helps increase fullness because it impacts satiety hormones, like ghrelin. Fiber helps us feel full because it provides bulk. So, reach for high-protein foods like fish and shellfish and fiber-rich foods like vegetables, fruits, and whole grains to help you feel nourished and satisfied for longer.
3 Dips for Fish Lovers
Smoked Salmon Dip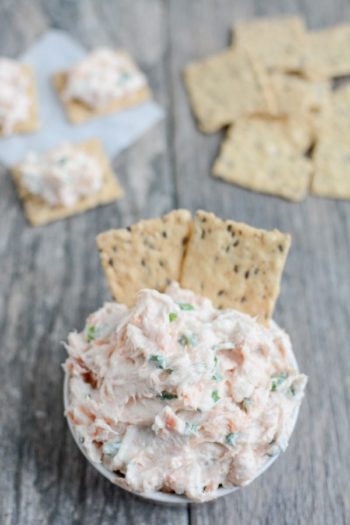 Prep time: 5 minutes
Cook time: 5 minutes
Total time: 10 minutes
Servings: 6 to 8
Ingredients
8 ounces plain light cream cheese
¼ cup plain Greek yogurt or sour cream (or a mixture of both); add more yogurt for a thinner consistency
1 tablespoon freshly squeezed lemon juice
¼ teaspoon Tabasco sauce
1 tablespoon capers
2 tablespoons fresh dill, chopped
1 tablespoon chives, chopped
4 ounces smoked salmon, chopped
Instructions
In a food processor, process cream cheese until light and creamy.
Add yogurt (or sour cream) and the next 5 ingredients (through chives); process until combined.
Add smoked salmon and pulse lightly until desired consistency. Serve with whole grain crackers or vegetable crudités.
Recommended Utensils
Food processor
Smoked Trout Dip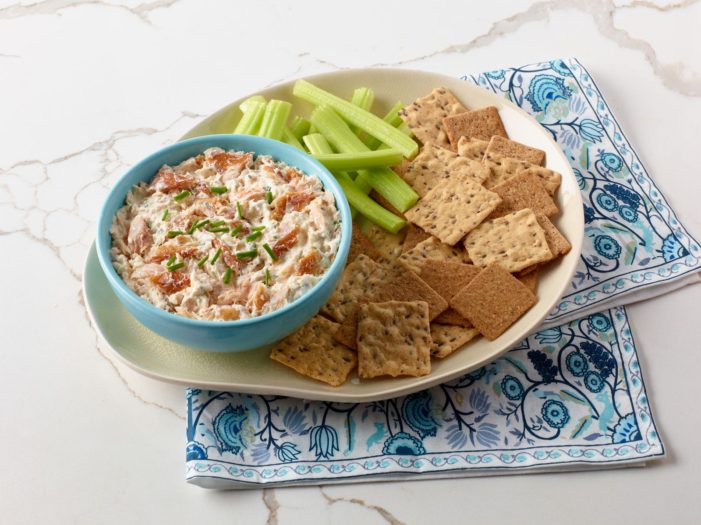 Prep time: 5 minutes
Total time: 5 minutes
Makes 4 servings
Ingredients
6 oz. smoked trout
3 oz. light cream cheese softened (use more if a creamier dip is preferred)
½ cup nonfat plain Greek yogurt
2 tsp. freshly squeezed lemon juice
1 tsp. Worcestershire sauce
3 Tbsp. chives, chopped
Pinches of salt, black pepper, and cayenne pepper
Drizzle olive oil, for garnish
Instructions
In a medium bowl, flake the smoked trout until shredded.
Add remaining ingredients (cream cheese through salt, black pepper, and cayenne pepper); combine until well mixed.
If desired, drizzle dip with a little olive oil before serving. Serve in a bowl or divide into individual servings (up to 4).
Suggested accompaniment: whole-grain crackers, pita, red pepper strips, celery.
Suggested cooking tools: fork, small spatula, medium bowl for mixing
Baked Spinach & Artichoke Shrimp Dip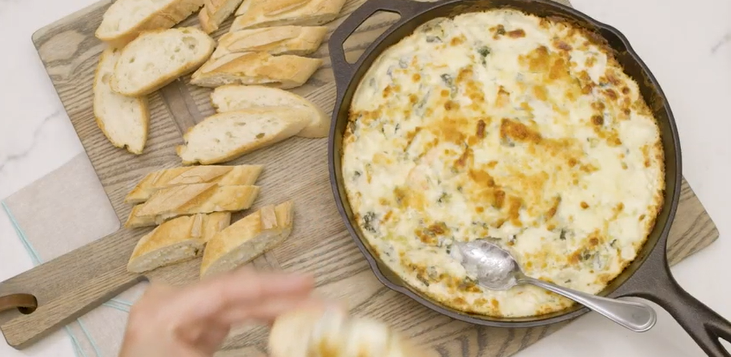 Servings: 16
Ingredients
¼ cup salted butter
½ large onion, finely diced
4 cups baby spinach
12 oz. cream cheese
1 cup marinated artichoke hearts, drained and chopped
½ cup plain Greek yogurt
½ cup mayonnaise
1 lb. cooked shrimp (peeled, deveined, and tails removed), chopped roughly
1 ¼ cup grated Parmesan cheese
Salt and pepper, to taste
Baguette or crackers for dipping
Instructions
Preheat oven to 425 degrees.
Heat a large cast-iron skillet over medium heat. Melt butter and sauté onion for 5 minutes, or until onion is tender. Add in spinach and stir for 1 minute, to wilt the spinach. Transfer cooked onion and spinach to a cutting board, to cool slightly. Chop spinach into small pieces.
Place cream cheese into a skillet over low heat and begin to stir, to melt. After about 2 minutes, the cream cheese should be very soft and smooth. Stir in and combine chopped onion and spinach, artichoke hearts, yogurt, mayonnaise, shrimp, 1 cup Parmesan, salt, and pepper. Spread evenly in skillet and sprinkle with remaining ¼ cup Parmesan.
Bake in a skillet for 20 minutes or until hot and bubbly. Remove from oven and serve immediately with bread or crackers.
About the author:
Rima Kleiner, MS, RD both a Registered Dietitian and a Licensed Dietitian and Nutritionist and is the voice behind the initiative's blog, "Dish on Fish." 
On behalf of the Dish On Fish initiative, launched in 2016, Kleiner has a lead role in emphasizing to the public the importance of seafood for heart health, brain health, and infant development, and also for managing weight and depression and reducing the risk of chronic disease. She also continues to help educate fellow dietitians and other healthcare professionals about the seafood recommendations in the 2015-2020 Dietary Guidelines, which were released in early 2016.
*Dish on Fish is an initiative sponsored by the National Fisheries Institute to encourage Americans to eat seafood at least twice a week, as recommended by the US Dietary Guidelines for Americans