Harnaam Kaur is an English social media personality, postpartum coach, life coach, and motivational speaker who lives in India.
She has battled PCOS for years—and endless abuse for her body and facial hair. Her journey to being confident in her own skin and body positivity saw many hurdles and societal bounds.
Women Fitness India joins her for a candid chat over her journey and embracing womanhood!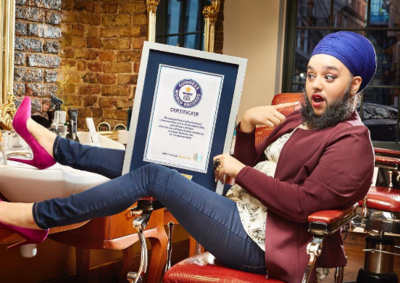 Ms. Namita Nayyar
Harnaam, you are a freelance model, motivational speaker, and a well-known personality known for breaking stereotypical norms, but tell us how has this journey been for you, what was it in your childhood?
Ms.Harnaam Kaur
My childhood was pretty 'normal.' I attended school fairs, trips, sports days and even took part in plays. I had amazing family trips to Germany, Sweden, Denmark, and India, I was a pretty happy child until Puberty hit.I was always bullied for being a chubbier child, I was made to feel ashamed of my weight by school peers, and I didn't notice the facial hair until I was bullied for it- it then became an issue. After years of removing it and trying to conform to what the 'norm' was, I decided to embrace my facial hair fully at the age of 16. This all happened after being diagnosed with PCOS during my early teens.
FULL INTERVIEW ON NEXT PAGE!
This interview is exclusive and taken by Namita Nayyar, President womenfitness.org, and should not be reproduced, copied, or hosted in part or full anywhere without express permission.
All Written Content Copyright © 2021 Women Fitness Org