No festival is complete without sweet preparation. Try these recipes to eat and serve during this pious occasion.
Healthy Oats and Beetroot Cake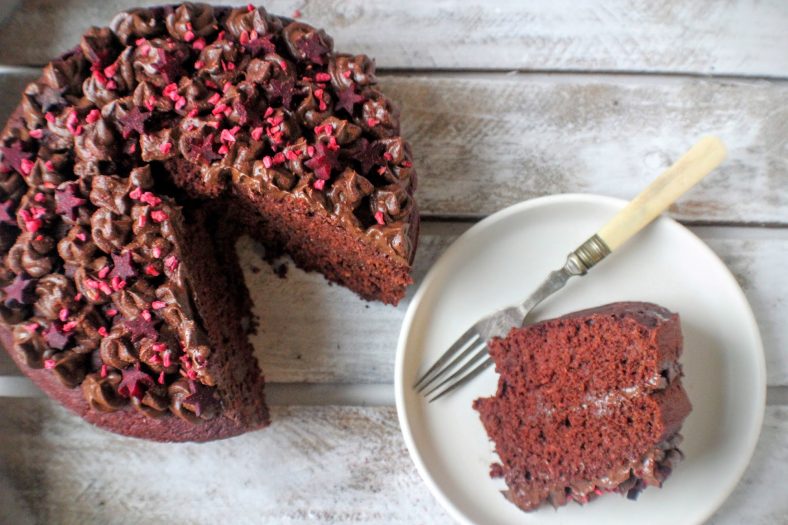 Serving:
7 pieces
Ingredients:
40 grams Rava (Semolina)
20 grams Maida (Refined flour)
40 grams Oats
50 grams Beetroot
30 grams Butter
30 grams Sugar
2 tablespoon Honey
2 tablespoon Flax seeds
2 tablespoon low fat milk
1 tablespoon Walnut
1/2 teaspoon Baking powder
1/4 teaspoon Vanilla essence
Recipe:
Pre heat oven at 180 degree C for 15-20 minutes, grease and dust the cake tin.
Roast Semolina and Oats separately
Cream Butter, Sugar and Honey
Semi boil 1 small Beetroot and blenderize it and use 2-3 tablespoon of the Beetroot pulp
Take 2 tablespoon of Flax seeds flour and mix it with 6 tablespoon of water in a small bowl and let it set for 2 minutes and then add Vanilla essence and mix well.
Add this to the creamed mixture gradually
Sieve maida, Baking powder, sugar powder thrice and add it to the butter mixture.
Add Semolina and oats to the batter and mix well for 4-5 minutes in a single direction
Add Beetroot pulp and mix again
Pour this into the cake and bake for 15-20 minutes at 160 degrees
Carbs 22
Proteins 3
Fat 7
By Team MyDIETist Diet, Healthy Food, Healthy Living,
Oats Apple Phirni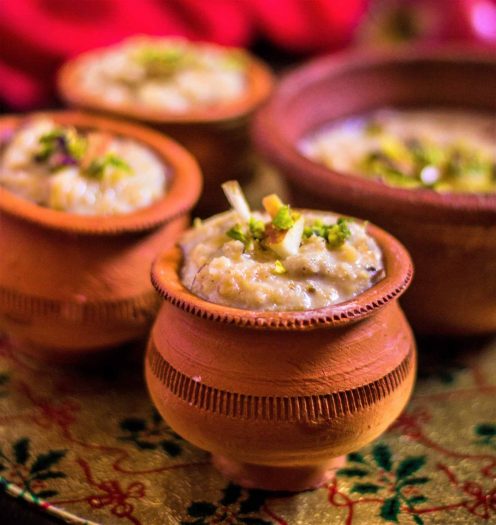 An easy to make and a tasty dessert that is very low in calories. This requires minimal ingredients and can be made in minutes. This phirni is healthy and can also be served to kids for their evening snacks.
Makes:
4 Servings
ingredients
1/2 cup Instant Oats (Oatmeal)
2 Apple
2 cups Milk
3 teaspoons Sugar
2 Cardamom (Elaichi) Pods/Seeds
2 teaspoons Pistachios
Directions
To begin making the Oats Apple Phirni recipe, take oats in a blender and powder it coarsely. Keep it aside.
Next, wash the apples, remove seeds and grate it.
Boil milk in a saucepan. Once it starts boiling, simmer the flame, add coarsley powdered oats and sugar.
Cook stirring continuously until it becomes thick like porridge. Switch off, add grated apples and crushed cardamom.
Stir and mix together. Allow it to cool, transfer into small earthen pots and garnish with pistachios.
Refrigerate for an hour and serve chilled. Serve Oats Apple Phirni as a dessert after a simple lunch meal
https://www.archanaskitchen.com/oats-apple-phirni-recipe
Dates Chocolate & Nut Balls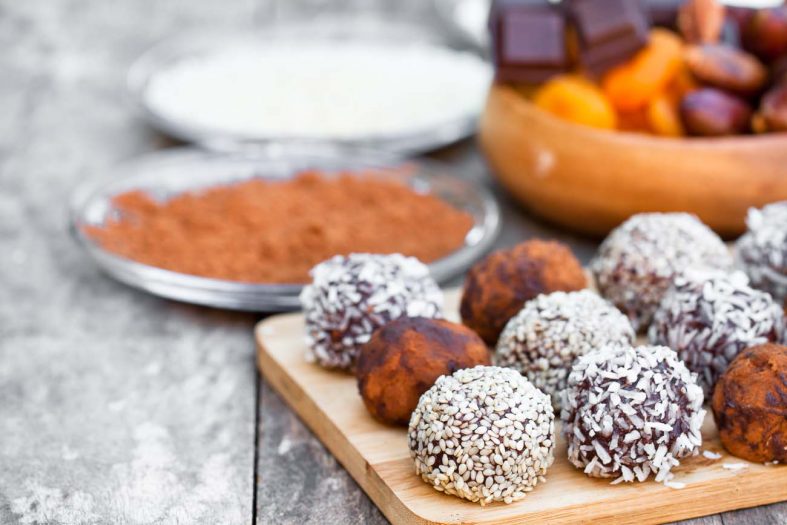 Sweetened by dates instead of sugar making them even better for you and your family.
Ingredients
500 grams Dates, seedless
30 Cashew nuts
30 Badam (Almond)
30 Pistachios
2 tablespoons Cocoa Powder
1/4 cup Sesame seeds (Til seeds) , roasted (or cocoa powder or coconut)
2 tablespoons Ghee
Directions
First grind the seedless dates in a food processor or your mixer. Grind the dates to a fine paste without adding any water.
Next, chop the cashew nuts, almonds and pistachios into small pieces and keep them aside until later use.
In a non-stick flat bottom pan heat 1/2 tablespoon ghee and roast the nuts on a low-medium heat. Take care to roast them gently so they turn golden and aromatic, but not burn. Take them out of the ghee and set them aside.
In the same pan heat the remaining 1/2 tablespoon of ghee and add the ground date paste and saute it for 2-3 minutes. Then, take it off the heat.
Now add the roasted cashew nuts, almonds, pistachios, along with the cocoa powder, to the date mixture and combine it all. Allow the mixture to cool down.
Once it is cool enough to handle, shape of your choice. You can roll the date chocolate mixture into lemon-sized balls for convenience. Then, roll them over sesame seeds, or coconut or even cocoa powder and store refrigerated for a couple of weeks.
https://www.archanaskitchen.com/dates-chocolate-nut-balls-recipe-energy-balls-recipe
Sweet Potato Rabdi Recipe
Recipe Servings: 1
Sweet potato is no less than a superfood as it is loaded with fiber, Vitamin A and Vitamin C and minerals like magnesium and calcium. The milk in the recipe gives it a protein touch and saffron is a natural food colorant which is loaded with umpteen benefits.
Ingredients
150ml milk
2 Tbsp sweet potato, boiled and mashed
1/2 tsp sugar
1/2 cup warm water
1/2 tsp elaichi powder
Few saffron strands
1 tsp mixed nuts
How to Make Sweet Potato Rabdi
Boil the milk well and then add the mashed sweet potato into it. Cook well till the milk thickens.
Now add the saffron strands to a cup of warm water and wait till they dissolve completely.
Add this to the milk mixture and stir well. Stir in elachi powder and cook for 3-4 minutes.
In the end, add nuts on top and empty the entire rabdi in a bowl and let it cool. Refrigerate for 1 hour. Serve chilled.
Nutritive Value (per serving): 154 Kcal, 6.4g protein, 13.5g carbohydrates, 8.1g fat
Vegan Glazed Carrot with Pumpkin Seed and Oat Bar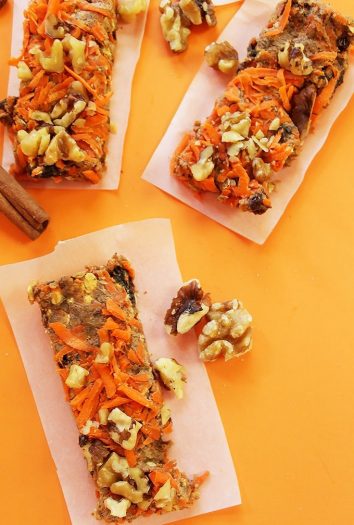 Ingredients:
Roasted cashewnut: 75 gm
Roasted almond flakes: 75 gm
Tossed oats: 50 gm
Tossed sesame seed: 25 gm
Raisin: 30 gm
Dry coconut powder – 25 gm
Honey – 150 gm
Jaggery syrup – 180 gm
Brown Sugar – 50gm
Carrot (boiled & grated with 20 gm brown sugar) – 100 gm
Method:
Roast cashewnut, almond flakes, sesame seeds, and coconut powder
Put all together in bowl
Mix honey jaggery, brown sugar, and cook until everything dissolves properly
Fold the nut mix in the above mix
Fill the above mix in tray lined with butter paper
Put the Silpad on the tray and roll it to make even surface
Rest it for a day and cut it to desired shape
Top with glazed carrot and pumpkin seeds
(The recipe is by Prem K Pogakula, Executive Chef at The Imperial, New Delhi)