By: Ms. Preety Tyagi, Lead Health Coach, Nutritionist and Founder of MY22BMI
So here are five healthy dessert recipes. Clean and healthy eating comes with ditching processed foods, cutting back on sugar, and incorporating more veggies and whole grain in your diet. But even though you start feeling great, cravings are bound to happen.  
Although you probably shouldn't wreck your entire diet with a mug of ice cream, you can treat your sweet tooth and still stay on track with your healthy eating. In fact, with some creativity and simple ingredients, you can create a healthy dessert that's packed with good nutrients.
Indulging your sweet tooth and the feeling of satisfaction that comes with no guilt is now possible with these simple and yet healthy dessert recipes!
Strawberry Frozen Yogurt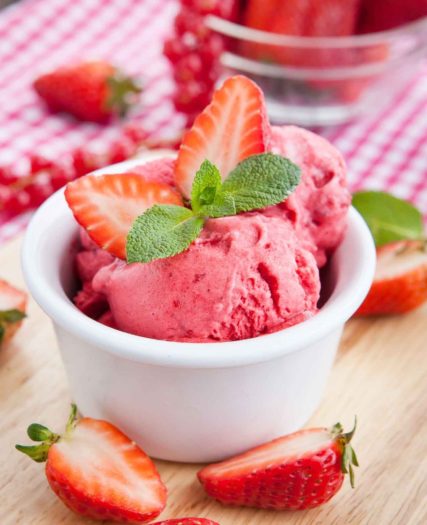 In a series of healthy dessert recipes, this fruit yogurt gets its creaminess from low-fat Greek yogurt, which is packed with good proteins that will keep you feeling full and satisfied. Strawberries are loaded up with antioxidants and provide a great flavor too!
Ingredients
2 cups strawberries.
2 Tablespoons honey or agave nectar
¼ cup low-fat Greek yogurt
1/2 Tablespoon fresh lemon juice
Method
Put the strawberries in the freezer overnight or for 3 hours for a better flavor.
Add the frozen strawberries, honey (or agave nectar), yogurt, and lemon juice into a food processor.
Process until creamy, about 2-3 minutes. Scrape down the side of the bowl to make sure there are no lumps left.
Transfer it to an airtight freezable container and freeze for a minimum 6 hours but preferably overnight.
Dark Chocolate Peanut Butter Banana Bites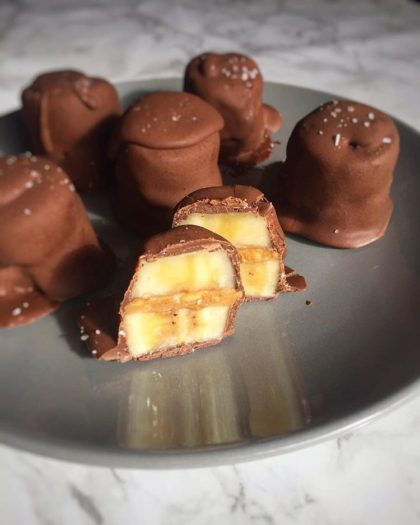 Dark Chocolate Peanut Butter Banana Bites are quick, easy, and define as healthy dessert recipes that can be made ahead of time. A lot of media coverage on Dark Chocolate has been given in recent years because it's believed that it may help protect your cardiovascular system. The reasoning being that the cocoa bean is rich in a class of plant nutrients called flavonoids. Flavonoids are antioxidants which is the major contributor behind dark chocolate associated health benefits.
The use of bananas and peanut butter enhances the nutritional quality by providing a good amount of potassium and protein making it a really healthy dessert. It can also be taken as a snack to munch on in between meals.
Ingredients
2 medium ripe bananas
1/4 cup creamy nut butter of your choice
3/4 cup baking chocolate (i use dark chocolate chips but you can also use semi-sweet chocolate chips)
1 1/2 tablespoons coconut oil
Method
Cover a baking sheet with parchment paper. slice each banana into thin slices and arrange half the pieces on the baking sheet.
Spread peanut butter onto each banana slice, then cover each slice with another slice. place in the freezer for about 30 minutes or until frozen.
Place the coconut oil in a microwave-safe bowl and microwave until melted. stir in the chocolate, and continue to microwave until smooth. use a fork or spoon to cover each banana bite in chocolate, then place back on the sheet. freeze for one hour and enjoy!
Healthy Chocolate Cake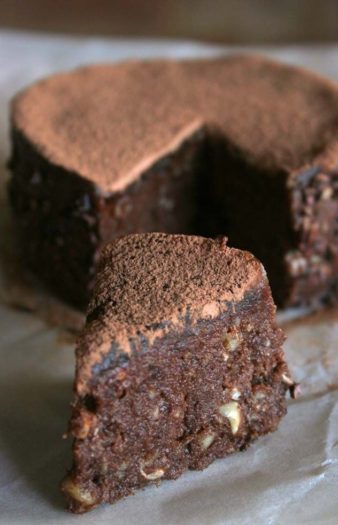 A healthy makeover to the delicious chocolate cake, this version does not contain refined flour and added sugar, therefore a really healthy dessert!  Packed with dates, cocoa powder, whole wheat flour instead of all-purpose or refined flour makes it super healthy and chunks of walnuts give it a nice dense texture. 
This is a perfect guilt-free chocolate treat to satisfy your sugar cravings, and easy to make too! You can even make them vegan by using coconut or almond milk instead of regular cow milk.
Ingredients
20-25 dates (seeds removed)
¼ cup water
1 and ¼ cup milk
1 cup whole wheat flour
1/2 cup coconut oil (Or any other oil)
2 Tbsp. cocoa powder
1 Tsp. coffee powder
1 tsp baking soda
1/2 tsp baking powder
2 tbsp. walnuts
1 Tbsp. dark chocolate chips (Optional)
Method
Blend the dates and water using a blender until smooth.
Mix the melted coconut oil, milk, dates puree and keep aside.
Now mix the whole wheat flour, baking soda, baking powder, cocoa powder, and coffee powder and sieve them 2-3 times.
Now slowly mix the wet ingredients into the dry flour mix one tablespoon at a time. Make sure no lumps are formed.
Add chopped walnuts, chocolate chips, and mix.
Preheat the oven at 350F. Bake the cake in a greased oven dish for 35-40min.
Once done, remove from the pan and let it cool on a cooling rack.
Apple Oats Crumble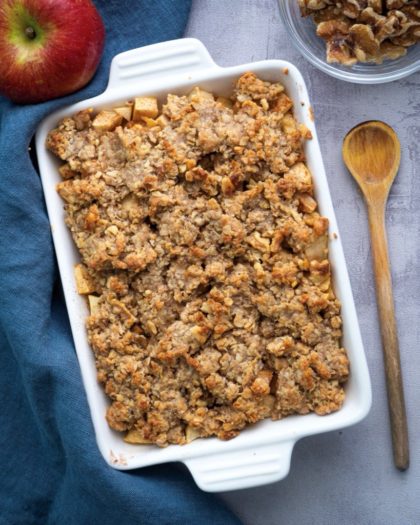 A simple, yet very healthy dessert recipe, it is nourishing and healthy enough for breakfast, and delicious enough for dessert. Made with oats and just a touch of brown sugar and scented with beautiful warming spices, it is loaded with fiber and tastes amazing!
Ingredients
For the crumble topping:
100g (1 cup) rolled oats, divided
30g (2tbsp.) brown sugar or coconut sugar
½ tsp. ground cinnamon
• ¼ tsp. ground nutmeg
¼ tsp. salt
40g butter, cubed and cold
60g walnuts or almonds, roughly chopped
For the apples:
600g apples, peeled, cored and cut into a roughly 3cm dice (I used pink lady, but any tart cooking variety will work)*
juice of ½ a large lemon
2 tbsp. water
30g (2 tbsp.) brown sugar or coconut sugar (honey would work too)
½ tsp. ground cinnamon
¼ tsp. ground nutmeg
Method
Preheat oven to 180 C (350F)
In a food processor or blender, blend half the oats into flour. Place the oat flour with the rest of the oats in a bowl, along with the sugar, spices, and salt. Whisk to combine. Add the cold cubed butter and using the tips of your fingers, rub the butter into the mixture until it is well dispersed and the mixture is crumbly with small clumps. Mix through the chopped nuts. Cover the bowl and place it in the freezer while you prepare the apples.
Butter a baking dish or pie dish (the one I used is 22cm x 15cm and 5cm deep/ 9"x6" and 2" deep) and set aside.
Peel, core and chop your apples, place them in a bowl. Add the lemon juice, sugar/honey, water, and spices and mix well. Pour this mixture into your prepared baking dish and spread it out evenly.
Take the crumble mixture out of the freezer and spread it evenly onto the apple mixture. Bake the apple crumble for 45-60 minutes until the top is golden brown and the apples are sizzling and bubbling. Serve warm with some frozen greek yogurt!
CHOCOLATE POPCORN- A healthy dessert replacer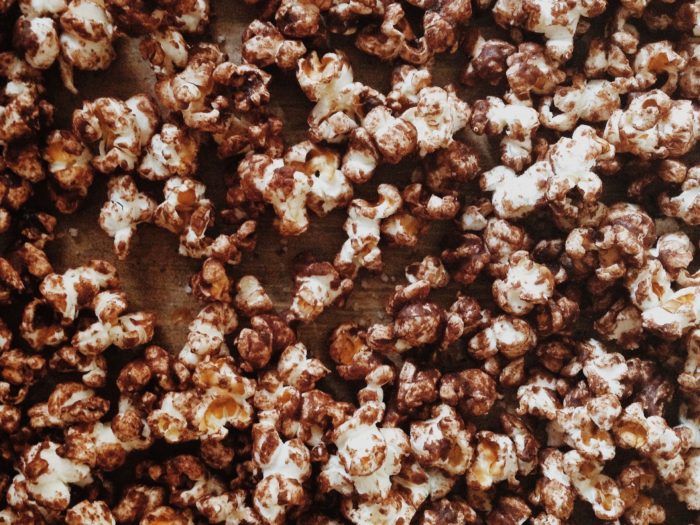 Are you running out of healthy dessert option? Here we bring you a healthy dessert replacer – chocolate popcorn recipe.
Who doesn't like popcorn while watching a movie or binge-watching their favorite show? But did you ever think that your favorite snack could replace your dessert? Homemade popcorn is really easy and a healthy snack to make. It's inexpensive, easy to make, low- fat, and gluten-free. And when you add dark chocolate to this delicious snack, it also satiates your sweet craving. This recipe is low on calories as compared to a traditional dessert, making it a perfect snack for people who are watching their weight!
The coconut oil not only provides healthy fats but also keeps you feeling fuller for longer while the dark chocolate is an antioxidant-rich superfood! And the best part? It takes just 5 minutes to make!
Ingredients:
¼ cup (45g) popcorn kernels
1 tablespoon coconut oil
50 g melted dark chocolate (85% cocoa)
1 teaspoon salt
½ tsp cinnamon powder (optional)
Method:
Put the popcorn kernels along with coconut oil in a pressure cooker or a big pot.
Cover and cook over medium-high heat.
Wait for a few seconds. Cook, shaking the pot occasionally until the popping slows down.
Remove from heat and put in a serving bowl with a lid.
Add the salt, cinnamon powder, and melted dark chocolate and shake well with the lid on till the popcorn is well coated.
Enjoy hot!
Happy Feasting.