Kashmiri Rajma ( Our Best Seller)- without onion, garlic, and tomatoes

Rajma (Kidney beans) is one such core ingredient that is cooked in every Indian household
across the world with varying flavours and consistency. Despite all the recipe variants, the
creamy and smooth texture remains the characteristic that makes or breaks the dish. Rajma
from Jammu is the most sought after due to the same reason.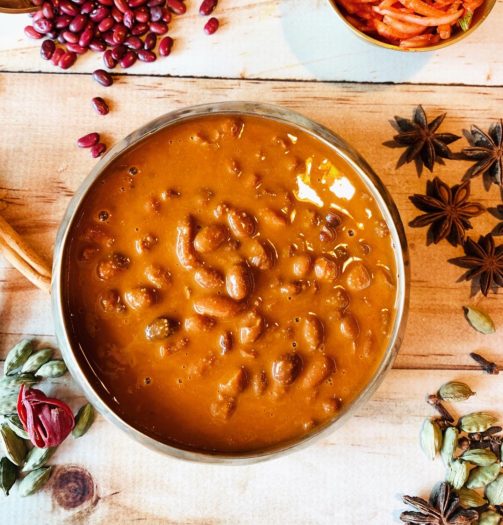 Ingredients –

● Rajma – 250 gms
● Turmeric Powder – 1/2 teaspoon
● Black Cardamom/ Badi Elaichi – 1 crushed
● Ginger Powder – 1 teaspoon leveled
● Fennel Powder – 1 teaspoon heaped
● Red Chilli Powder – 1 tablespoon
● Mustard Oil – 1 tablespoon
● Salt – To taste
● Heeng – Pinch
● Vaer Masala – 1 teaspoon (if available)
● Bay leaf (Tej Patta) – 2 small
● Cinnamon Stick – 1 (approx 2-3 inches)
● Clove – 4
● Coriander powder (Dhaniya Powder) – 1 tablespoon
● Water – 3 levels above Rajma
Process
● Wash and soak the Rajma for 6 to 8 hours or overnight.
● Drain the water and add the Rajma in a pressure cooker along with 3 cups of water
, 2 tsp of salt
(preferably according to the taste), fennel powder, ginger powder, turmeric powder, cloves,
cinnamon, black cardamom, tej patta, and heeng.
● Pressure cook until the rajma is soft – 10 to 15 minus approx.
● Remove the cooker from the heat and keep it aside.
Tadka/Tempering
● Heat 1 tablespoon of mustard oil in a pan, add cumin seeds and let them crackle, add red chilli
powder (be careful not to burn the spice – can add a few drops of water). Cook till oil separates
● Add cooked Rajma along with the water, to the tadka. Mash a few pieces of rajma while it is
simmering.
● Add coriander powder and Vaer tikki masala (if available) and let it simmer till you get a creamy
consistency.
● Alternatively, you can add Anardana powder / Amchoor powder or lemon juice. This helps in
bringing the flavours together.
● Before serving add a dollop of ghee or butter.
Our Summer favorite Raita Recipe – Buz Wangun
Roasted Brinjal Raita! The easy-peasy recipe is a Kashmiri favourite with roti (Phulka) and is also
made on many auspicious occasions in our homes (Pann)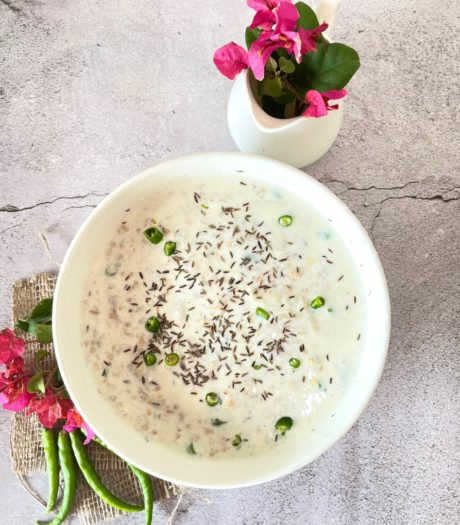 Ingredients –
● Brinjals- 2 Roasted
● Curd – 1 bowl
● Green chilies – 3/4 ( Finely chopped)
● Cumin seeds – 3 teaspoons leveled
● Mustard Oil – 1 tablespoon
● Salt – To taste
Process –
● Make small cuts on brinjal and apply a layer of mustard oil over it.
● Roast the brinjals on the flame for a few minutes
● Set aside the roasted brinjal in the bowl of cool water
● Peel the layer of brinjal and mash it in the bowl
● Add curd to the bowl of the mashed brinjals
● Add chopped green chilies and salt to your taste
● Add cumin seeds and green chilies for garnishing
Al Yakhni
Al Yakhni is one of the delicacies from the Kashmiri pandit cuisine. 'Al' translates to Bottle gourd/Lauki
and 'Yakhni' translates to curd-based curry.
Here's the ingredients list and recipe for you🍁
Ingredients
Mustard Oil
Green Cardamom – 4 pods
Black Cardamom – 2 pods
Cloves – 4
Cinnamon Sticks – 2
Peppercorn – 4
Pinch of Heeng or 2 tsp of diluted heeng (asafoetida)
Curd – 1/2 kg
Cumin seeds (Zeera) – 1/2 tsp
Bay Leaf – 1
Saunf Powder – 1 tablespoon
Zeera Powder – 1/2 tablespoon
Coriander Powder – 1/2 tablespoon
Ginger Powder – 1/2 tablespoon
Salt
Bottle Gourd – 1

Process:
Grate the skin of the Bottle Gourd and cut it into big circular pieces as shown
Fry the Bottle Gourd in mustard oil till golden brown, use enough to immerse the vegetable in the oil. Pro tip – Add salt to the oil to reduce splattering
Add curd in a bowl and mix the ground spices, salt to taste, and heeng; mix well to avoid lumps
In a pan with 5 tablespoons of mustard oil, add the whole spices. Crush the whole spices wherever
possible.
Add the curd mix to the pan and mix thoroughly.
After boiling the mix, add the fried bottle gourd to it and mix well.
Garnish the dish with red chilies, black cumin, or dried mint
Kashmiris' Favorite Tea- Kehwa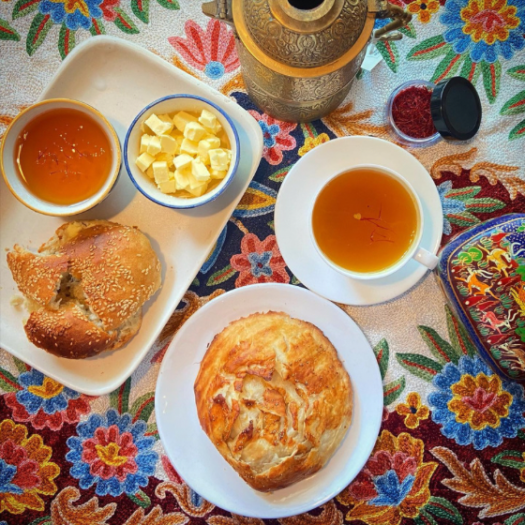 Ingredients –
● Green tea leaves
● Water- 2 cups
● Cinnamon stick – 1
● Cardamom/Elaichi- 2 pods
● Saffron
● Sugar/honey/Jaggery
● Almonds- 5-6 Grated
How to make Kehwa –
Boil 2 cups of water
Add one stick of cinnamon, two pods of green cardamom, and two strands of saffron
Once it comes to a boil, add half a teaspoon of crushed leaves and boil for a couple of minutes.
At this stage, you can add sugar or honey or jaggery
Pour in a cup and sprinkle 5-6 grated almonds.
Follow & Visit Matamaal on: