If you're new to the keto scene, here are the basics: It's a pattern of eating high fat, low carb meals. On a typical day, you'll shoot for only 20 to 50 grams of carbs.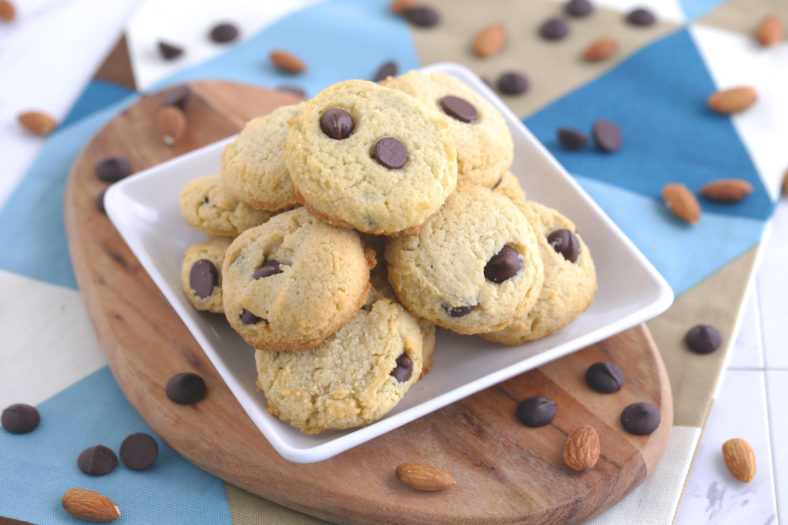 Keto Almond Cookies
Serves:
5-6 Cookies
Ingredients
Almonds – 100 gms
Amul Butter (Solid) – 10 gms
Chia Seeds – 15 gms
Pintola Peanut Butter – 50 gms
On Gold Casein (Vanilla Flavored – 1 tbsp)
Baking Powder – 1/2 tbsp
Sugarfree Stevia Powder – 1 Cup
Pinch of Salt
Procedure:
Measure the chia seeds and soak them in water. In about ten mins they should be nice and swollen.
Next measure the almonds and grind them into a fine powder.
In a mixing bowl put the grounded almonds.
The whey protein can be added to the almonds now and mixed well. Also add the pinch of salt.
Now add the baking powder and mix some more.
The chia seeds now need to be mixed thoroughly. Till a uniform batter is formed. Add some water for a consistent batter that resembles a cookie dough. Start with little water and add as required. The batter doesn't need to be runny.
Add the stevia powder and mix more. Also melt the butter and add to the batter. Keep mixing gently.
Now melt the peanut butter and add to the batter.
Mix well and keep the batter in the fridge for about fifteen to twenty minutes. Then divide it into 6 portions and start portioning them on a baking tray. You can make them thin or thick according to your preference. I kept them pretty thin.
Bake the cookies for 20 minutes in an oven at 200 degrees Celsius. They were perfectly golden in twenty minutes.
Bake for 20 minutes
Let them cool completely before you store them in an airtight container.
Coconut Flour Chocolate Chip Cookies

Serves: 10 cookies
Ingredients
113 g butter softened
4 tbsp granulated sweetener, of choice or more to taste
65 g coconut flour
1/2 tsp baking powder
2 eggs – medium
2 tbsp cacao nibs
2 tsp vanilla
Instructions
Cream the softened butter and sweetener together until light, pale and fluffy.
Add all the other ingredients and mix well until combined and the mixture begins to thicken.
Squeeze a small handful into a ball, then press into a cookie shape with your fingers.
Place the coconut flour chocolate chip cookies on a lined baking tray and bake at 180C/350F for 10-15 minutes, or until golden brown on the edges.
Allow to cool for a while, then remove and place on a baking rack to cool down completely. These cookies are even nicer the next day.
Low Carb Snickerdoodles
Yield: 16 cookies
Ingredients For the cookies:
2 cups superfine almond flour
1/2 cup salted butter, softened
pinch of kosher salt
3/4 cup erythritol granulated sweetener
1/2 tsp baking soda
For the coating:
2 Tbsp erythritol granulated sweetener
1 tsp ground cinnamon
Instructions
Preheat oven to 350 degrees (F)
Mix all of the cookie ingredients in a medium sized bowl until a stiff dough forms.
Roll the dough into 16 balls of equal size. (approx. 1.5 inches in diameter)
Combine the cinnamon and sweetener in a small dish.
Roll the balls in the mixture until well coated.
Place on a parchment-lined cookie sheet and flatten slightly with the bottom of a glass.
Bake at 350 degrees (F) for 15 minutes.
Remove and cool slightly before serving.
Peanut Butter Keto Cookies
Makes: 14 cookies
Ingredients
2 cups almond flour (250 g)
6 tablespoons keto friendly powdered sugar substitute
1 large egg
½ teaspoon kosher salt
1 cup natural salted crunchy peanut butter (240 g)
½ cup unsalted butter (115 g), melted
Preparation
Preheat the oven to 350ºF (180ºC) and line 2 baking sheets with parchment paper.
In a large bowl, mix together the almond flour, powdered sugar substitute, egg, salt, peanut butter, and melted butter until thoroughly combined.
Scoop the dough into 14 balls using a ¼ cup ice cream scoop and place on the prepared baking sheets. Flatten the cookies by crossing 2 forks on top and pressing down slightly.
Bake the cookies for 10–12 minutes, turning the baking sheet halfway, until fragrant and slightly golden. Remove the cookies from the oven and transfer to a wire rack to cool.
The cookies will keep in an airtight container at room temperature for up to 4 days.
Enjoy!
Low Carb Lemon Cookies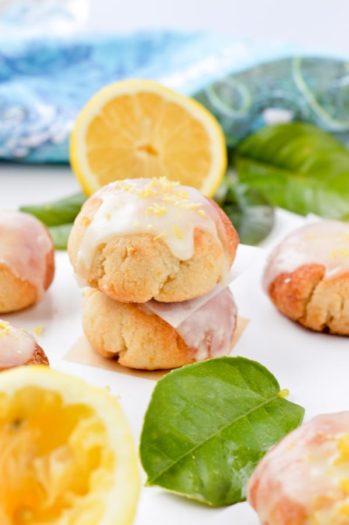 Serves: 8 Cookies

Ingredients
1 1/3 cup Almond Flour
2 tablespoons Coconut Flour
1/4 cup Erythritol – can go up to 1/3 cup for a sweeter flavor
1/2 teaspoon Baking soda
1/4 cup Lemon Juice fresh or organic
1/4 cup Coconut oil
1 tablespoon Lemon Zest – optional
Sugar-Free Lemon Glazing
1/4 cup Sugar-free powdered sweetener
2 teaspoon Lemon Juice
1 teaspoon Coconut oil , melted
1 tablespoon Lemon Zest , optional, to decorate
Instructions
Preheat oven to 180C (350F). Line a cookie tray with parchment paper. Set aside.
In a medium mixing bowl, combine all the dry ingredients: almond flour, coconut flour, sugar-free crystal sweetener and baking soda. Set aside.
In a small mixing bowl, add coconut oil and lemon juice. Microwave for 30 seconds, stir and repeat until the coconut oil is fully melted. Otherwise, place the ingredients in a saucepan warm on medium heat. Remove from heat when the coconut oil is melted.
Pour liquid onto dry ingredients, add lemon zest if desired and combine until it forms a cookie dough. You should be able to shape a ball. The batter should be soft, buttery and not dry. If dry, adjust with 1-2 teaspoon of water but you shouldn't have to.
Refrigerate for 10 minutes, wrapped in a piece of plastic wrap or in the mixing bowl covered with silicone lid.
Remove the dough from the fridge and shape 8 even cookie dough balls. You can weight the dough if you want precision.
Roll each balls in your hands to shape smooth cookie dough balls.
Place each balls on the cookie tray leaving a thumb size space between each balls. The cookies won't expand in the oven so you don't have to leave a big space between them.
Press the balls slightly with your hand palm to flatten cookies. Don't flatten too much or the sides will form cracks and they won't be as soft and moist. The thicker, the moister!
Bake for 15 minutes or until golden on sides. The middle will stay slightly soft and that is the texture you want.
Remove the cookie tray from the oven and cool down on the tray for 20 minutes before transferring on the rack to cool down to room temperature. Don't touch the cookies during the first 20 minutes, they are soft and need time to firm up.
How to Prepare Sugar-Free Lemon Glazing
In a small mixing bowl, combine the sugar-free powdered sweetener, coconut oil and lemon juice. Play with the texture, adding more sweetener, 1 teaspoon at a time for a thicker glazing or more lemon juice for a thinner glazing.
Drizzle the glazing onto the cold cookies. Don't decorate warm or lukewarm cookies or the glazing will melt and be absorbed by the cookie dough.
For a lovely white glazing, place the cookies 2 minutes in the freezer just after adding the glazing. This step set the glazing fast and makes beautiful cookie decoration.
Sprinkle lemon zest on top if desired.
Store the lemon cookies in an airtight container for up up to 3 days in the pantry or in the fridge if you prefer your cookies firm.
Author: Carine
Source: https://www.sweetashoney.co/