6. Hung Curd Vegetable Sandwich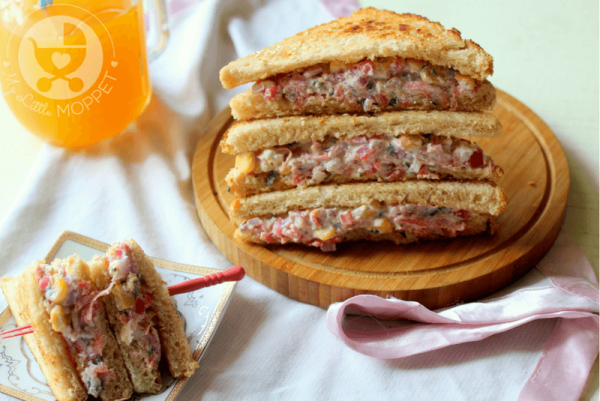 Ingredients:
4 brown bread slices
1 teaspoon sesame seeds
1 tablespoon butter
½ cup hung curd (hang 1.5 cup curd in a muslin cloth for 3-4 hours to get ½ cup hung curd )
¼ cup grated carrots
¼ cup finely chopped red onions
1 small tomato, deseeded and finely chopped
1 tablespoon coriander leaves, finely chopped
2 tablespoon boiled sweet corn
Black pepper to taste
Salt to taste
Instructions:
In a mixing bowl mix the hung curd with all the veggies. Season with salt and pepper. Keep aside.
Apply butter on the bread slices . Heat a skillet. Sprinkle sesame seeds over it.
Place the bread slices over the sesame seeds. Toast the bread on both sides. Keep aside.
Place 2 slices on the plate. Add about 2 tablespoon of filling and spread it evenly on each slice.
Place the remaining slices over the filling. Press lightly.
Cut the sandwich either diagonally or into bite size rectangles and serve.
Notes:
Parents may need to help with toasting the bread slices and cutting all the vegetables. Younger kids can pick out the vegetables from the fridge and they can also help with mixing the filling. Older kids can try customizing the filling by adding their own twist.
7. Black Eyed Beans Salad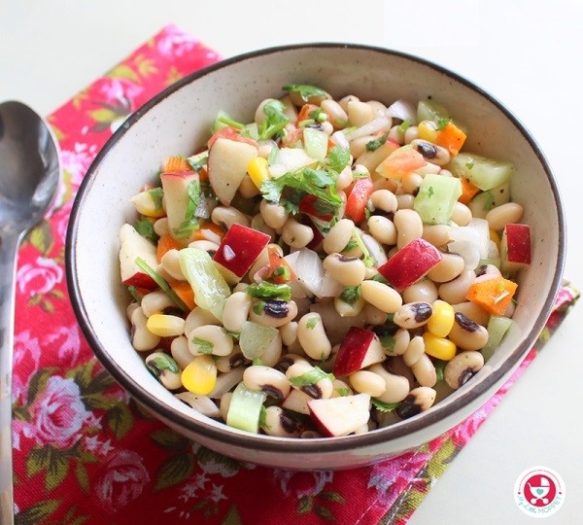 Ingredients:
½ cup lobia beans
½ apple, finely chopped
1 small cucumber, finely chopped
½ carrot, finely chopped
1 small onion, finely chopped (optional)
1 small tomato, deseeded and chopped finely
1 tablespoon fresh coriander leaves, finely chopped
1 tablespoon sweet corn kernels, boiled
Freshly crushed black pepper corn
Juice of 1 lemon
Salt to taste
Instructions:
Rinse and soak the black eyed beans in enough water for 8 hours.
Drain, rinse and pressure cook the beans for 2 whistles or till cooked, but still holding their shape.
Allow to cool down completely.
In a large bowl, add the boiled beans, chopped veggies and fruits. Toss well.
Season the salad with lemon juice, black pepper powder and salt.
Notes:
Most kids refuse salads, but once they try making their own, they'll enjoy it. With a combination of fruits and vegetables, this salad uses lots of colors. Add some boiled eggs too, if you like.
All these recipes are simple enough to make, and many of them are flame-free. Here are some skills kids from ages 3-6 can learn:
Gathering ingredients
Counting large ingredients
Washing fruits and veggies
Mixing things in a bowl
Mashing foods in a bowl
Kids aged 7-10 can try all these in addition to the following:
Cracking eggs
Measuring ingredients
Kneading dough
Cutting soft foods like bananas with a plastic knife or child-safe knife/scissors
Spreading, sieving and pounding
Kids older than 10 can try more advanced kitchen tasks like these:
Knife safety and knife skills
Grating
Separating eggs
Handling the stove
Using kitchen appliances like toaster and blender
And then there's creativity, which applies to kids of all ages! Let your child experiment with ingredients and try to mix unique flavors. You never know – you may have a budding Masterchef on your hands!