By Dt. Manoli Mehta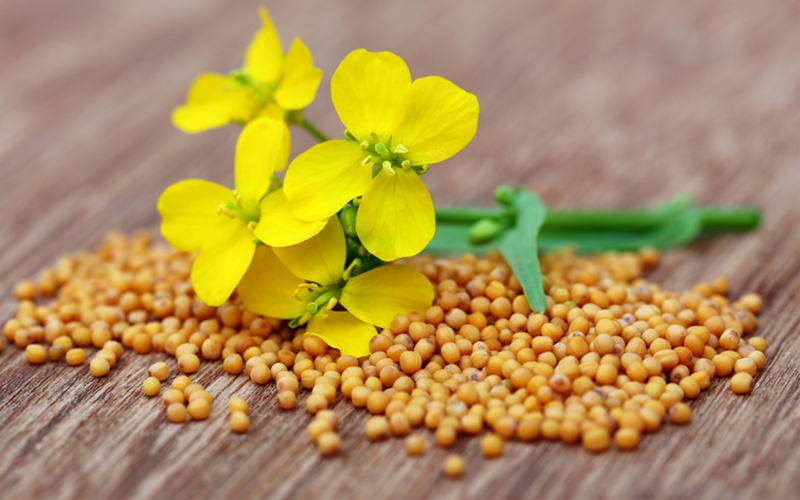 Mustard is a popular condiment made from the seeds of the mustard plant. Aside from its culinary uses, mustard has a history of use as a remedy in traditional medicine
Modern science is starting to link mustard to health benefits ranging from lower blood sugar levels to increased protection from infections and disease.
Health Benefits of Mustard
Mustard plants come in several dozen varieties, all of which are rich in nutrients.
Their leaves contain significant amounts of calcium, copper, and vitamins C, A, and K, while their seeds are particularly rich in fiber, selenium, magnesium, and manganese
Mustard leaves – can be eaten raw or cooked, making them a versatile addition to salads, soups, and stews. They can be prepared in the same way as spinach but will give a sharper, radish-like flavor to your meals.
Mustard seeds – can be steeped in warm milk, whisked into salad dressings, ground sprinkled into warm meals, or soaked and used to make a mustard paste.
Mustard paste – is arguably the most popular way to consume mustard. This low-calorie condiment is a simple way to add a dash of iron, calcium, selenium, and phosphorus to your meals
It also contains antioxidants and other beneficial plant compounds thought to help protect your body against damage and disease
For instance, it's a great source of glucosinolates, a group of sulfur-containing compounds found in all cruciferous vegetables, including broccoli, cabbage
Glucosinolates are activated when the plant's leaves or seeds are damaged — either through chewing or cutting — and are believed to stimulate your body's antioxidant defenses to protect against disease.
Mustard seeds and leaves are particularly rich in the following:
Isothiocyanates- This compound is derived from glucosinolates, which may help prevent cancer cells from growing or spreading
Sinigrin- This glucosinolate-derived compound is responsible for mustard's pungent taste and is thought to possess anti-inflammatory, antibacterial, antifungal, anticancer, and wound-healing properties
Lowers Cholesterol Levels:
To bring the desired relief to the problem of high cholesterol, you can take the benefits of mustard.
The antioxidants present in mustard help the body to recover from the problem of high cholesterol in the easiest manner
If you have diabetes, you can take the yellow mustard health benefits in controlling that.
Now that we know all about Mustard and its health benefits let's dive straight into how to put Mustard into daily use: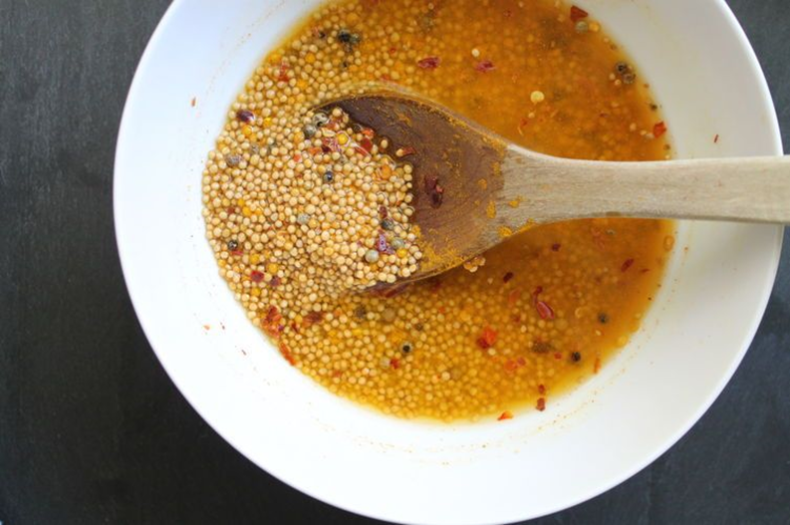 It is a wonder condiment, delivering tiny bursts of vinegary-sweet flavor in each bite.
First, rinse 1/2 cup of yellow mustard seeds with water through a sieve or through a cheesecloth
Next, add the rinsed seeds, 3/4 cup of apple cider vinegar, and 1/2 teaspoon salt to a small bowl. Soak the seeds for two hours at room temperature.
Next, add the soaked mustard seeds to a small saucepan. Stir in 2 tablespoons of honey or sugar (optional for a touch of sweetness), 1/2 to 1 teaspoon of red pepper flakes if you'd like a bit of heat, and 1/2 teaspoon of black pepper. Skip the flakes if you'd like a milder condiment.
Bring to a boil, then reduce the heat and simmer for 20 minutes.
Allow it to cool. Stir in an extra ¼ cup of vinegar and transfer to a jar or container and seal. Keep in the refrigerator.
Boom! You've got yourself some pickled mustard seeds. They look wonderful, don't they? A tiny little burst of flavor that will add a bit of zing to any dish.
7 Ways To Use Pickled Mustard Seeds
Stir them into dressings for a flavor and texture boost.
Spoon them onto deviled eggs for an appetizer upgrade.
Stir them into egg salad for a new take on egg salad sandwiches.
Scoop them onto a sandwich instead of mustard.
Use them as a topping for grilled sausages or hot dogs, or over-grilled pork chops or chicken breast.
Scoop them over fatty meats, like corned beef, steaks, roasts, or pulled pork.
Swirl them into your favorite dips.