By Kejal Shah
If you're new to grilling or feeling a little rusty, check out the BBQ recipes from this list!
Grilled Cauliflower with Mango Slaw and Avocado Crema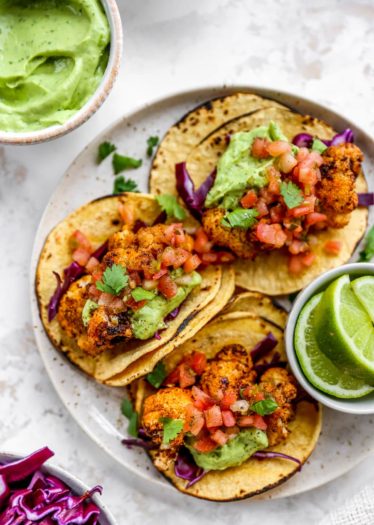 Ingredients:
Mango Slaw
1 cup red onion, thinly sliced (approximately ½ an onion)
1 red pepper, thinly sliced
1red mango, thinly sliced
¼ cup cilantro, finely chopped
½ lime, juiced
Avocado Crema
1 ½ avocado
2 limes, juiced
⅔ cup canned coconut milk
1 garlic clove
1 tsp hot sauce
¼ tsp onion powder
¼ tsp sea salt
¼ tsp ground pepper
Method
In a bowl toss together all the ingredients for the mango slaw
In a blender, combine all the ingredients for the avocado crema until smooth
Toss cauliflower florets in olive oil, minced garlic, chili powder, and cumin, and grill for 20 minutes on the barbecue over medium-high heat.
In a bowl place a small amount of mango slaw on the bottom, then a few pieces of grilled cauliflower, and top with a dollop or drizzle of avocado crema.
Add a squeeze of extra lime on top if desired.
Barbecue sweet potatoes with garlic and herb dressing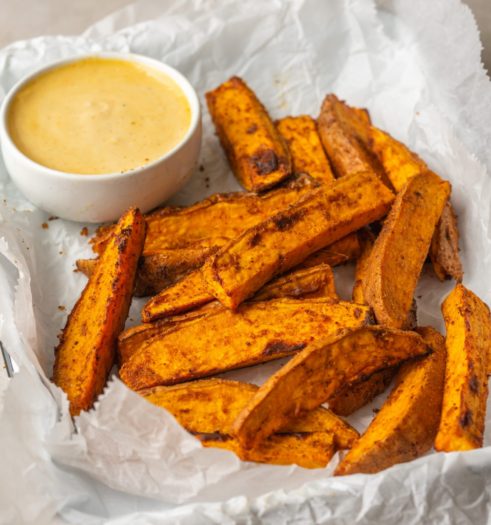 Ingredients
6 medium sweet potatoes, unpeeled
Extra-virgin olive oil to drizzle
6 fat garlic cloves, unpeeled
300g soured cream or natural yogurt
½ red onions
Finely grated zest and juice
1 lemon
A small bunch of fresh coriander, chopped
A small bunch of fresh flat-leaf parsley, chopped
A small bunch of fresh mint, chopped, plus extra leaves to serve
Method
Put each sweet potato on a large piece of foil. Drizzle over olive oil and season well. Wrap tightly and put in the barbecue embers for 45-60 minutes. Alternatively, roast in an oven heated to 200°C/180°C fan/gas 6 for 1 hour 20 minutes.
Meanwhile, wrap the garlic cloves in a little foil, drizzle with olive oil, and leave in the embers for 15-20 minutes until soft (or cook in the oven, as above, for 20 minutes). Finely slice the red onion and put it in a non-metallic bowl with most of the lemon juice and a pinch of salt.
When the garlic is cool enough to handle, squeeze the flesh from the skins into a large bowl and drizzle with a little more olive oil. Mix in the soured cream or yogurt gradually to distribute the garlic evenly.
When ready to serve, add the chopped herbs, lemon zest, and the remaining lemon juice, season, and taste. Remove the onions from the lemon juice, squeezing them dry.
Open the sweet potato parcels, squash the flesh open a bit, spoon over the garlic and herb dressing, scatter with the onions and extra mint leaves, then serve in the foil.