It's been years since Neha Dhupia coined the instantly iconic phrase "only sex or Shah Rukh Khan sells," but she's still as refreshingly candid and forthright as ever. She's been open about her struggles with embracing her body as it is, about the tokenism that still exists in Bollywood and why she thinks it's important for her kids to know that she is a working mother. Talk to any senior journalists and you'll hear them bemoan the fact that celebrities are just not unguarded anymore. The PR machinery has been in full swing for years and interviews these days read like press statements, semicolons and all. In that way, Neha Dhupia is an interesting person to interview because she literally has no filter.

It's no wonder then that in 2016 when Dhupia chose to conceptualise and host a one-of-its-kind podcast on Bollywood, she named it #NoFilterNeha. Back then, the show amassed a loyal fanbase of over 2.3 million listeners and Neha and her guests ensured that the media always had some juicy titbit to write about.
The actress completed two decades at the movies this year. In the course of these 20 odd years, Neha has faced success and failure in equal measure. What's more, like any other woman, she's had to accept changes in her body. This former pageant Queen has had to carve a path of acceptance among the rows and rows of online trolls who comment – almost daily – on her body. It couldn't have been easy; the film business is known to be ruthless about what's in and what's out but she's trudged on.
Women Fitness Gets her on board for a #NOFILTER chat as she graces our August issue!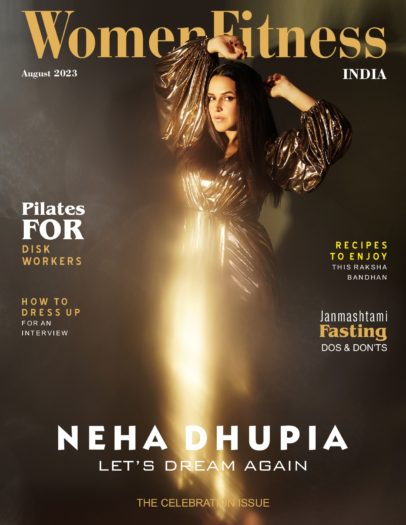 Namita Nayyar:
Neha being in the industry for 2 decades almost, how has the journey been for you?
Neha Dhupia
The journey has been great full of ups and downs. The beauty of it is measured by the downs itself, two decades is a very long time I have spent half of my life here in this industry and there is something obviously strong enough that has held me here for so long.
FULL INTERVIEW ON THE NEXT PAGE!
This interview is exclusive and taken by Namita Nayyar, President of womenfitness.org, and should not be reproduced, copied, or hosted in part or full anywhere without express permission.
All Written Content Copyright © 2023 Women Fitness Org